One of the best parts of the holidays is the parties and get-togethers. It's also one of the worst. Why? In a word: food. If you're hosting a more formal event, you're probably making the bulk of it.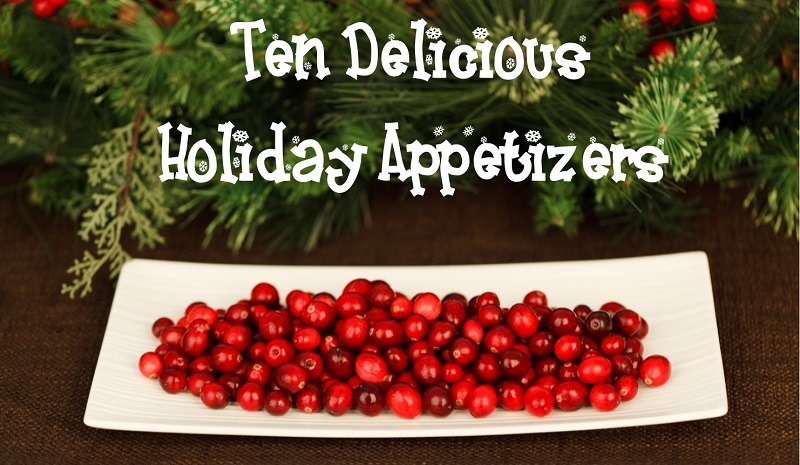 If you're attending an event, chances are you contributing a dish because those formal events are rarer than they used to be. (Hooray for potlucks!) Regardless there's usually stress about OMG what should I make?! Well, I've got you covered—at least for the first course—with ten recipes for delicious holiday appetizers.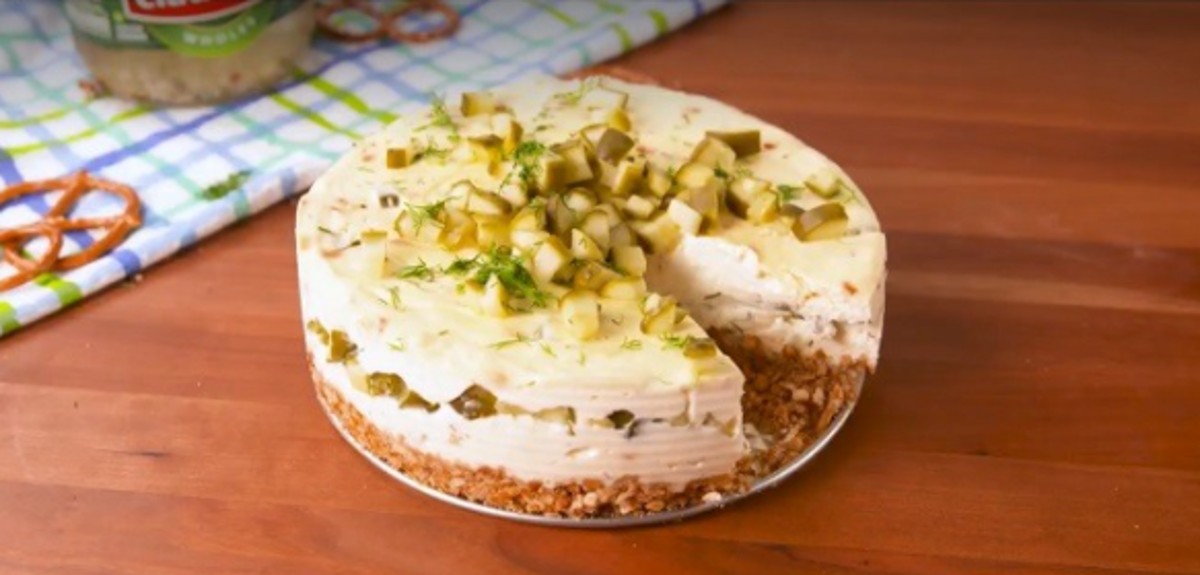 Pickle Cheesecake: Oh, just keep reading before you skip to the next recipe. This is not some weird sweet/savory thing like peanut-butter-and-pickle sandwiches (which are freaking delicious—fight me). This is actually a completely savory recipe. And it's not really meant to be eaten on its own in slice form either, although…I guess you could…I mean…nothing's really stopping you…but…yeah. Anyway, it's kind of like a cheesy, dilly, pickly dip served in cake form—like grown up sour cream and onion chip dip! You'll be the hit of the party.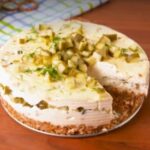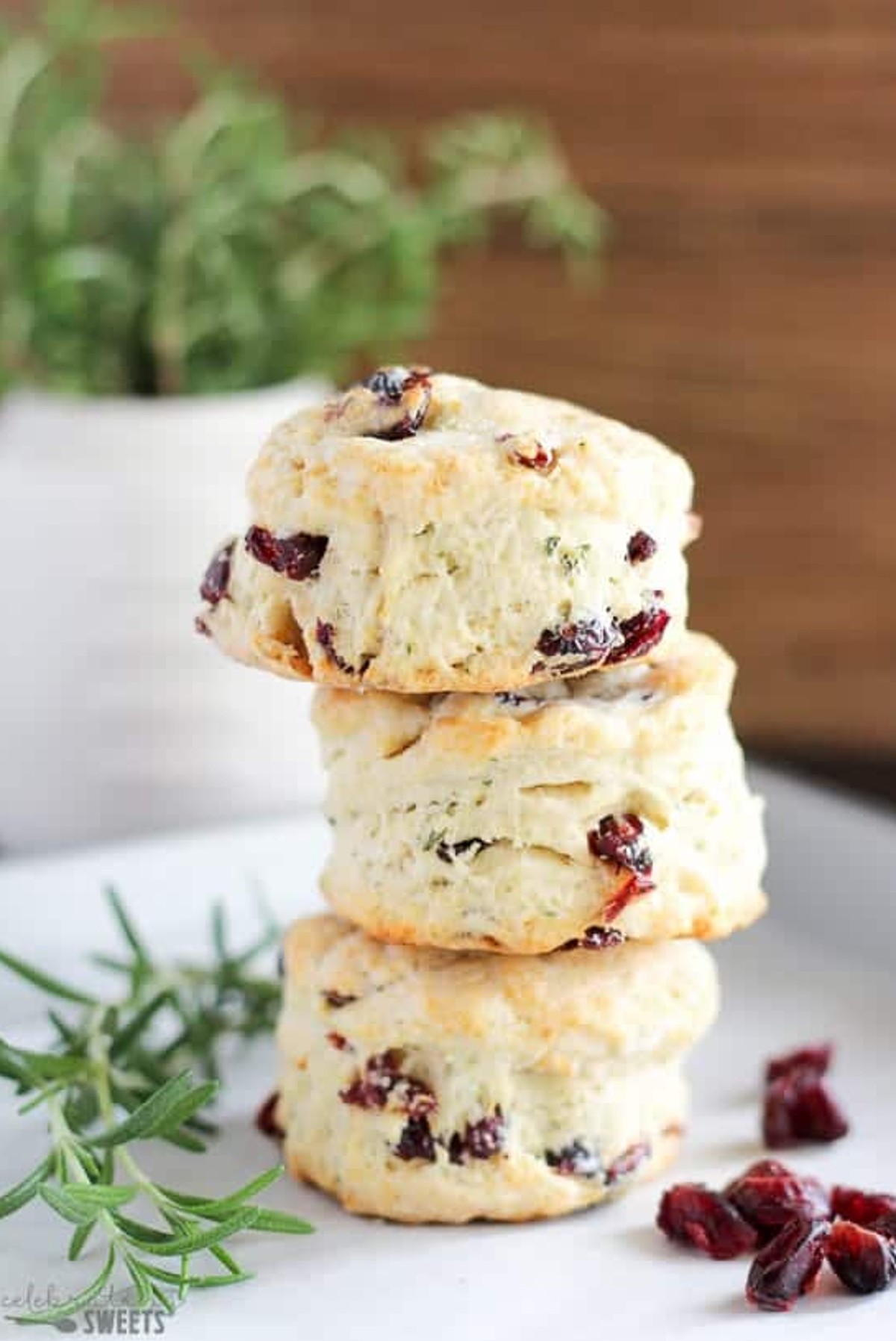 Rosemary and Dried Cranberry Biscuits: This is a great recipe because the biscuits are super flexible. They're flavorful enough to be served on their own; they can be served with butter, goat cheese, or another spread; or they can be cut in half and served with shaved ham or turkey on top for a heavier nosh. Bonus: they can be prepared ahead of time, frozen, and then baked straight from the freezer.
Rosemary and Dried Cranberry Biscuits
Flaky and tender homemade buttermilk biscuits filled with dried cranberries and fresh rosemary. These biscuits are a fantastic addition to your holiday table, and they're also delicious for sandwiches or topping with sausage gravy.
Check out this recipe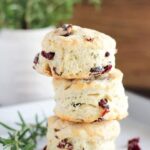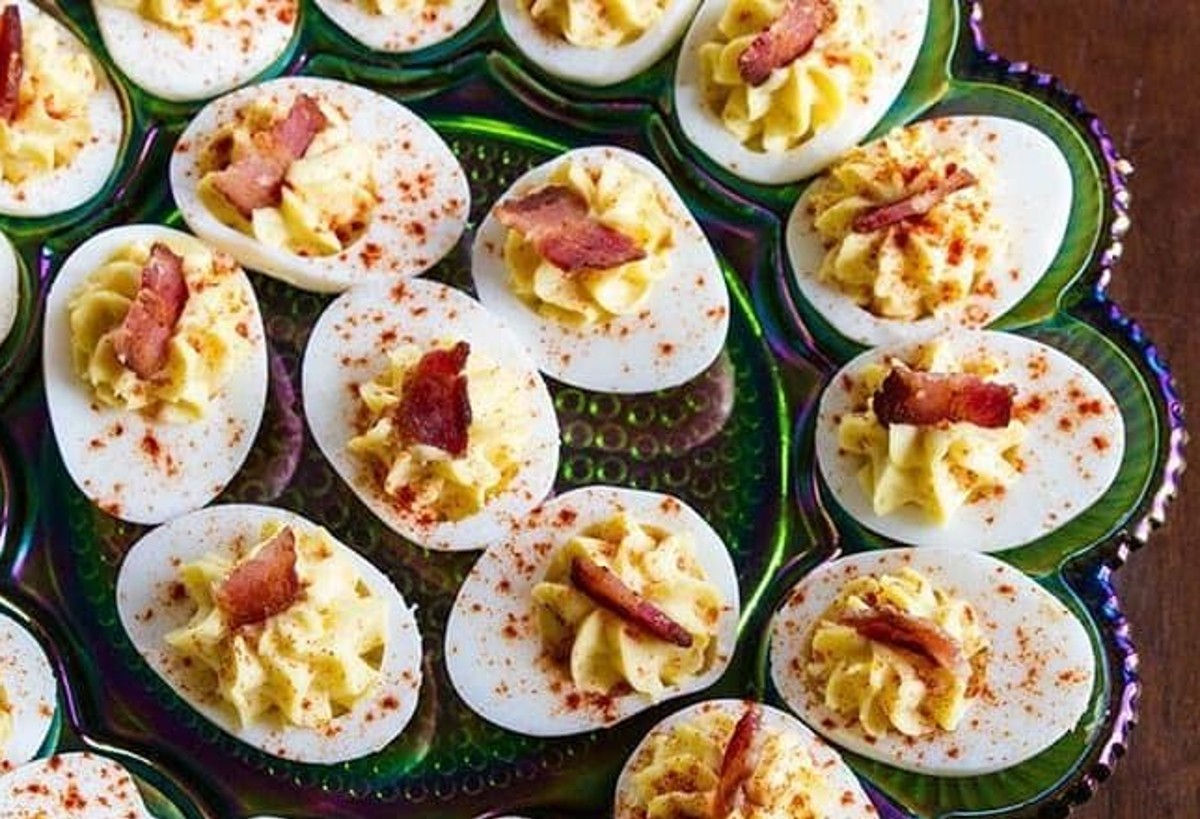 Smoky Bacon Deviled Eggs: If you have never had a deviled egg with perfectly crisped bacon on top, you have never had a deviled egg. My husband and I discovered these amazing bits of deliciousness at Pancho and Lefty's Outlaw Grill in Monroe, WI and while we have not been able to recreate them and the staff "hasn't be able to tell us" what's so special about their recipe (yeah right, guys!), I'm just going out on a limb and saying it's the bacon that makes the difference. But also, use good mayo.
Smoky Bacon Deviled Eggs
Deviled eggs are another great food divisor, either you love them or you hate them, there's not really an in-between.
Check out this recipe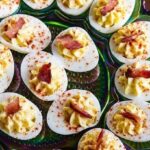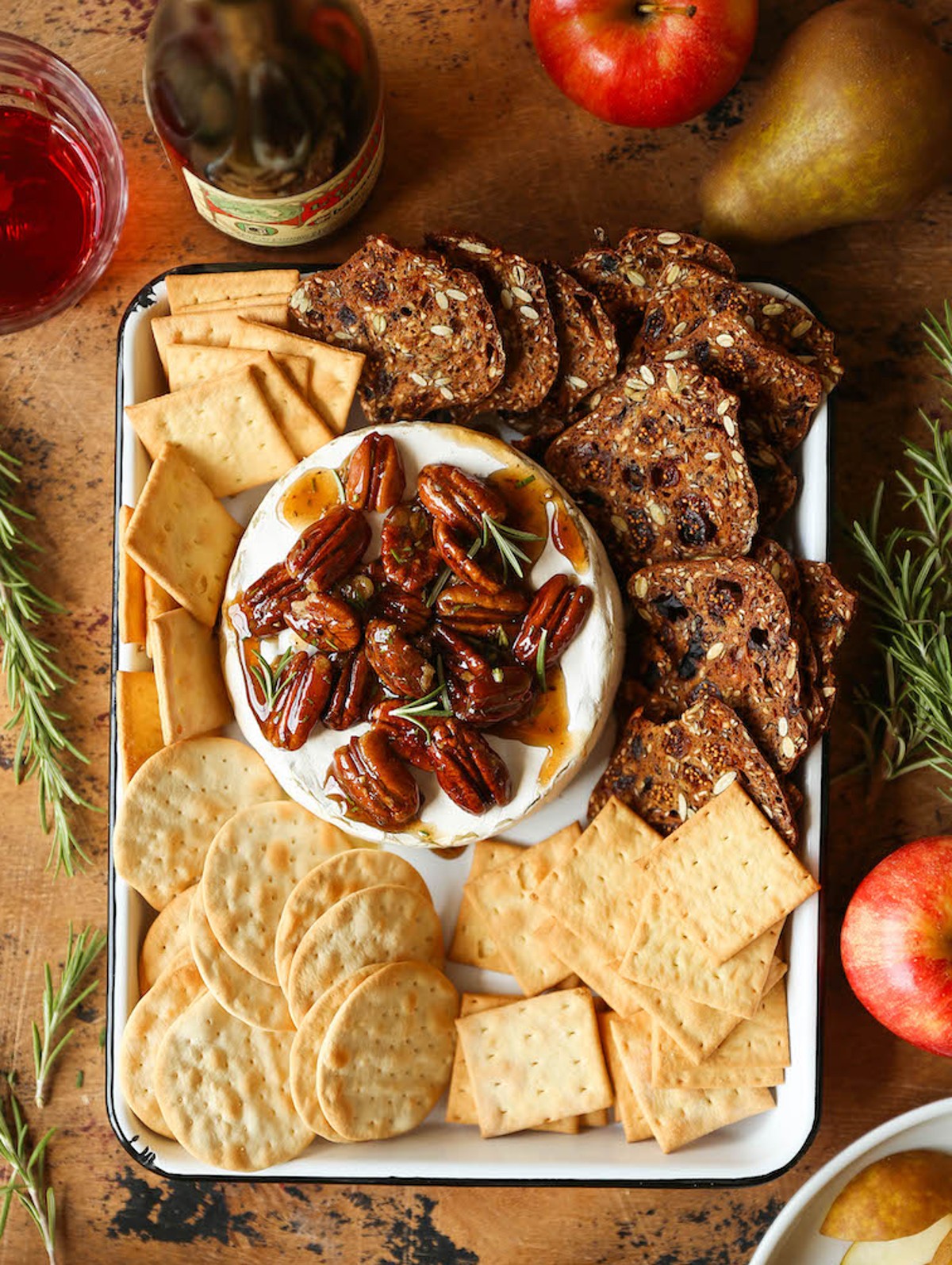 Baked Brie with Pecans: My baked Brie is one of my favorite appetizers to serve because it looks (and tastes) super impressive and fancy, but it's so easy my seven-year-old could make it. This is not my recipe because I won't share my secret weapon (I've already said too much by letting slip how easy it is), but this one's pretty similar. In addition to Granny Smith apples, I suggest serving the Brie with pecan Nut Thin crackers; the salty cracker with brown sugar is perfection.
MAPLE PECAN BAKED BRIE
The easiest 5-ingredient baked brie recipe! Served with a heavenly warm maple pecan mixture on top. SO GOOD and an absolute crowd-pleaser.
Check out this recipe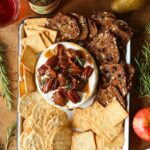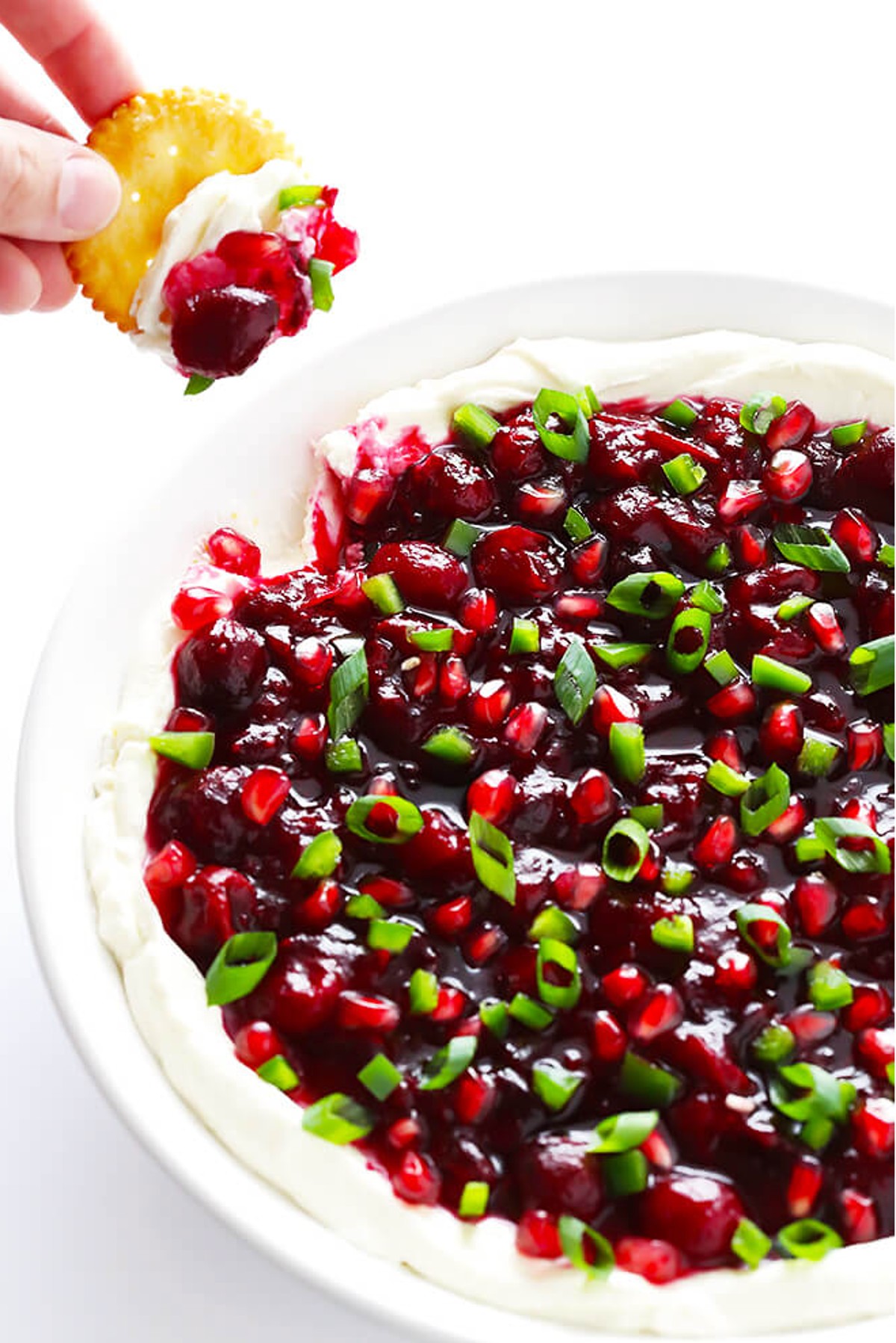 Cranberry Cream Cheese Dip: Another fabulously easy recipe! I like this one because it's red and green and festive, but also because it's one the kids can help with. I'd say they could make it on their own it's so simple, but the "sprinkles" are bit tricky. I don't know about you, but I'm not handing my little one jalapeño slices—that will literally end in tears—and deseeding a pomegranate takes some skill. Making cranberry sauce however is both simple and really fun to watch!
VERY MERRY CRANBERRY CREAM CHEESE DIP
It's incredibly easy to prepare with just 5 main ingredients, and takes only a few minutes to assemble. And bonus, it can be prepped up to a few days ahead of time if you'd like. It's red and green and oh-so-festive and will totally stand out on a crowded buffet table.
Check out this recipe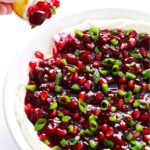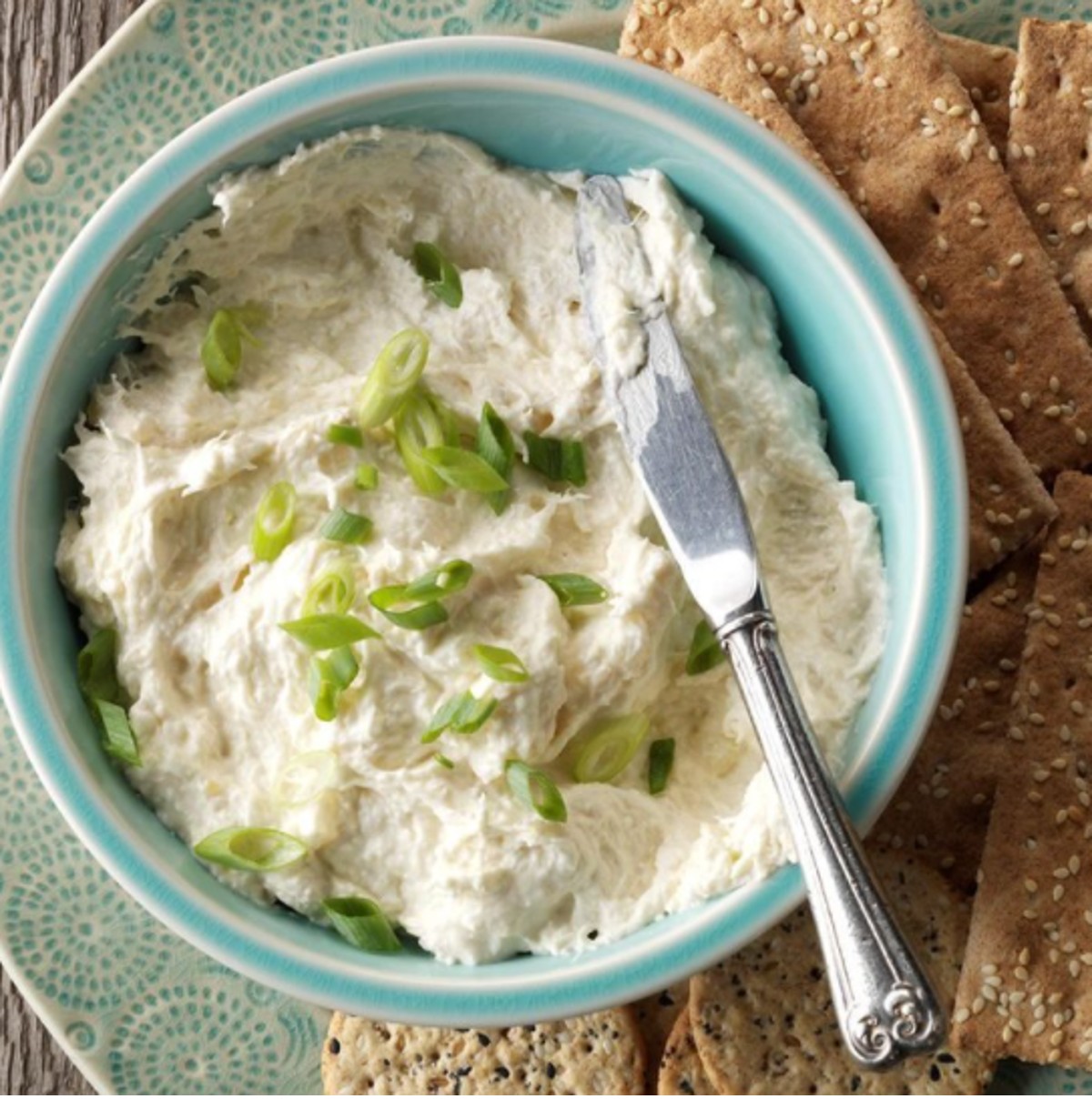 Slow Cooker Hot Crab Dip: I love love love crab rangoons and this is like all of the good stuff with none of the annoying wrapper! It's also a simple recipe that's easy to double (or triple or whatever you need to do to fit your group), plus you can keep it warm in the pot you cook it in, cutting down on dirty dishes. Add your choice of dippers (veggies and gluten-free crackers keep this dish friendly for your gluten-free guests) and you're all set. A win all the way around!
Slow Cooker Hot Crab Dip
One batch of this slow-cooker appetizer isn't enough for my family so I often double the recipe. Bits of sweet onion give the creamy dip a bit of crunch
Check out this recipe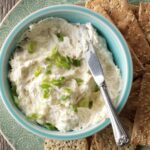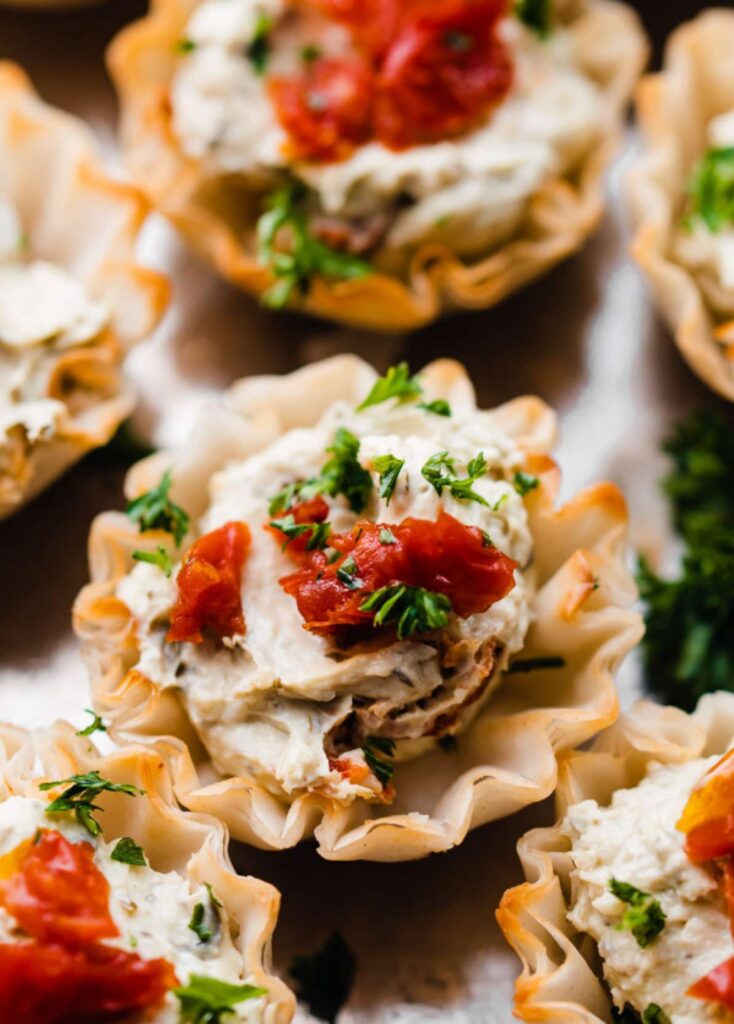 Sun-Dried Tomato Pesto Bites: Not gonna lie: when I first came across this recipe, I wanted to lick my screen—and I hate sun-dried tomatoes. Okay, well, pretty much all tomatoes that aren't sauce, but that's alright. I'd eat just about anything for pesto, and the recipe author is right: the tomatoes really do give this appetizer a festive holiday look. Like so many of the recipes here, this is another easy one. In this recipe, it's courtesy of the use of prepared ingredients, but the end result looks and tastes fabulous.
Sun Dried Tomato Pesto Bites
I had the best of intentions to scour thrift stores in an effort to score the cheesiest of all holiday sweaters, preferably one with pom poms and a faux-fur collar. While I've yet to begin my hunt, I have been busy dressing my food in red and green, including today's Sun Dried Tomato Pesto Bites.
Check out this recipe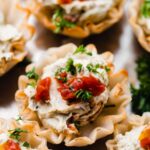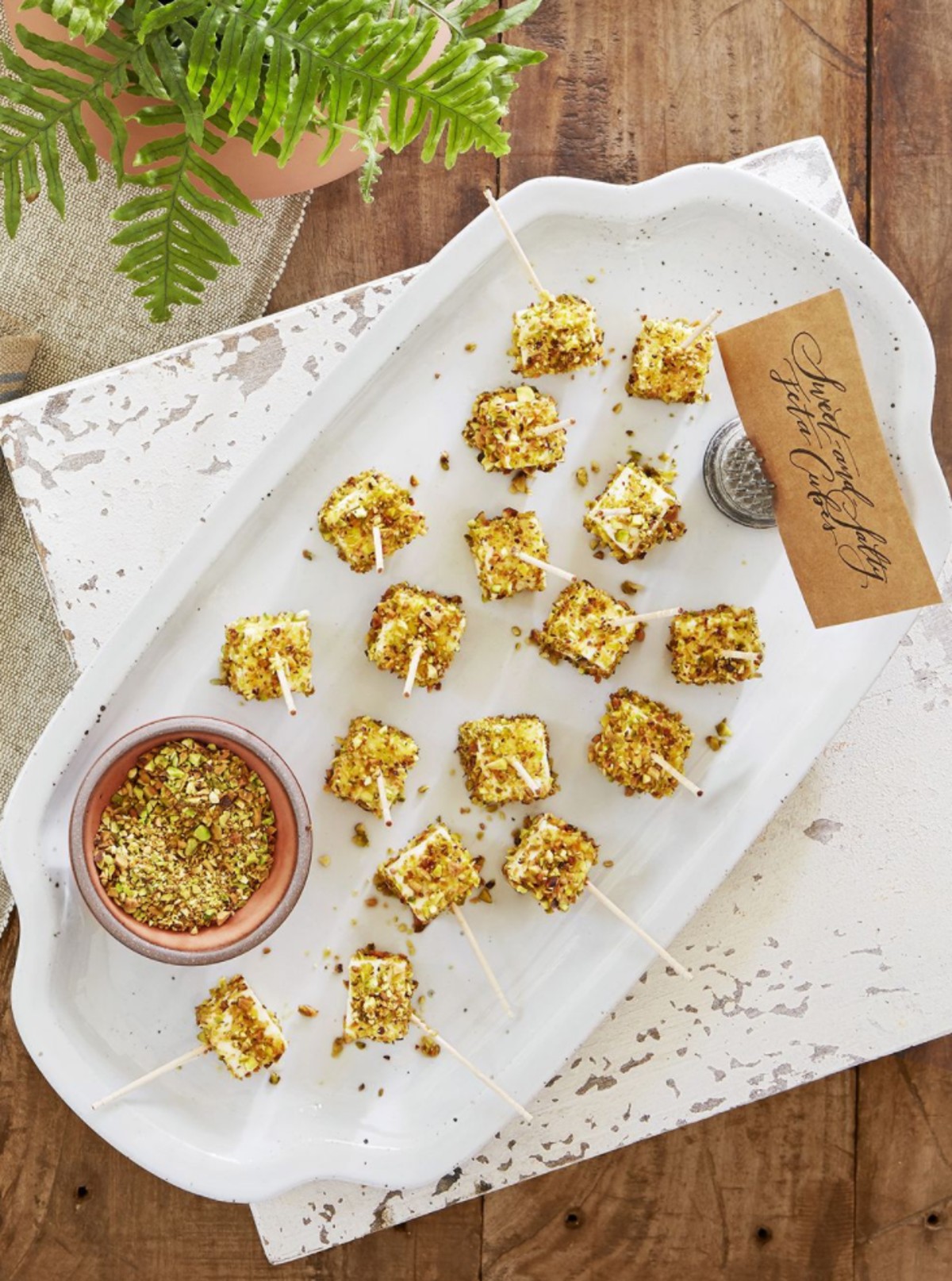 Sweet and Salty Feta Cubes: At first glance, this looked like a fried or baked cheese recipe, and I thought nope. But then I read the recipe. Guys, it's two steps. I suppose it should be three because you'll probably need to chop the pistachios as it's unlikely you can buy them pre-chopped (maybe your grocery store is cooler than mine?). But yeah, I'll be adding this one to my appetizer rotation.
Sweet-and-Salty Feta Cubes
Honey drizzle and chopped pistachios dress up this simple cheese appetizer.
Check out this recipe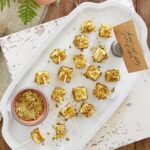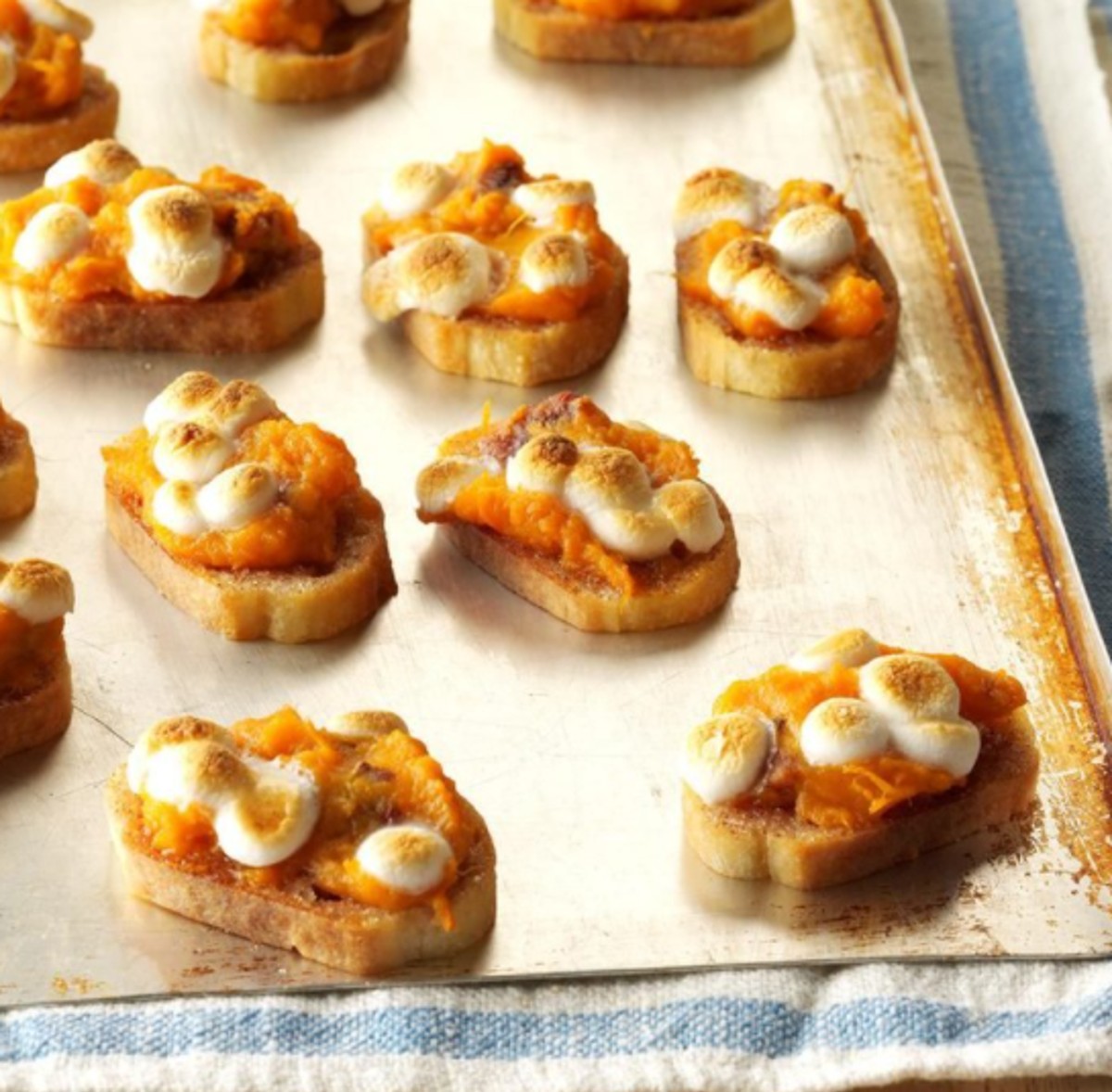 Sweet Potato Crostini: I'm a sucker for the sweet potato casserole with the little mini marshmallows on top, but it wouldn't have a occurred to me that it would make a good appetizer. I sure am grateful it occurred to somebody else, though—yum!
Sweet Potato Crostini
For party time, I turn this sweet potato side dish into an appetizer by serving it on slices of a French baguette.
Check out this recipe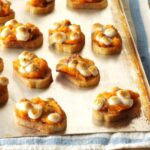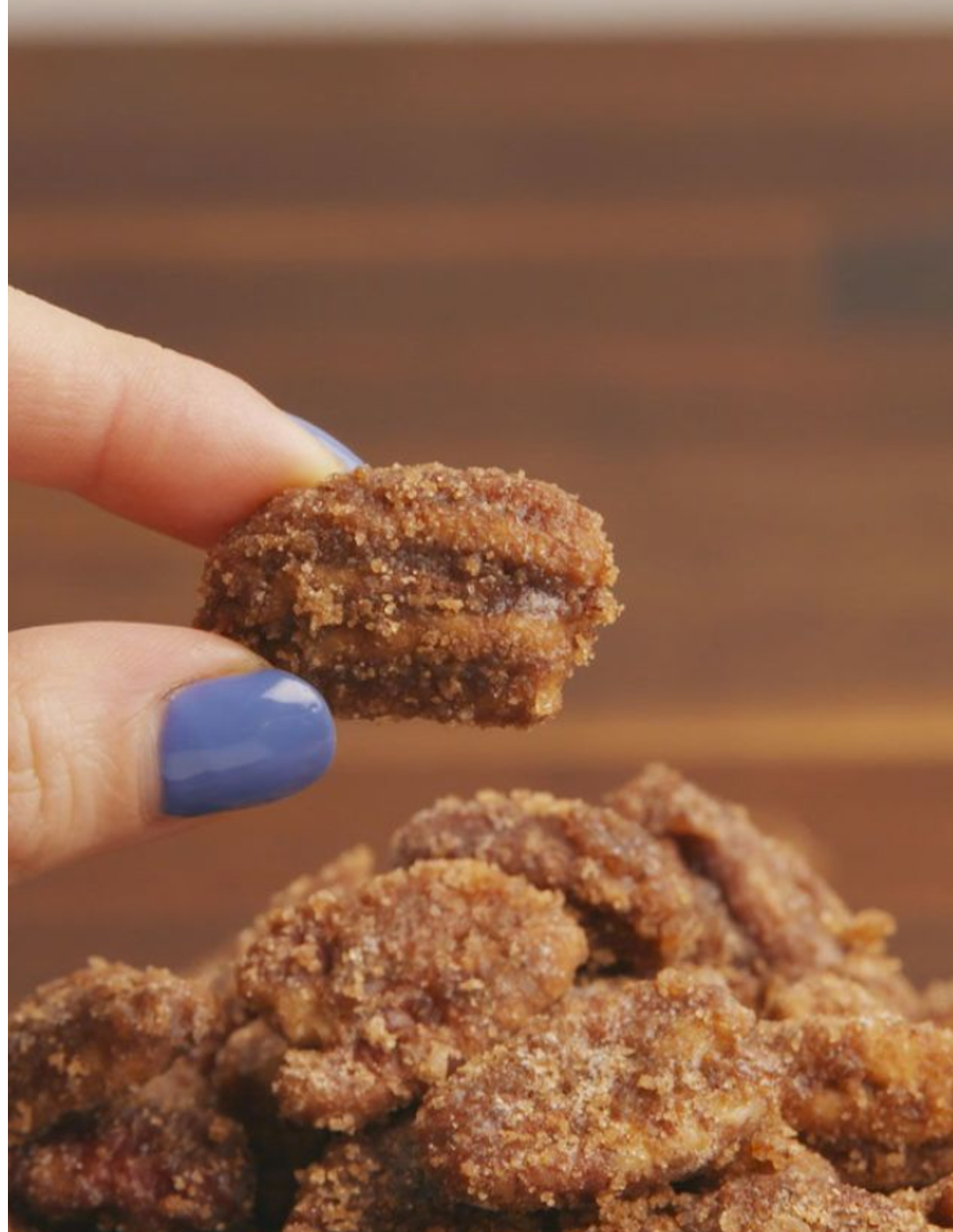 Slow Cooker Candied Pecans: I had a hard time deciding whether candied pecans got to be an appetizer or a dessert, but honestly, why do they have to be boxed into a category at all? They're delicious, it's the holidays, and we should be able to eat them whenever we damn well please! Plus, this is a slow cooker recipe so replenishing your supply is a nice hands-off task. Enjoy!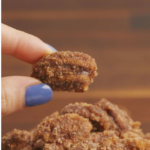 What's your favorite appetizer to serve at holiday get-togethers? If you have a recipe link, share it in the comments!