A while back, we introduced you to our favorite way to teach our kids finance – the Greenlight Debit Card for kids. We decided last summer to teach our kids more about managing money, finance and saving money.
The Greenlight debit card has worked out great for our family and we highly recommend it. Now, Greenlight has added the ability for kids to start investing and we are here for it. Before we dive into the Greenlight investing for kids, let's do a brief review of what the Greenlight Debit card for kids is.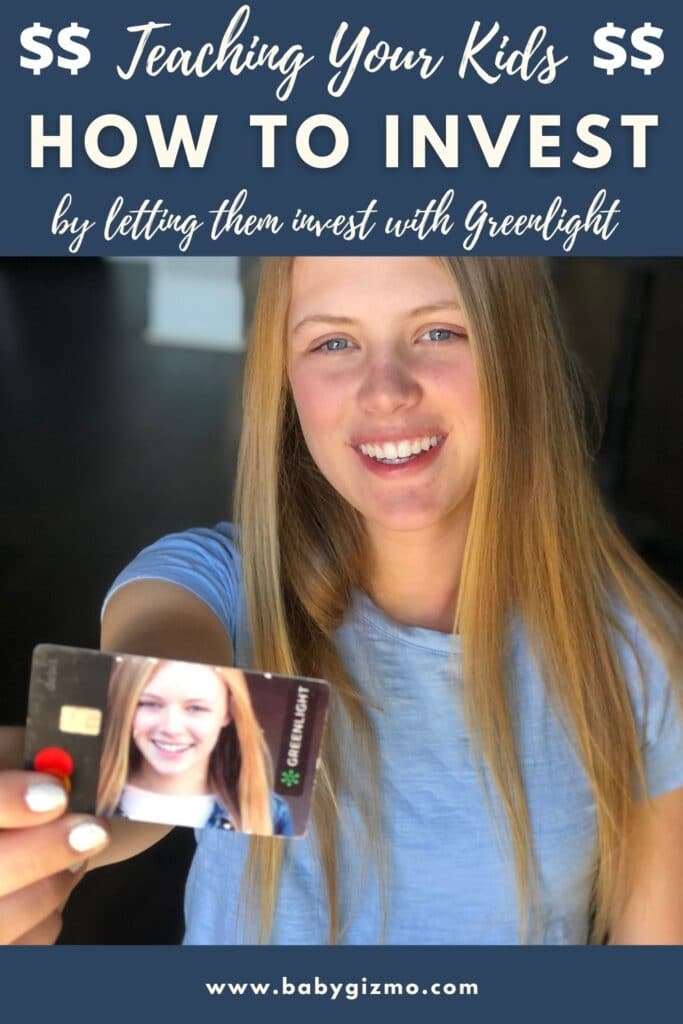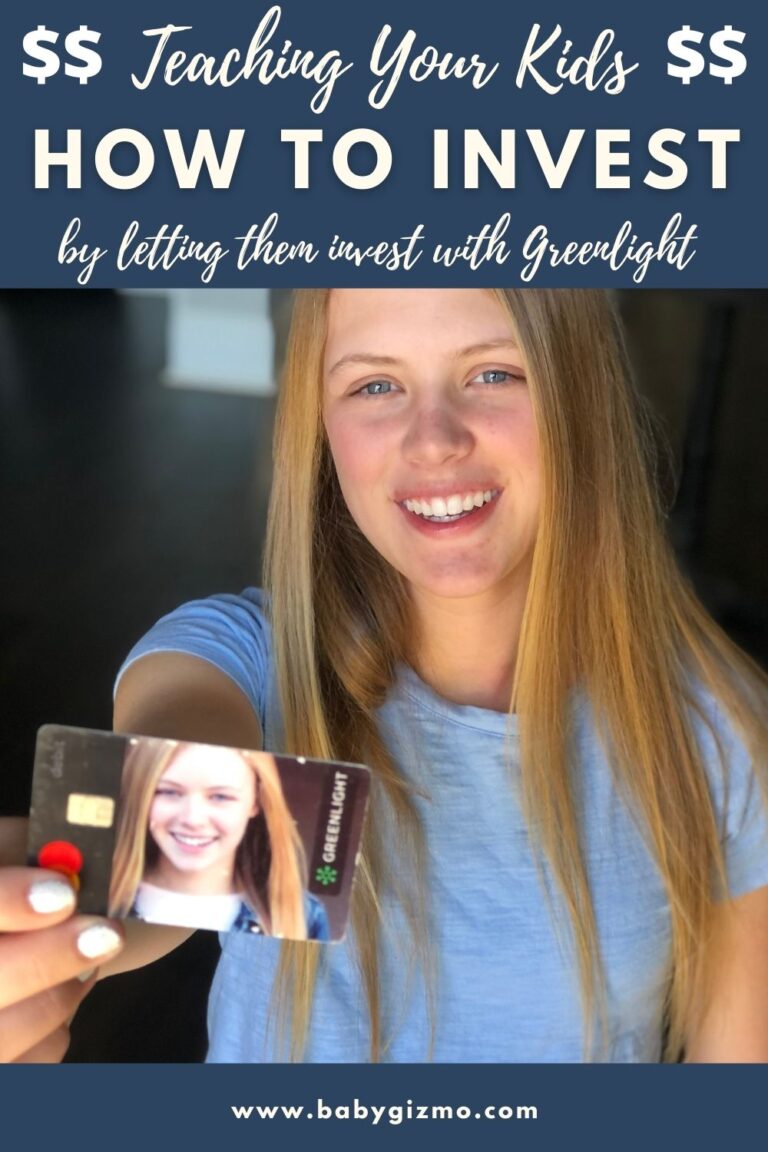 WHAT IS THE GREENLIGHT DEBIT CARD FOR KIDS?
Greenlight is a debit card for kids, managed by parents. But it's so much more than that. Our tools give parents superpowers, with more flexible controls than any other debit card.
The Greenlight Debit Card has so many features to help our kids learn to save, spend and budget that we highly recommend it.
For a small fee ($4.99/month) – first month is FREE – it includes debit cards for up to five (5) kids. That's right, all your kids (up to 5) are included in just the one $4.99/mo charge. It's NOT per kid!
There is no minimum age for a child to have a Greenlight card but we think the sweet spot is middle and high school. (Possibly later in elementary school as well)
The easy-to-navigate Greenlight app connects the "Parent's Wallet" with the kid's Greenlight cards. The parent's wallet is funded from the connected parents' bank account. (Yes, every account is FDIC-insured through their partner, Community Federal Savings Bank!). Parents load money onto the child's card from their own Greenlight app, and because it's a debit card, kids can't spend what isn't there. That's a pretty valuable life lesson.
The Greenlight card can be used almost anywhere Mastercard is accepted, online and in-store. Greenlight also works internationally in 150+ other countries, with no foreign transaction fees. No need to let them know if you travel abroad — you'll have enough to remember.
To find out more about the Greenlight Debit Card, watch our full Greenlight Video Review.
INTRODUCING GREENLIGHT MAX
While all the features of the Greenlight Debit Card are great, Greenlight has taken things a step further and offered kids (and parents!) a way to start investing money. The all-in-one plan teaches kids money management and investing fundamentals — with real money, real stocks and real-life lessons.
Let's let Dad Gizmo tell you all about it. You can also read more about it below. You can sign up HERE.)
Kids don't always learn the power of compound growth in school. With Greenlight Max, they get hands-on experience — and a jumpstart on their financial futures.
Invest is a feature with the Greenlight Max and Greenlight + Invest plans where parents and kids can research, purchase, and monitor real stocks and funds on the New York Stock Exchange and NASDAQ. Kids have the option to invest in a recommended portfolio based on their investment profile or build out their own portfolio one stock or ETF at a time and track investments in their own app by checking their Invest dashboard. All trades must be approved by the parent within the Greenlight app before the trade is executed.

– Greenlight
Yes, by upgrading your Greenlight account to the Greenlight + Invest or the Greenlight Max, your kids can invest real money in real individual stocks and exchange-traded funds (ETFs). With kid-friendly, educational content and analysis powered by Morningstar, this unlocks the world of investing for kids – with parent approval on every trade – in an uncomplicated and educational way.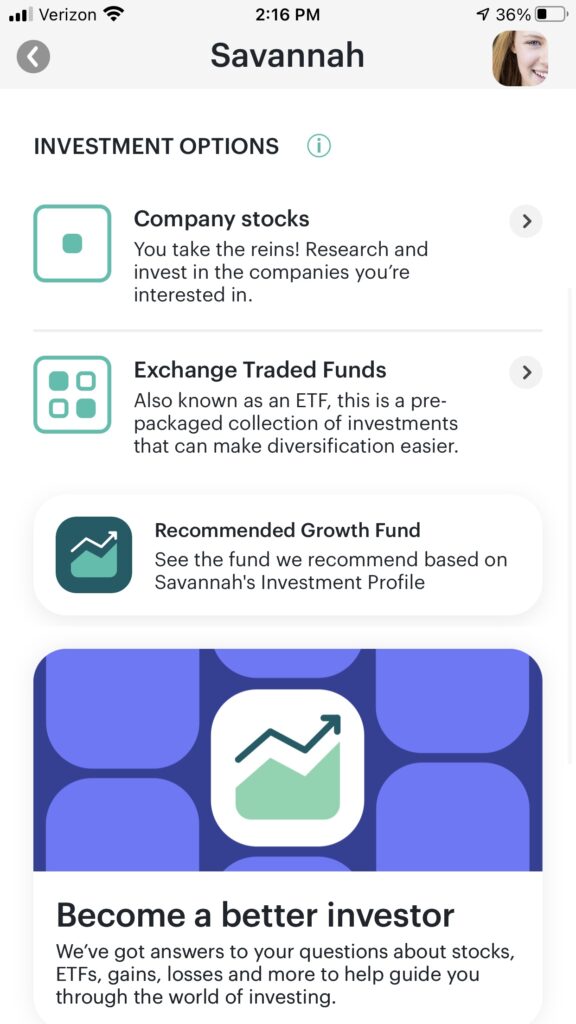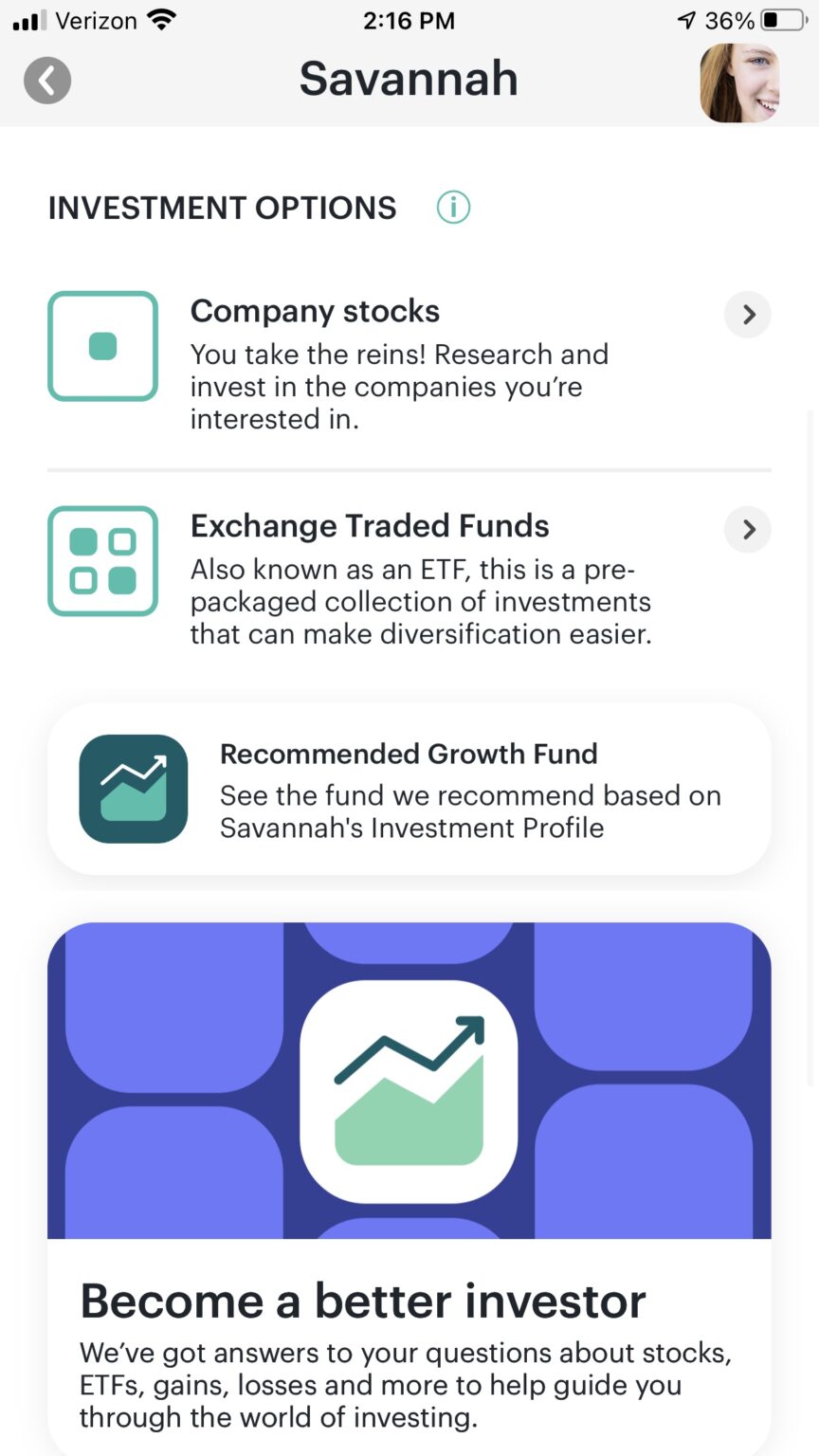 IS EVERY STOCK AVAILABLE?
While there is a very large selection of stocks and ETFs, we have to let you know that not EVERY stock and ETF is available on the Greenlight app.
In partnership with our broker-dealer, DriveWealth, we aim to make available as wide an array as possible of individual stocks and ETFs to our families on Greenlight + Invest and Greenlight Max so that they can make purchases based on their personal investment strategies. To mitigate risk to itself and its families, Greenlight offers only securities that meet the following criteria:
US-exchange listed stocks and ETFs, however, over-the-counter (OTC) securities are not available
Stocks and ETFs with a market capitalization greater than $ 1 billion
If the market capitalization is below $1 billion, then the 3 month average daily dollar volume must be greater than $0.5 million
Exchange listed sponsored ADRs (American Depositary Receipts)
A select few leveraged ETFs
Can't afford a full stock of Apple or Google? Good news! Another great feature of Greenlight invest is that kids have the ability to buy a fraction of a stock.
A fractional share is less than one whole share of stock in a company or fund. Think of fractional shares like buying a slice of cake versus buying the entire cake. A single share of stock could be hundreds or thousands of dollars. By supporting fractional shares, we give our families the ability to invest whichever amount they choose in a stock or ETF.
WHAT ARE THE INVESTING FEES?
This was one of the best things for us. No fees. Well, no ADDITIONAL transaction fees for trading besides the $7.98/month (or $9.98/mo) fee that you pay for the Greenlight service. NOTE: There may be some fees if you get into fund management but the Greenlight app is always upfront about any fees you may incur. For basic buying and selling of stocks, there are no fees though.
PARENT CONTROLS FOR KIDS INVESTMENTS
Can kids throw all their money at the stock market without you knowing? Nope. Every time the child wants to buy or sell, they have to request and receive parental permission through the Greenlight app.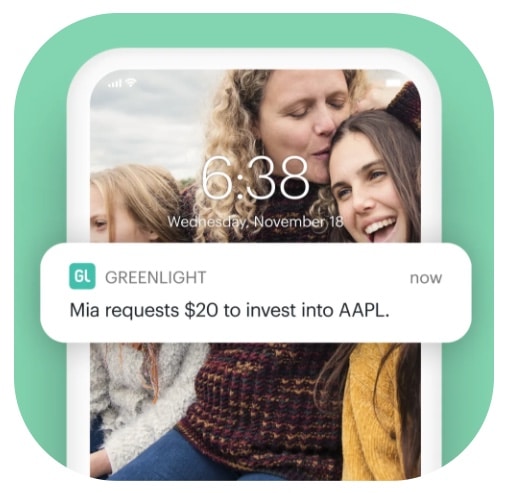 TEACHING KIDS ABOUT INVESTMENTS
Letting kids invest is great but how do they learn about which stocks to invest in? Great question! The Greenlight app includes Morningstar research for kids to learn the basics about the market. Ticker symbol? Expense ratio? Risk? Last price? What is the stock or ETF currently trading at? It's all there on the app explained in a language kids can understand and much more.
We really like how the Greenlight app displays all the information for kids to easily understand. We found that our kids are getting real world experience while learning about the stock market. The ups. The downs. They learn it all. Our kids enjoy researching different stocks and checking their portfolio (sometimes on a daily basis) which are valuable financial things to learn at a young age.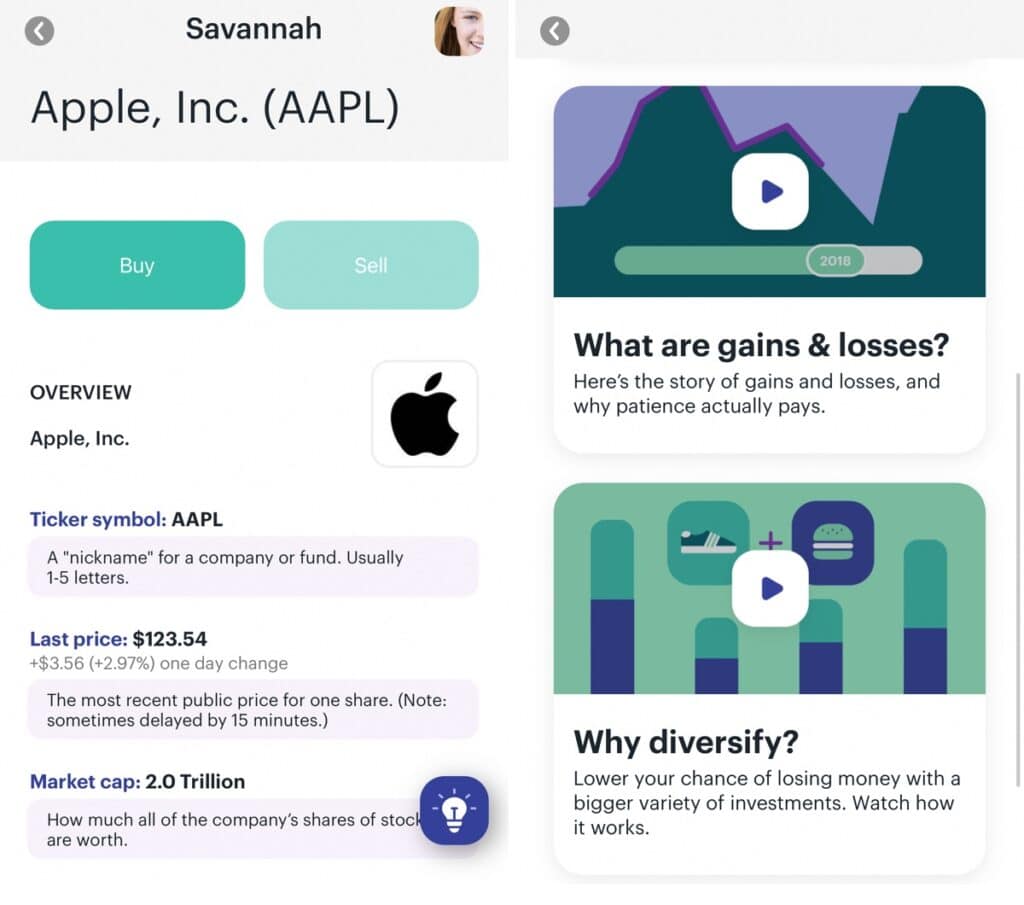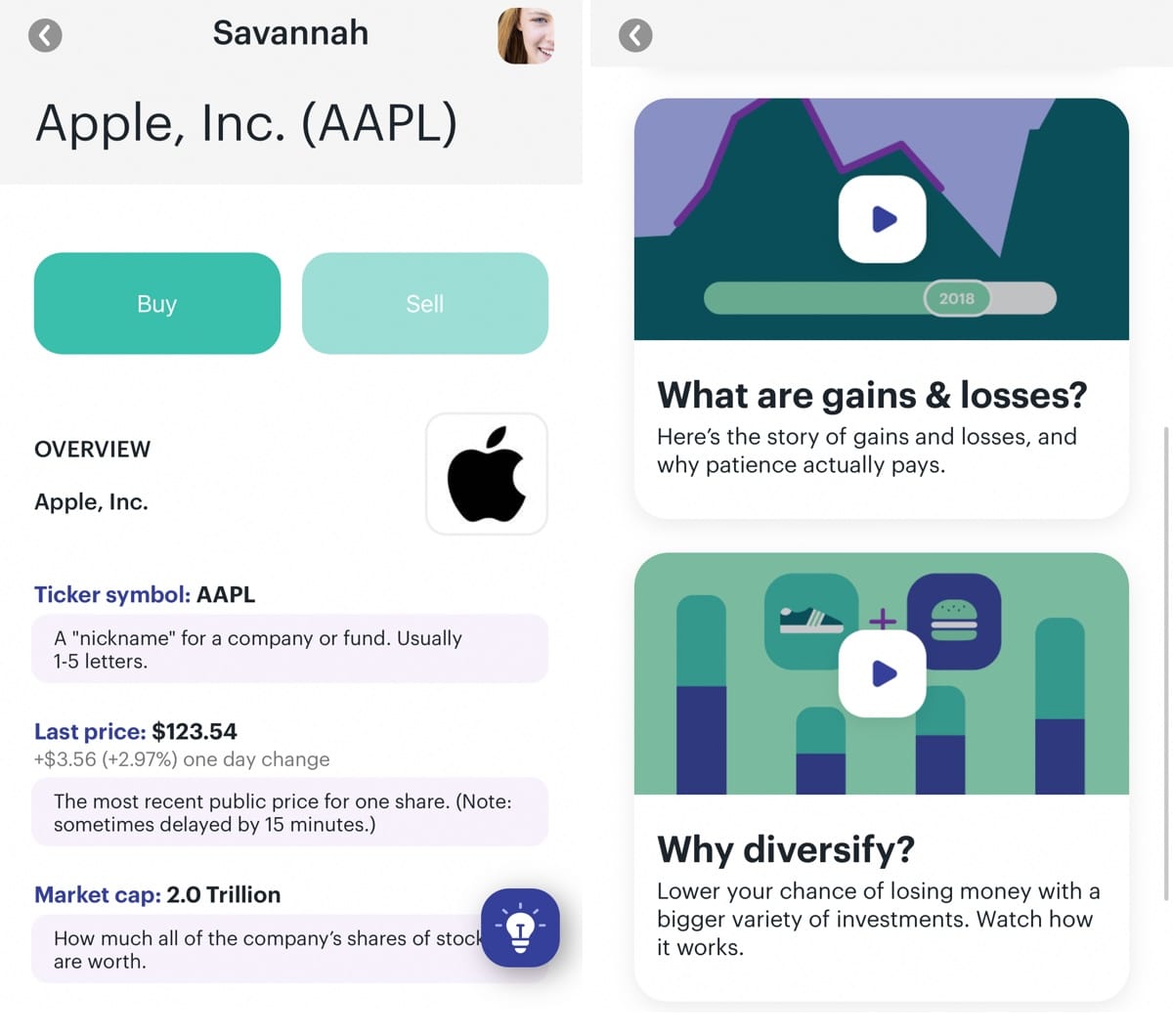 GREENLIGHT MAX VS GREENLIGHT + INVEST
There are two types of plans that will allow your child to invest with Greenlight: Greenlight + Invest and Greenlight Max. You may ask yourself, we want the kids to have the ability to invest but which one is right for us? Here are the differences between the two plans:
GREENLIGHT + INVEST ($7.98/month)
This plan gives your child(ren) all the benefits of the Greenlight debit card plus the ability to invest. For the one monthly fee ($7.98/mo), you get debit cards for up to 5 kids, access to the Greenlight app, core financial tools for saving, spending, earning and giving, parental controls and access to the investing platform made just for them.
Greenlight Max is the top of the line plan option with Greenlight that gives your child the power to invest plus a variety of additional features for the one monthly fee of $9.98/mo. Greenlight Max features all the Greenlight + Invest options plus these additional features:
Greenlight Black Card – This is just a new modern, black card that will work as their debit card and hopefully get kids excited about learning about finance and investing. This is just a different colored card. That's it.
Priority Customer Support – This feature gives Greenlight Max customers the ability to go to the front of the line when they need support. To be honest, we've never had a problem with Greenlight customer support with our regular debit card so we aren't sure how valuable this is.
Identity Theft Protection – Identity theft monitoring, alerting and restoration for the whole family.
Cell Phone Protection – Coverage for damaged, lost or stolen phones for up to 5 kids.
Purchase Protection – Repair or replace items that are stolen or damaged.
Spoiler alert: We went with Greenlight + Invest for our family and are happy with our decision. We wanted our kids to have the ability to invest but didn't feel we needed the added features of the MAX plan.
If you are looking to help your kids learn to budget, to teach them finance, save and spend, AND NOW INVEST you can sign up here for the Greenlight + Invest or Greenlight MAX plans.
SIGN UP FOR GREENLIGHT DEBIT CARD HERE
*Disclosure: This article may use affiliate links and referral links.