Have you made Grilled Cheese Sticks and Tomato Soup Shooters for your kids? It's taken me a few years to get it, but I've learned that presentation is everything when serving my children a new food. If it looks fun and appetizing, they're ten times more likely to give it a go. If it looks like a fancy adult meal, they tend to turn up their noses in a heartbeat.
Oh, your kids are the same too? What is up with these little people! Do they not understand that we are mere mamas and not big city chefs? I don't go overboard when appealing to their little palettes, but when I can, I try to put an exciting spin on lunch or dinner.
This last week I was craving comfort food and added the ultimate to our dinner menu – grilled cheese and homemade tomato soup. It has been cold and dreary this October and nothing sounded better to this mama than a warm bowl of soup and cheesy sandwich.
I whipped up a batch of tomato soup (recipe below) and our kitchen filled with a fabulous and hearty scent. As the soup simmered, I sliced up asiago cheese artisan bread and layered it with a sharp white cheddar. Perfection, I tell you!
My husband and I were content to dig in, as is, but for the kids, I cut their sandwiches into dipping sticks and filled small shooter glasses with soup instead of bowls so they could "play" with their dinner. Dip, dip, bite! Dip, dip, bite! YUM! Crunchy croutons on top added to the excitement and we all enjoyed a fabulous fall meal! Introducing Grilled Cheese Sticks & Tomato Soup Shooters!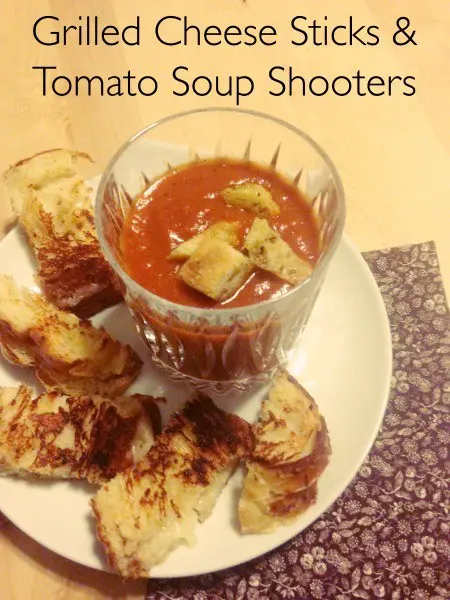 Homemade Tomato Soup
2 cans fire roasted tomatoes
2 cans stewed tomatoes
6 ounces tomato paste
2 tablespoons olive oil
1 tablespoon sea salt
1 1/2 teaspoons ground pepper
2 cups yellow onions, chopped
6 garlic cloves, minced
2 tablespoons unsalted butter
1 teaspoon thyme
1 quart vegetable stock
Optional: cream, basil, red pepper flakes
In a large stockpot, heat olive oil and butter. Add chopped onions and garlic; saute for 10 minutes until the onions begin to caramelize. Add all the cans of tomatoes (including liquid), thyme and stock. Bring to a boil and simmer for 40 minutes, stirring frequently. Carefully transfer to a blender and puree in small batches.
The above tomato soup recipe will yield a thick and delicious tomato soup … to spice it up a bit, feel free to drizzle with cream and add a dash of chopped basil or red pepper flakes.