I've got several meals on standby that I cook when I have company. This one is always a big hit with guests. The bonus is that my kids love it, too! It's healthy, delicious, and easy to make. It also covers three of the five food groups, making it a great all-in-one meal. Enjoy!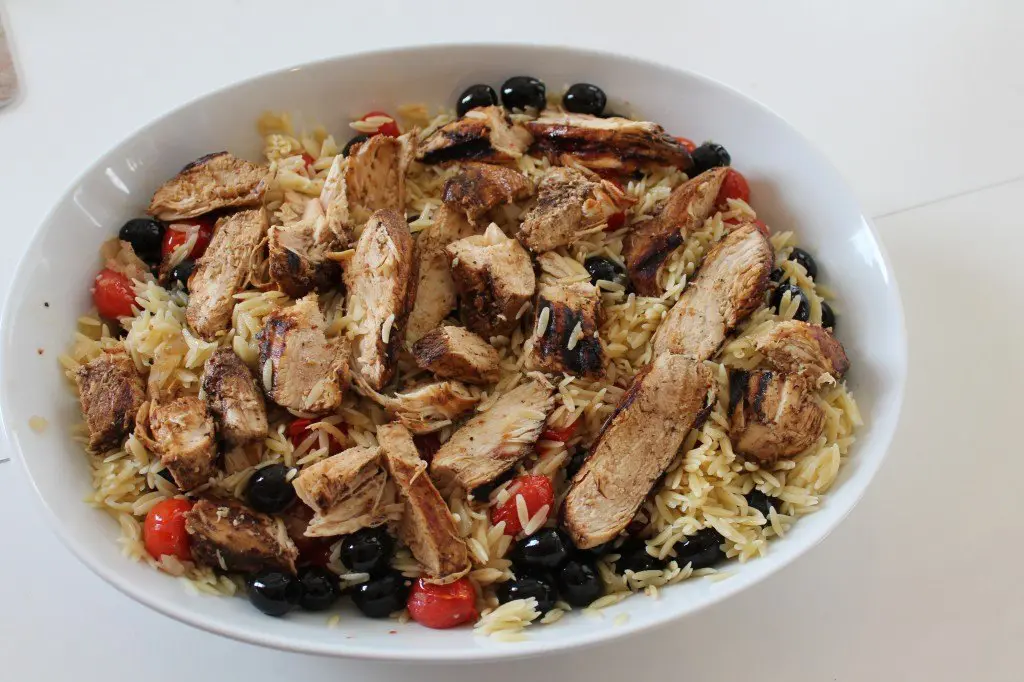 Ingredients:
1 lb. orzo pasta
1 to 1.5 lbs. chicken breast fillets
1 pint cherry tomatoes
1 can medium-sized black olives
1 cup onion, chopped
3 cloves garlic, finely chopped
salt and pepper to taste
olive oil
balsamic vinegar
Directions:
Marinate chicken in ¼ cup olive oil, 1/8 cup balsamic vinegar, 1 clove of the chopped garlic, and salt and pepper to taste for at least one hour in the refrigerator.
Cook the orzo according to package directions in a large pot of salted water, and grill chicken until cooked through.
Cut the chicken into strips.
Meanwhile, heat ¼ cup olive oil in a large skillet over medium heat. Add the onion and remaining garlic and sauté for 3 minutes or until softened.
Add the tomatoes and sauté for 5 minutes, pressing down on them with a spatula to release their juices.
Add olives, salt, and pepper. Add a bit more olive oil if you prefer to the pasta to be more "saucy." Cook for 1 minute to heat through.
Toss orzo with the tomato and olive mixture and spoon it onto a platter. Arrange chicken on top and serve.