Are you a homeschooling mama? Have you considered being one?
I've been tossing the idea around in my mind and thus, have begun researching styles and curriculum. My eldest is three so I've been in the preschool market when it comes to ideas and lessons, and so far, have been most intrigued by Five in a Row, specifically their preschool option, Before Five in a Row.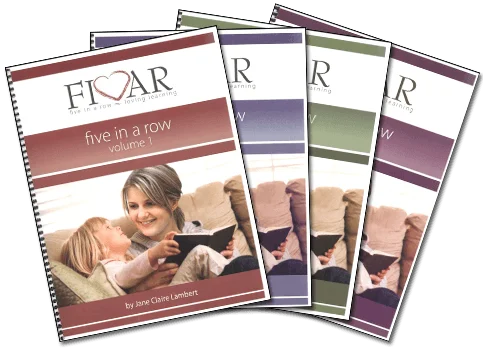 At its core, Five in a Row is about building relationships and facilitating a love for learning. I'm drawn to it for it's three stages – Before Five in a Row, Five in a Row and Beyond Five in a Row – because we can grow with it if we choose to. But most of all, the simple structure of using a children's book to guide learning seems to be doable; a great starting point for a brand new homeschooling family.
This is how Five in a Row works …
First, you determine which stage of Five in a Row is best for your family. For us, it's Before Five in a Row which is geared towards 2-4 year olds.
Then, purchase the manual. At just $35, it's a super inexpensive homeschooling option to get your feet wet.
Last, but not least, round up the literature pack that guides story time and launches learning activities. This can be purchased, but to keep things cost-effective you can also thrift or borrow the needed books from the library.
I'm getting really close to taking the plunge and ordering my first Five in a Row manual! Even though my youngest is just a year old, I think he'd be totally game for story time with mama and sis and then I can settle him for a nap or independent play and focus on the specific activity with my preschooler.
Five in a Row is much more than just a homeschooling curriculum. It's an entire community of parents who are striving to educate their children in a unique and fruitful way. There is a blog for ideas, forum for questions and audios of encouragement for homeschooling parents.
Have you used Five in a Row? I'd love to hear from some mamas who have used it firsthand!