This is a sponsored post. Thanks for supporting Baby Gizmo.
Picking a perfect diaper bag can be really fun (who doesn't like accessory shopping, right?!) but it can be a daunting task because the diaper bag is one of the most used baby gear items you will buy. New moms will carry a diaper bag for a minimum of 3 years PER CHILD. So, let's do the math for a second. If you have three kids, you potentially could be carrying a diaper bag for up to 9 years (depending on the age spacing of your children).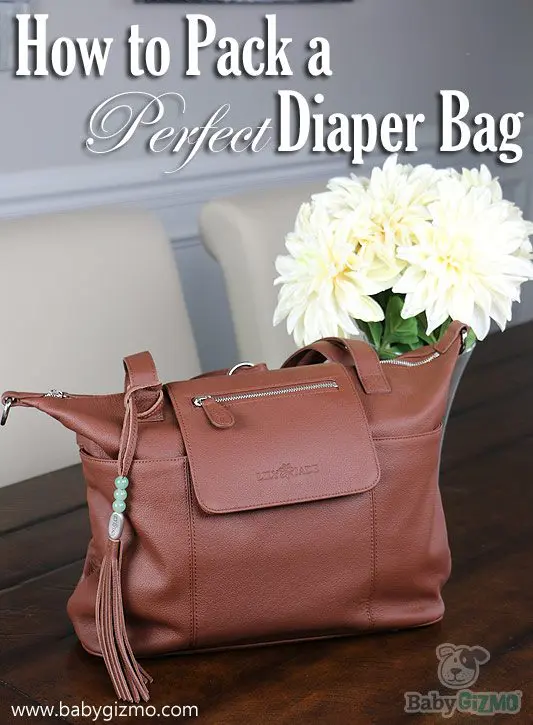 That being said, I highly recommend putting some serious thought into the perfect bag (especially before your mother-in-law makes a surprise gift of a great, big Winnie the Pooh-covered monstrosity.) Luckily, diaper bag selection is very similar to buying a purse. Style, fabric, color and price will all depend on your personal preference and lifestyle.
With Mother's Day right around the corner, I wanted to share my latest obsession with you – the Lily Jade Madeline Bag. You know, in case you want to buy yourself a gift. Or you need something to casually mention to your hubby as something on your wish-list? Or maybe you need a gift for that special someone who is about to have a baby?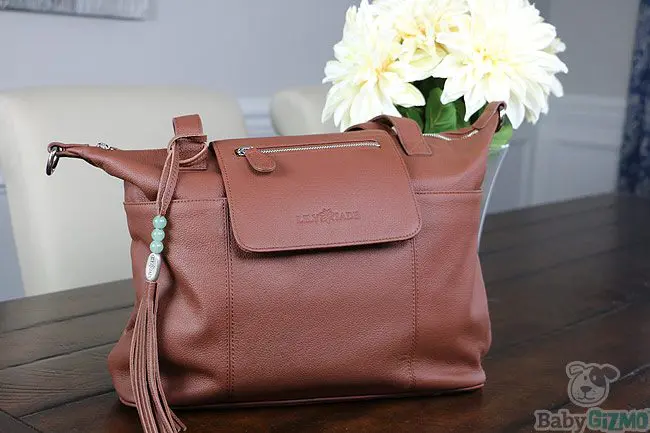 Lily Jade is a luxury diaper bag company that was started by a mom just like you and I. When she was a first-time mom, Lily Jade founder, Megaan Wood, found herself frustrated with the lack of beautiful, quality and functional bags for moms. And she was looking for a bag that wasn't just great for moms with small children but all moms. She set out to create her own and Lily Jade was born.
Meggan didn't just create another diaper bag though. She changed the way with I look at versatile diaper bags with the removable, washable, 16-pocket organization insert that's included with every full-size Lily Jade bag.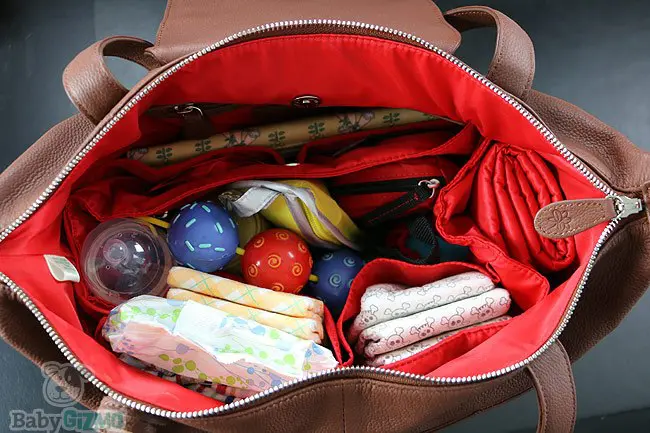 The insert allows moms to move from diaper duty, to meetings, to girl's nights. All you have to do is remove the organization insert (with all the baby essentials neatly packed in the pockets!) and your bag transforms to a "big girl" handbag that is perfect for the office or just time alone. Genius, right?!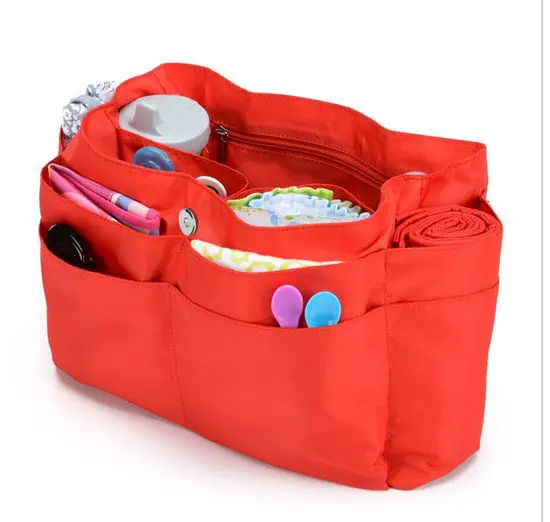 Before we really dig into the inside of the bag, let's take a look at the outside. Lily Jade bags feature details like backpack-wear options, premium full grain leather, and thoughtfully designed hardware and pockets.
On the Madeline bag, there are three open pockets and two zipper pockets on the outside for those quick items you need to grab in a jiffy. Plus, there are no pesky bottle pockets on the outside to give away that you *may* or may not have diaper cream on your person at that time. The bottle pockets are hidden inside.
The Lily Jade Madeline even looks good in her spot in my car! Yes, THAT is important! 🙂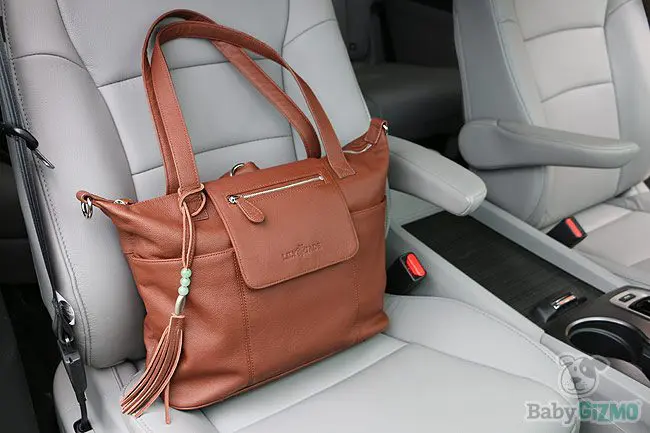 And on a stroller…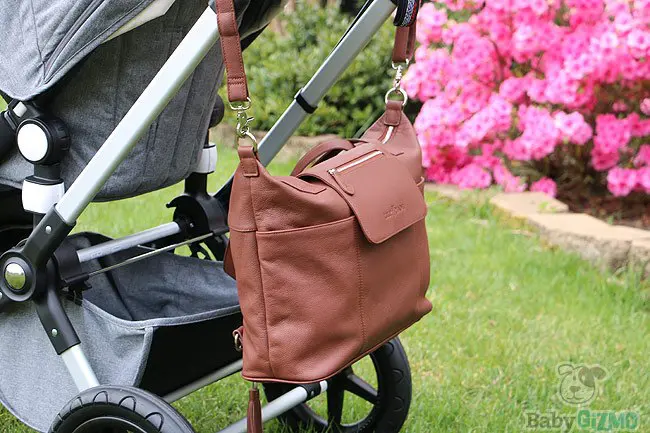 Since not everyone likes to carry their bag the same way, the Lily Jade can be worn three different ways:
1. Over the shoulder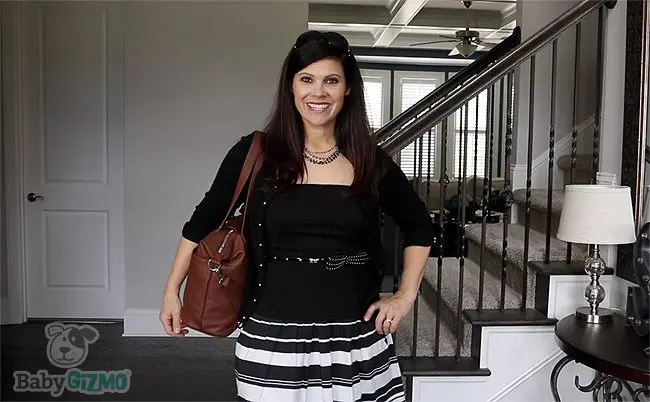 2. Crossbody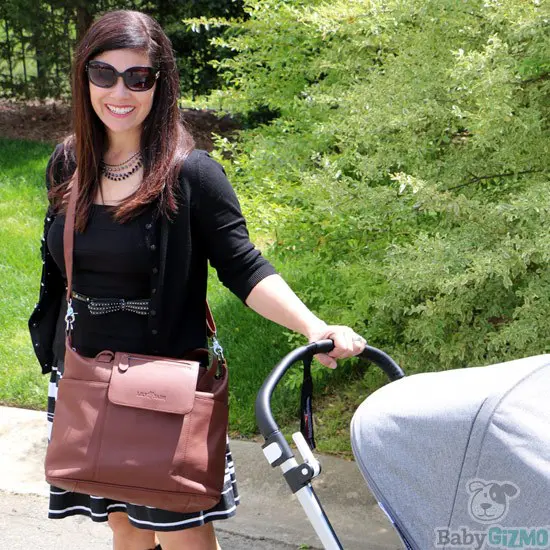 3. Backpack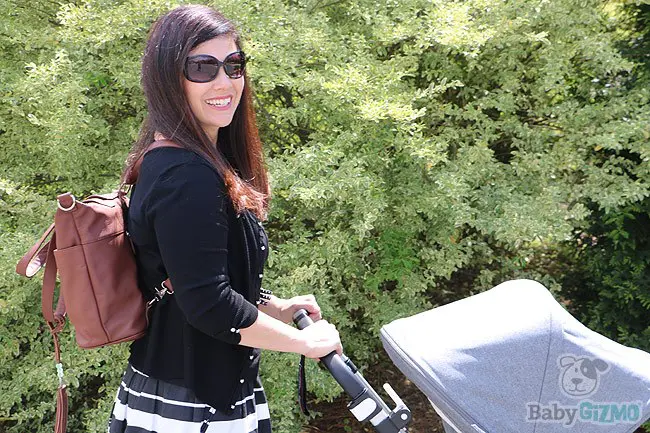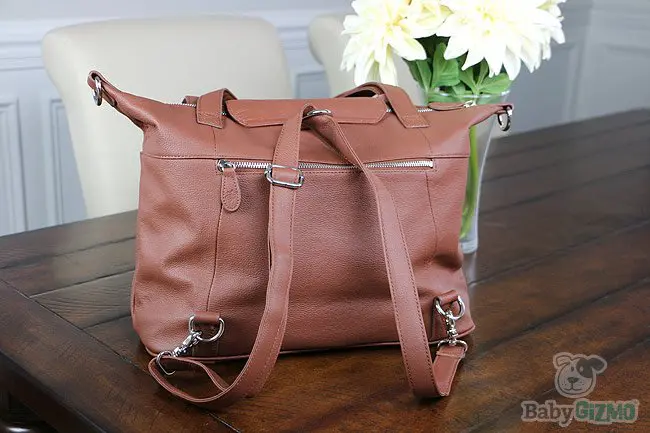 This Lily Jade Madeline bag is just gorgeous whether you are carrying it pushing a pram or have it slung over your shoulder hanging out with friends.
Inside my Lily Jade Madeline bag in Brandy, I love the gorgeous red lining that keeps the bag from becoming a black hole when you are looking to grab that emergency binky. Besides the 16-pocket organizational insert, inside there are three small pockets and a key fob.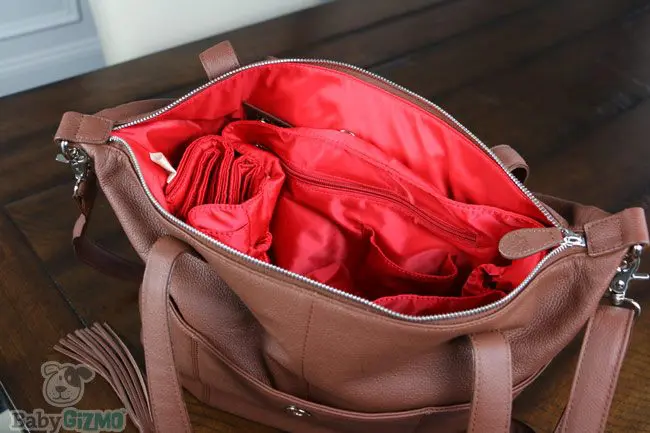 I know I said that Lily Jade bags are "luxury" (and they are!) but they are actually incredible values. Yep, these full grain leather premium totes would retail for hundreds more, but thanks to their unique e-commerce model, they are able to make these gorgeous bags more affordable for more moms. Right now the Madeline bag is on sale for $285. That's a steal for real leather and would make a fantastic Mother's Day gift!
I know I promised to show you how to pack a perfect diaper bag and now it's time to do that. In today's Baby Gizmo video, I show you exactly what I pack inside a perfect diaper bag for a baby.