In the winter there is nothing better than whipping up a warm batch of soup in the afternoon for dinner preparation. It's so cozy to heat up the kitchen as you cook and then nourish your belly before bedtime. This Italian Wedding Soup fits the bill when it comes to winter soups. Plus, thanks to the meatballs, it is quite hearty and therefore your hubby won't be complaining about this soup being the main dish!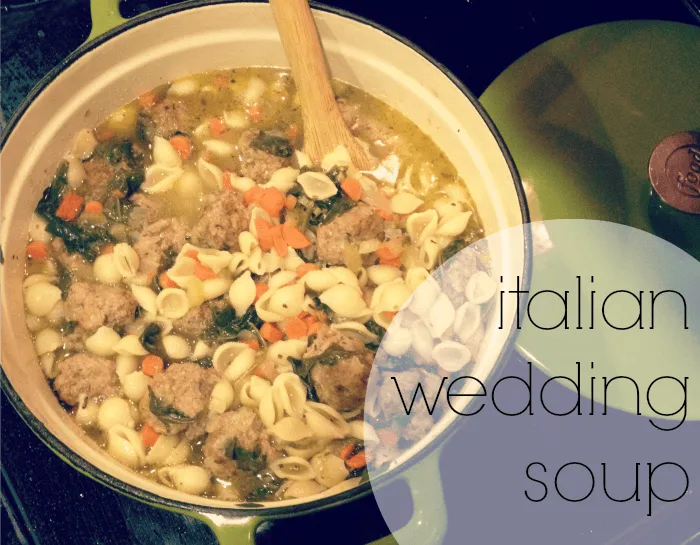 There are two cooking steps when preparing Italian Wedding Soup. First, your meatballs, which you can make a day ahead of time if you wish. You can also make a double batch and freeze some or serve spaghetti and meatballs or meatball sandwiches as a second meal during the week! Second, the actual soup recipe. I've broken up each recipe so just be sure that you look at both ingredient lists when checking your pantry.
MEATBALLS
1 lb ground beef
1/2 teaspoon salt
1/3 teaspoon pepper
2 teaspoons Italian seasoning
1/2 teaspoon garlic
2 eggs
1/4 cup milk
4 ounces Italian bread crumbs
Preheat oven to 375 degrees. Combine all ingredients in a large mixing bowl or KitchenAid mixer. If it seems too wet, add some additional bread crumbs. If too dry, add an extra egg or splash of milk. Roll meatball mixture into small balls, about 1 inch in diameter. One batch should yield approximately 24 meatballs. Line a baking sheet with parchment paper, line up your meatballs and bake for 20-25 minutes.
SOUP
2 tablespoons olive oil
1 cup onion, chopped
1 cup carrots, chopped
1/2 cup celery, chopped
8-10 cups chicken stock
1/2 cup white wine
1 cup mini shells pasta, or another tiny pasta
12 ounces spinach, chopped
Heat the oil in a large soup pot, like a Dutch oven. This one is my favorite and it goes on sale often! Add your chopped onions, carrots and celery. Saute for 5-6 minutes. Add the chicken stock and white wine. Bring to a boil. Add the pasta, cover and allow to cook for 8-10 minutes. If the pasta absorbs too much liquid add another cup or two of stock. Add meatballs and spinach and gently combine. Allow to simmer for a few minutes and taste test for any needed salt and pepper.
Ladle into bowls and sprinkle with Parmesan cheese. Top with homemade croutons!