Need to make room for all the holiday toys your little ones received, or just need to get rid of outgrown playthings? Here are some ideas for what to do with new and gently used toys: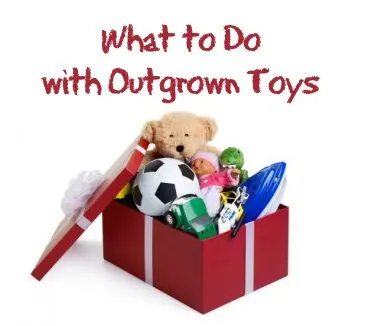 Donate them:
Bring toys to your local Goodwill or Salvation Army donation site, or schedule a time for the Salvation Army to pick them up at your home. Goodwill will donate money from the sale of your toys to help fund employment placement services, job training programs, and other community initiatives. The Salvation Army is a leader in disaster relief efforts and social services.
Donate toys to Toys for Tots by bringing them to a local drop box or by hosting a donation event at your home or office. All toys will go to children in need.
Don't have time to bring your toys to a donation site? Visit donationtown.org to see a list of local charities that will pick up toys from your home. Just enter your zip code and schedule a free pick-up!
Second Chance Toys, which aims to keep plastic toys out of landfills by giving them to disadvantaged children, has donation sites in New York, New Jersey, Pennsylvania, and Massachusetts. If there is no site near you and you have (or can collect) more than 50 gently used plastic toys to give away, Second Chance will arrange a drop-off at a local organization.
Room to Grow accepts baby toys, books, and gear in excellent condition and donates them to families in need. There are donation sites in the New York and Boston metro areas, or you could host a baby shower and collect baby items for donation.
2. Sell them:
Sell toys online on eBay or Amazon. Be sure to take clear photos of the toys and research what others are selling them for so you can price them fairly. Craigslist is great for larger items because you can sell them locally and arrange for the buyer to pick them up. You'll get a larger audience on eBay and Amazon, but you'll have to pay seller fees and ship the items to buyers.
Sell directly to other local parents on a Facebook resale group specifically for baby and kid items. If you can't find a group for your area, consider starting one!
Bring toys to a local children's resale store and receive cash or credit to buy new things at the store. You won't make as much money as you would selling items individually online, but sometimes convenience is priceless. Once Upon A Child has locations across the country, or just search online for a children's resale shop in your area.
Have a garage or yard sale. Advertise the sale on craigslist and in your local newspaper, and put up signs directing traffic to the sale. Be sure to mention that you'll have many toys for sale, and list a few of the bigger-ticket ones.
Sell the toys at a consignment sale. Consignment sales are events at which hundreds, or even thousands, of parents sell new or gently used baby and kids clothing, toys, books, gear, and maternity clothing under one roof. You can also find some great buys from other families at these sales! The biggest nationwide children's and maternity consignment sale event is the Just Between Friends sale. You can visit the website to see when the sale will be coming to your area, or just search online for a local consignment sale event.
3. Swap them:
Host a toy swap at your home for friends who have kids of various ages. Ask them to bring gently used toys they are looking to get rid of. For each toy they bring, they can choose another one to bring home to their kids.
At toyfortoyllc.com, you can upload photos of toys your child would like to trade, then negotiate swaps for other toys they want. There is a fee of $9.95 per month to use the site.
Offer the toys to other families for free at freecycle.org. Then post what you are looking for so that others can offer those items to you. It's a great way to get items you have to people who need them, and to get items you need from people who have them!