If you've started the preschool search for your child, you know how daunting and confusing the task can be. To help you get started, here are 10 things to look for as you start touring preschools.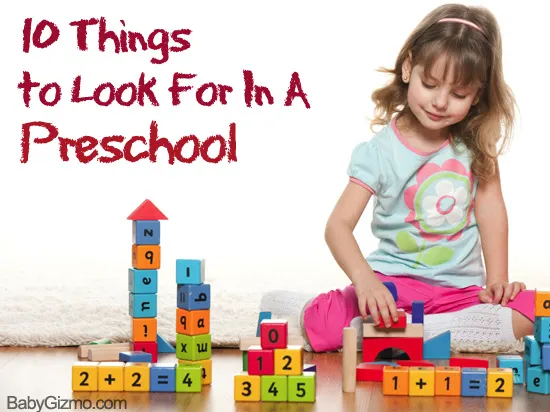 1) A balanced curriculum:
A good preschool has a well-planned curriculum that promotes social, emotional, physical, language, and cognitive learning and development. The curriculum should include plenty of arts and crafts, music, story time, and guided activities. There should be time built in each day for outdoor play (weather permitting). Students should also be given time to play and explore on their own and in groups.
2) A wide selection of age-appropriate toys:
There should be enough puzzles, art supplies, blocks, and other age-appropriate playthings to go around and to keep children learning and engaged.
3) Qualified, happy teachers:
Education and training requirements for a preschool teacher vary by state and school setting. Some teachers may need only a high school diploma and certification, while others may require a college degree. Be sure to research the requirements in your state, and be sure all teachers at the preschool meet them. Ask about the teachers' prior experience. You may also want to ask how long the teachers have been at the school. If a preschool has a high teacher turnover, it could mean the teachers are unhappy, underpaid, and/or overwhelmed.
4) A good reputation:
Though it's always important to visit a preschool and form your own opinions of it, glowing reviews from other parents whose kids have attended mean a lot. Likewise, if you've heard bad things about a preschool from several parents, you might want to think twice about sending your child there.
5) Proper licensing and credentials:
Preschools must meet state licensing regulations for health and safety in order to be licensed. Ask to see a preschool's license, then call your state's social services department to check that the license is current. You could also look for a preschool that's licensed by the National Association for the Education of Young Children (NAEYC). NAEYC-accredited preschools meet strict requirements for learning, safety, and more. To search for one near you, click here.
6) A clean and safe environment:
Make sure the floors, walls, play equipment, and kitchen areas are clean. Food preparation areas should be far away from the bathroom. Toys and play equipment should be in good condition and sturdy, and the outdoor play area should be secure. There should be stops or bars on any upstairs windows. Be sure the building is sufficiently lit, ventilated, and heated (or cooled in the summertime). Look for working smoke detectors and covered or protected radiators and heaters. Ask if there is a first-aid kit and fire extinguisher readily available.
7) An acceptable student-teacher ratio:
The NAEYC recommends that a preschool have no more than 20 kids in a group and no fewer than two teachers. Ask what a preschool's teacher-student ratio is and decide if you are comfortable with that.
8) A commitment to health:
Preschools should have a strict sick-child policy that requires kids with fevers, the flu, and other illnesses to stay home for a certain amount of time. This might be a hassle if you work, but it also helps ensure that your child won't catch every sickness his classmates get. Teachers should be CPR- and First Aid-certified. The school should serve nutritious snacks and meals, and it should have a detailed plan in place on how to handle fires and other emergencies.
9) An open, positive relationship with families:
If a preschool does not have an open-door policy that allows you to visit your child at any time, it could mean it has something to hide. Teachers should communicate regularly with parents and discuss any concerns about children with them. A good preschool will also involve in parents in field trips, special events, etc., and give parents opportunities to get involved in and out of the classroom.
10) Assessment of children's progress:
A good preschool will have a system for regularly assessing and tracking children's progress in learning, behavior, social interaction, and more. Families should receive information about their child's progress through meetings or conferences.
To read more about the NAEYC's standards for a good preschool—which schools must meet to receive accreditation—click here.
If you've already found the perfect preschool for your child, how did you know it was the right one? Leave a comment below and let us know!