When I was browsing my mother-in-law's old cookbooks a few weeks ago (yes, actual cookbooks and not Pinterest!), I came across what I thought would be a perfect fall snack – Maple Nut Cookies.
Don't miss our Maple Chocolate Pecan Pie Bars, Birthday Cake Cookies, or Caramel Pumpkin Cookies.
For some reason, maple makes me think of the fall. Is it because maple is from trees and during the fall the leaves are really changing? Maybe. Is it because maple syrup makes me think of pancakes, which are comfort food therefore a big hit when the weather starts to get cool? Maybe.
Regardless of the reason, I knew I had to try these Maple Nut Cookies with Maple Icing. I needed a break from all the chocolate recipes anyway. Last weekend I whipped up these babies and I'm so glad that I did because they are amazing. They remind me of the Petite Vanilla Scones at Starbucks but with an extra bit of maple flavor. Yes, they have a scone type of consistency that my husband swears is great for dunking in coffee. He liked these so much that he has declared them his current favorite, non-chocolate cookie.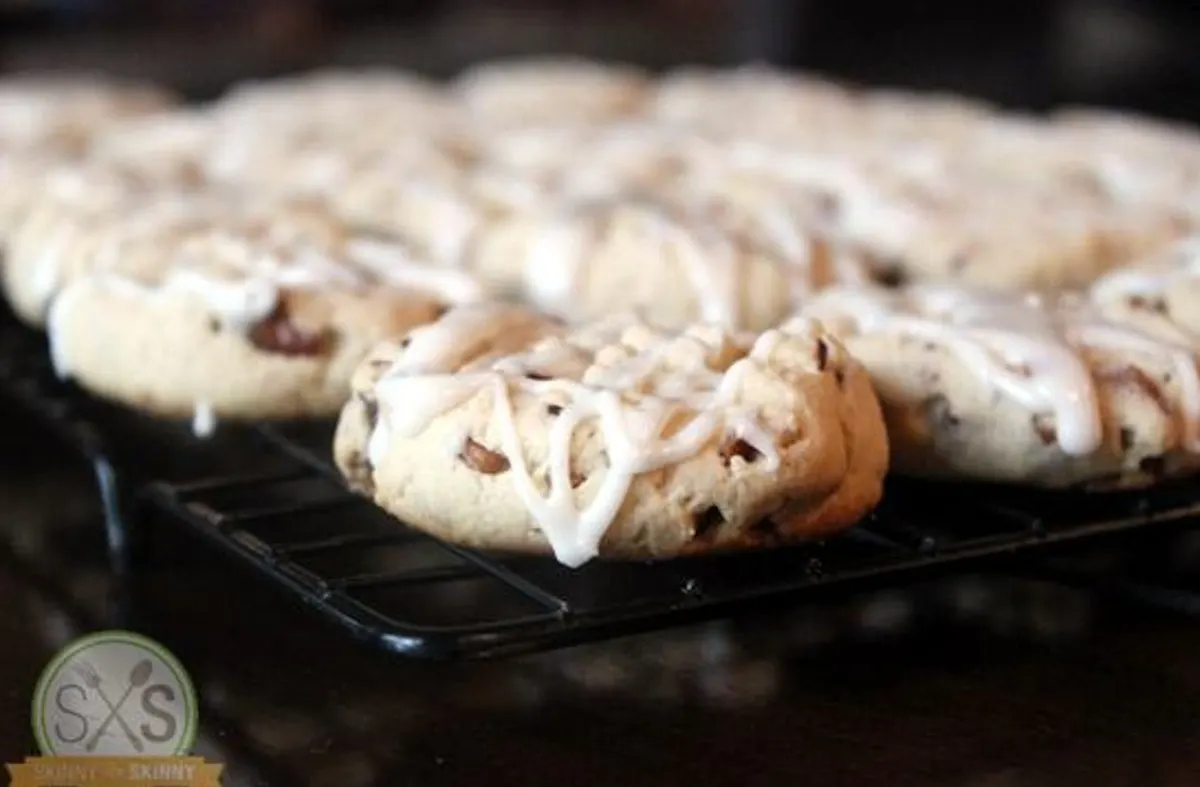 These cookies also remind me of the nut ball cookies that my dad asks for demands every Christmas. Same type of crunchy, nutty flavor.
So, basically we have a mix of scone and nut ball in these cookies. Seriously, they are good. As in, can eat them for breakfast, lunch or dinner good.
MAPLE NUT COOKIE INGREDIENTS
COOKIES –
3/4 cup pecan pieces (or halves)
1 cup butter or margarine, softened
1/2 cup packed brown sugar
1/2 teaspoon pure maple syrup
1 egg
2 cups all-purpose flour
1 tablespoon granulated sugar
ICING:
3/4 cup powdered sugar
1 tablespoon milk
1 teaspoon pure maple syrup
*NOTE: The original recipes calls for "maple flavor". I used "pure maple syrup". If you want more maple flavor either double the amount of maple syrup or use "maple flavor". I really liked the way I made them though.
HOW TO MAKE MAPLE NUT COOKIES
1. Heat oven to 350°F. In an 8-inch square pan, bake pecans for 6 to 8 minutes, stirring occasionally, until light brown. Spread nuts on cutting board; cool 5 minutes. Finely chop.
2. In large bowl, beat butter and brown sugar with electric mixer on medium speed, scraping bowl occasionally, until fluffy. Beat in 1/2 teaspoon maple flavor and the egg until well blended. Stir in flour and chopped toasted pecans.
3. Shape dough into 1-inch balls. On ungreased cookie sheets, place balls 2 inches apart. Flatten in crisscross pattern with fork dipped in granulated sugar.
4. Bake 11 to 14 minutes or until edges just begin to brown. Cool 1 minute; remove from cookie sheets to cooling racks. Cool completely, about 10 minutes.
5. In small bowl, mix icing ingredients until smooth; drizzle over cookies.
Makes about 24 cookies. (Serves 12 since most people will have 2!)
Recipe adapted from Betty Crocker recipe.