When I was in Mexico last week, one of my favorite activities was also the most terrifying experience. One of the days we headed to Maroma Beach, which is said to be one of the top 10 beaches in the world! Yes, in the world, people! And I have to say, they are right! It was the most beautiful beach that I had ever been to, with its white sand and gorgeous blue/green waters.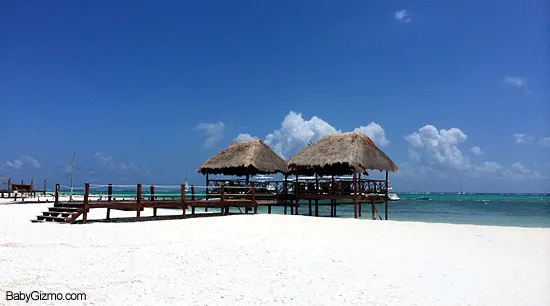 While we weren't staying at Maroma Beach, we did enjoy the fun activities that Maroma Adventures offers. They have all kinds of options from snorkeling to ATV riding, speed boats and much more. We snorkeled off of a catamaran, which was fun, but my favorite was the speed boats. It was thrilling and terrifying at the same time. These small speed boats are for one or two people and go pretty darn fast. You get about 5 minutes of training and then you are off on your "tour." When they say tour, that just means you are following another boat but your boat is completely under your control. You are driving out in the clear waters of the Caribbean. If you are a thrill seeker, this is definitely an activity to consider.
The Maroma Adventures website says the minimum age is 6 years old (as a rider, I'm assuming) and 6-12 year olds have to be accompanied by an adult. Unless your child is extremely skilled and experienced with boating, I would not suggest allowing a child to drive the boat until they are in their teens at the earliest. Maybe that is just me being a scaredy-cat though.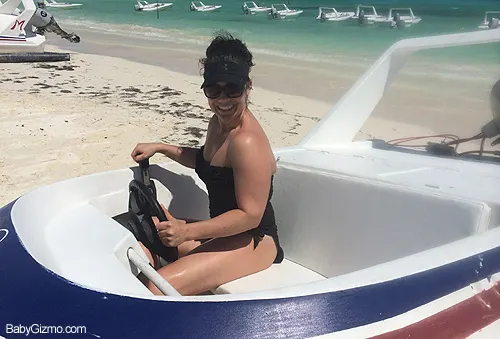 If you'd like to see how my speed boat adventure went, take a look at the video below. It was taken with an iPhone (with waterproof case!) so it's a little shaky. 😉
*Disclosure: The expense of the speedboat excursion was taken care of as part of my Generations Riviera Maya press trip. As always, all thoughts, opinions and statements are my own.