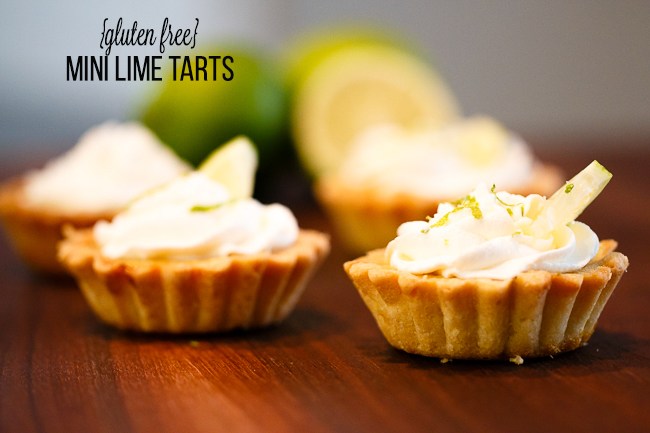 Giving the perfect balance of tangy and sweet, today I'm sharing the recipe for these incredible mini lime tarts. Decadently refreshing, they consist of a buttery crust with a silky smooth citrus filling made with fresh lime juice, lime zest, egg yolks, and condensed milk, with swirls of fresh whipped cream on top. These mini tarts are small enough to eat in one bite, but so deliciously addictive that I dare you to eat just one.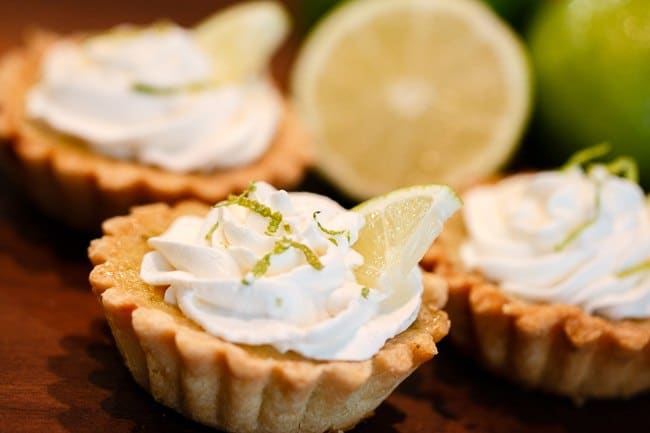 First, roll out the piecrust dough into a thin sheet and cut out small circles to press into the mini tart molds or cupcake pan. Bake for about 10-15 minutes, until lightly brown. I used my ultimate piecrust recipe (that just happens to be gluten free) but if you are short of time you can always buy ready made piecrust dough from the freezer section of your grocery store.
For the filling, whip the egg yolks until they are light and airy and then add in the condensed milk, lime juice, and lime zest. Pour the mixture into the pre-baked crusts and bake for about 10 minutes until set. Place the mini tarts in the refrigerator to completely cool before topping with fresh whipped cream. Who would have thought something this decadent could be so easy to make?
If you liked this mini lime tart recipe, check out more Baby Gizmo Dessert Recipes.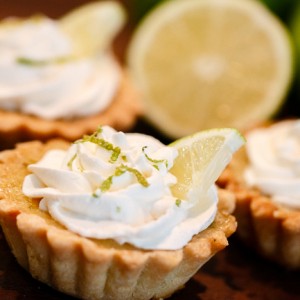 Mini Lime Tarts
These Mini Lime Tarts are a delicious, easy but sophisticated recipe.
Ingredients
1 9

" GF Pie Crust Recipe from Rubina's Cake Shoppe

see link above or store bought piecrust

4

egg yolks

1 14

oz

can of condensed milk

½

cup

lime juice

1

lime zested

1

cup

heavy cream

2

tablespoons

powdered sugar
Instructions
Roll the pie crust dough into a thin sheet. Cut small circles and place them in the mini tart molds or cupcake pans. Be sure to press the dough well onto the bottom and sides of the pans. Trim off the excess dough.

Bake the crust in a 350 F degree oven for about 10-15 minutes until the crust is lightly brown.

Let the crust cool.

Beat the egg yolks in a mixing bowl until light and fluffy.

Add the condensed milk, lime juice, and lime zest.

Pour the mixture into the pre-baked crust.

Bake for 10 – 12 minutes until it is set.

Let cool and store in refrigerator.

Add the heavy cream and sifted powdered sugar to a mixing bowl.

Using a hand beater or the whisk attachment on the standing mixer, whip on medium high until it is thick and forms stiff peaks. Do not over beat.

Spoon the whipped cream on top of each tart or use a piping bag to create swirls for a more decorative touch.

Enjoy!
About the author: Rubina Umarji is the owner and executive cake artist of Rubina's Cake Shoppe. After the birth of her son in 2009, she left her career in engineering to focus on her two passions: her family and her edible art. Since then, she's had the opportunity to showcase cakes and gourmet confections to thousands of dessert loving clients as well as over 100 of Hollywood's hottest stars and has had her cakes featured on television. Now her days are focused on teaching cake decorating classes to all ages. Her favorite students are her two children, ages 3 and 5. She frequently writes cake decorating tutorials and recipes on the Rubina's Cake Shoppe Blog (www.rubinascakeshoppe.com/blog).