This conversation is sponsored by Kenmore.
What would you do with more time? Read a book? Play with the kids? Take a nap? Partake in the Kenmore Dirty Girl Mud Run? Well, I'm about to tell you how to save time out of your busy mama schedule!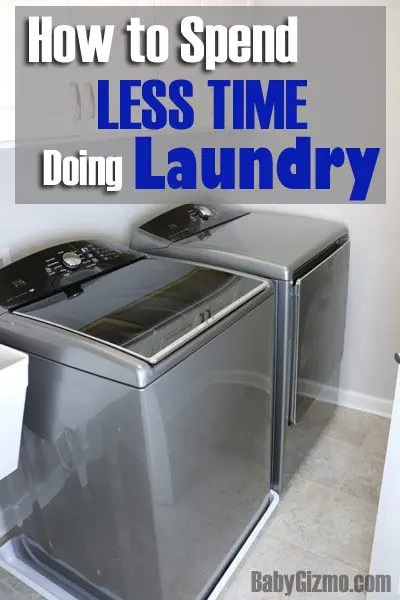 One of my least favorite chores in the home has got to be laundry hands down. With a family of five, the laundry pile seems to be never ending. As soon as I think it is all done, my three kids can manage to fill up a laundry basket within the hour. They get clothes dirty like it's their job.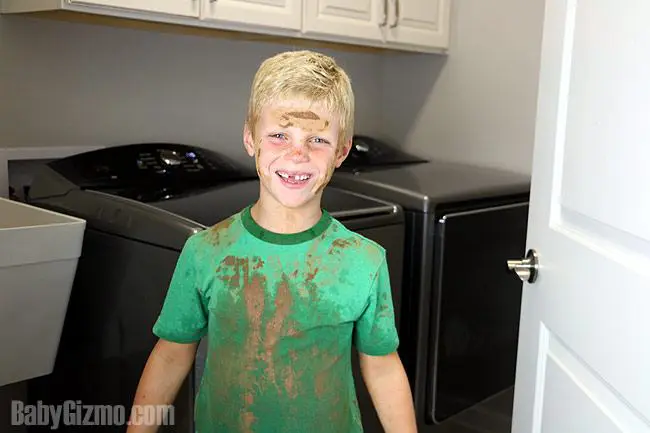 I could literally be doing laundry every single day but who the heck has time for that?! Definitely not me!
But for some reason with our everyday family chaos comes a ton of messes which leads to more wardrobe changes than the cast of a Broadway show. One kid decides by noon that they want to be a super hero. Another can't bear to keep the outfit on that she *may* have perspired in when walking the dog. And the other one is normally forced to change because he is attracted to dirt and mud like SpongeBob is addicted to crabby patties. Add up 2-3 wardrobe changes times three kids, and you have a very unhappy mother in the laundry room.
Lately, my laundry tune has changed though with the arrival of the new Kenmore 5.3 cu ft Top Load Washer and Dryer with SmartDry Ultra Technology. This is a go big or go home situation because this new Kenmore washer takes washing your clothes to the next level. It has the biggest capacity of ANY washer in its class. You know what that means? Less loads! You get laundry done faster!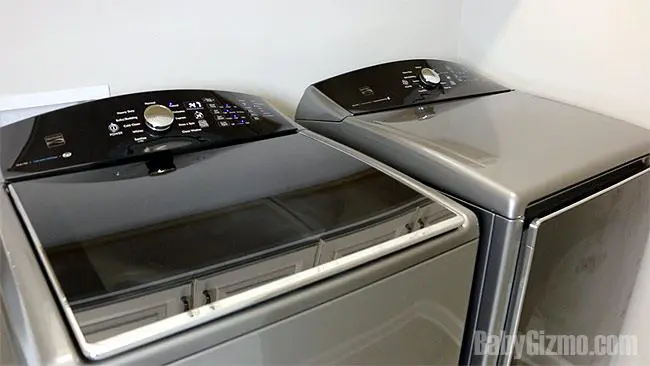 All you have to do is look inside and you know this washer means business. The inside drum of the Kenmore Top Load Washer is absolutely huge but this isn't just a big, one-trick pony. Due to the Exclusive Triple Action Impeller, no one cleans better. Seriously, I have no time to be re-washing clothes so this gets the job done superbly the first time.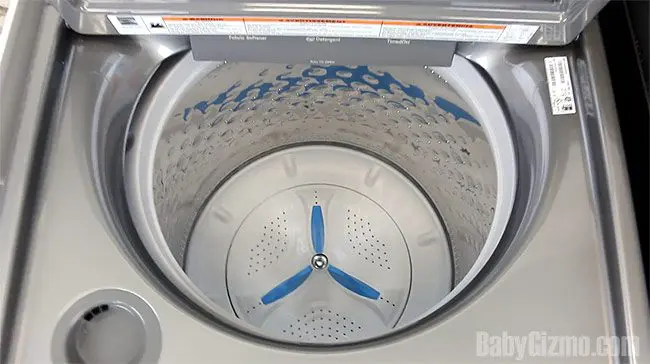 Let's talk about the impeller for a minute. Maybe you don't even know what an impeller is? Impeller washers feature a cylinder at the bottom of the washer drum that moves clothes through the wash cycle in a more delicate way and produces a clean laundry load without as much wear and tear as agitator models. This is a good thing.
The Kenmore impeller's new and improved design cleans with three wash actions: nine spray jets that attack dirt from every angle with a deep-cleaning mix, wash basket action and impeller action. These wash actions work together to move clothes more for optimal performance and to deliver a high-efficiency clean. Plus, this top load washer is quiet. Not silent-quiet but definitely provides less noise than my old washer due to the intuitive Direct Drive Motor that adapts to the size of each load to deliver just the power you need.
And if that isn't enough, the Kenmore 5.3 cu ft Top Load Washer has these amazing features that makes my mama heart smile.
Accela Soak™ technology delivers a deep clean and reaches soils faster
SteamTreat™ option uses the penetrating power of steam to help wipe out tough stains
Fabric Softener Dispenser combines fabric softener with water and conveniently enters the wash basket at just the right time during the cycle
Capacitive Touch Controls deliver a quick response to your light touch and add a sleek appearance
Timed Oxi™ Dispenser helps boost cleaning power and makes it easier than ever to get whiter whites
Deep Fill option lets you add more water to your wash cycle, allowing you to control the water level in your washer
Seriously, this washer has changed my laundry life. The amount of laundry I can wash in one load is amazing! We are talking 26 towels in one load which is about double the laundry than my old washer! It literally cuts my washing time in half because I can do half the number of loads. So, this washer has given me back time!
Personally, I think my mom is going to be sad that this washer wasn't around when I was in college. I would bring my laundry home including my bed comforter and stuff it all in the washer to save time. The washer would start shaking, jiving and walking across the laundry room because it was overfilled. She was definitely not happy about that.
"You are going to break the washer," she would whine.
Little did she know, that I was just ahead of my time and needed this new Kenmore washer years ago before it even existed!
My washer isn't my only new BFF in my laundry room because the Kenmore Electric Dryer with SmartDry Ultra Technology is pretty awesome too. Of course, I needed a dryer that could keep up with the Front Load Washer and this dryer is always up for the job. With an 8.8 cu. ft capacity, the dryer can keep up with the washer and let's me dry multiple loads of laundry at once. Let's be honest though because with how much my washer can hold, that is like multiple loads when I toss it in the dryer.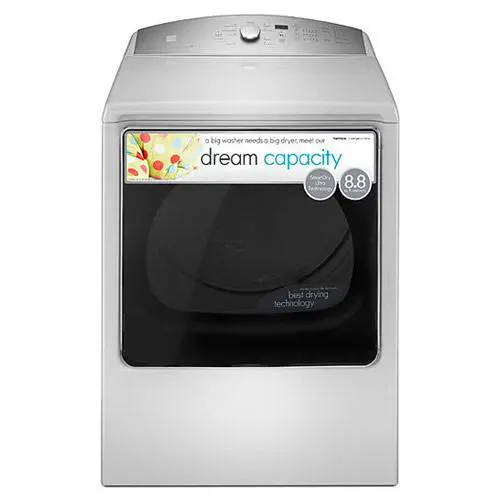 The SmartDry Ultra Technology has a four-point sensing system that includes two moisture sensors that automatically adjust cycle time, as well as one temperature monitor. A Dual Heating Element fine-tunes temperatures to prevent overdrying, help keep clothes looking newer and reduce shrinking. It's all good stuff. My clothes are dryer faster and they look better!
Overall, I couldn't be happier with my laundry room situation. Okay, I could be happier with a maid who did my laundry but this Kenmore washer and dryer is the next best thing!
What are your laundry stories? What would make your laundry room better? We'd love for you to share them in a comment.
Disclosure:This post is sponsored by Kenmore and product and compensation has been provided by them. As always, the opinions and ideas expressed here are my own.
MORE CLEANING ARTICLES