I want to share one of our favorite and most used pieces of baby 'gear'! The Mommy Yummy Reusable Pouch set from Amazon is amazing. If you have a baby or toddler who loves pouches, you need a set (or two) or these! Check out my review below.
Mommy Yummy Reusable Pouch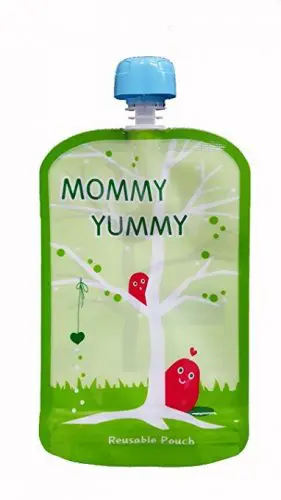 Ok, so the name isn't all that catchy. But the pouch is! My daughter, 19 months now, has loved pouches for over a year now. We easily go through two a day even now. (Some days, it's the only vegetables I can get in her.) As any parent with a baby older than six months knows – pouches can get expensive!
I also really enjoyed making her baby food at home, but it wasn't easy to transport when we were out. Enter reusable pouches!
In essence, a reusable pouch can be filled with whatever you'd like – baby food puree, smoothies, yogurt, thinned out oatmeal, etc. Simply rinse it out and place it in the dishwasher to use it again!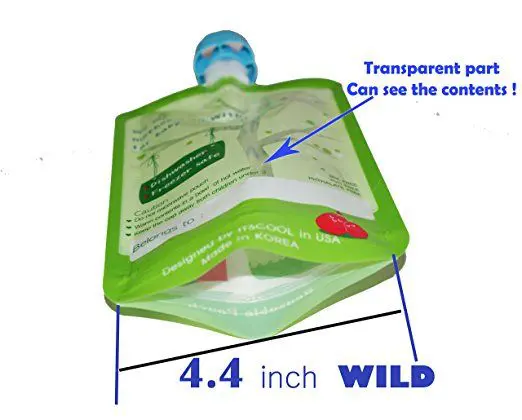 The corners of the pouch are rounded so that no food gets stuck. If I ever have a small amount of food stuck, a small bottle brush easily gets it out. The pouch has a 'zipper' along the bottom of it to easily fill it with desired foods and seal it quickly. The 5 ounce size is very generous, and there are no issues if it isn't filled completely. Often, I will put a yogurt inside the pouch for my daughter to easily eat. This happens when I'm not in the mood to clean up a toddler eating yogurt by herself with a spoon 😉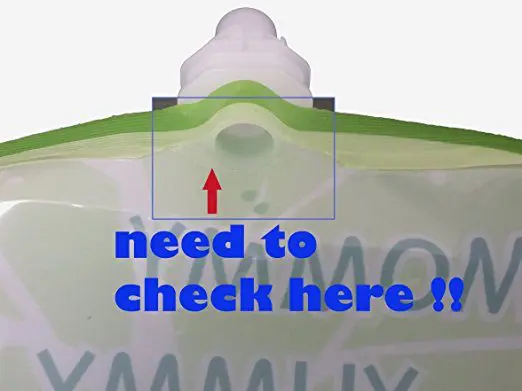 The pouch itself is PVC,BPA, LEAD and Phthalate free. The pouch has clear spots on the packaging where you can see inside to the contents. This is helpful if you fill the pouches ahead of time and keep them in the fridge – you can easily see if they are filled with squash or prunes 🙂
The Mommy Yummy Reusable Pouch 6 Pack is currently available on Amazon for $8.99.