Hey moms! Has Christmas made your shopping list a mile long? Are you mega busy keeping an eye out for the perfect gift for your kids, their teachers, Santa stockings, and the great-uncle you drew for in the family gift exchange?
I am, and chances are, you are too. The rush of the holiday has left me with a blank stare when someone inquires what is on my list this holiday season. I know there are things I'd like. Once upon a time I even started a list in the notes section on my phone so I'd be prepared for this question. But now? I'm at a loss!
To better sort out what I'd like to find under the tree, I gathered ideas from a handful of mama friends. My oh my, they know exactly what Christmas dreams are made of! Take a peek and perhaps you'll determine what you too really want to find under the Christmas tree this year.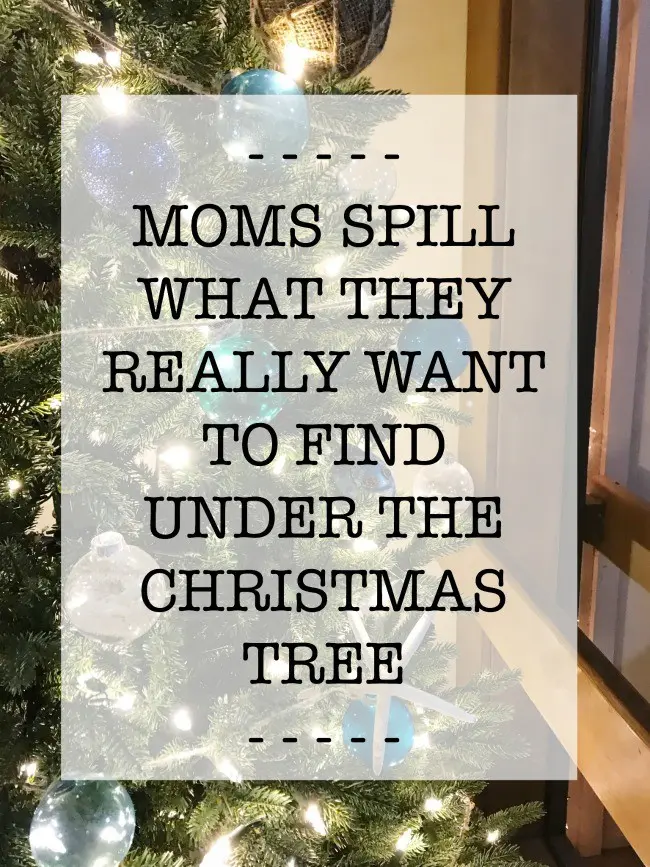 "I always tell my hubs that diamonds are a girl's best friend and I would love to have lots of friends. Realistically though, I love those mama bear shirts, so I've asked for one of those as well as a milk warmer and frother for my morning cup of coffee." -Tasha B.
"A spa day…. all day with the works, by myself." -Stephanie C.
"I'm dying for a Roomba!" -Ashley M.
"Zengo (like Soul Cycle) classes." -Ashley W.
"Housekeeper, private chef, personal assistant and a good nap." -Leanna A.
"Someone to compile all of my photos and videos into adorable albums, baby books and family videos." -Callie K.
"Disneyland tickets! I'm still a kid at heart." -Krista F.
"I want black skinny overalls because that's what all the cool kids are wearing and I still want to be young and hip!" -Kristel A.
"More closet shelves." -Christine S.
"Lily Jade diaper bag this year!" -Naomi N.
"I really want an essential oil diffuser! And some muck rain boots!" -Brittney S.
"I always tell my husband I want a wife for Christmas." -Chelsea D.
"I would like an all inclusive cruise for my hubby and me. By all inclusive, I also mean a babysitter for my kids to stay home!" -Charissa F.
"I have a lot of things on my wishlist for our hobby farm. Greenhouse plastic, nursery pots, you name it. I would love a head lamp, now that it gets so dark so early, it's hard to carry a flashlight and do chicken chores." -Corynn H.
"Same thing I wanted when I was 16 – new Vans, preferably the sk8 hi in white plus someone to clean my bathrooms and wash my dishes for a year." -Emily T.
"Maybe this sounds lame, but grocery store or Trader Joe's gift cards that I can use specifically for all the fun 'extras' and indulgences I never buy. Like, a specialty chocolate bar, my fave peanut sauce vinaigrette, or dragonfruit. Also, either Starbucks gift cards or a coffee subscription box (like Bean Box)." -Andrea J.
"I really want new pans that are cast iron or just really nice and last forever. Also tons of home improvement projects that are half finished to get finished." -Leila C.
"My favorite gifts are always indulgent luxurious items that you would love to have but never spend the money on yourself- like a really nice hand cream or fancy candle." -Jackie M.
"Steam mop and handheld vacuum. We are REALLY sexy over here… haha!" -Jamie D.
"A purse from Better Life Bags." -Alicia D.
"Kork-Ease Velma Boots!!! Have them in black and they are like butter on my feet!" -Cassie M.
SaveSave