I'm kind of a foodie. Not a chef by any means, but I binge watch the Food Network and love eating out at restaurants. There are a few particular menu items I always try if they're on the menu … 1) bread pudding 2) any chocolate type cocktails 3) chef salads 4) monte cristo sandwiches. Since I can't eat out for every meal, I've attempted to learn how to make my favorites at home and I've finally hit the jackpot with monte cristos! I'm so very excited to share this recipe with you – it's heavenly and perfect for a Father's Day brunch!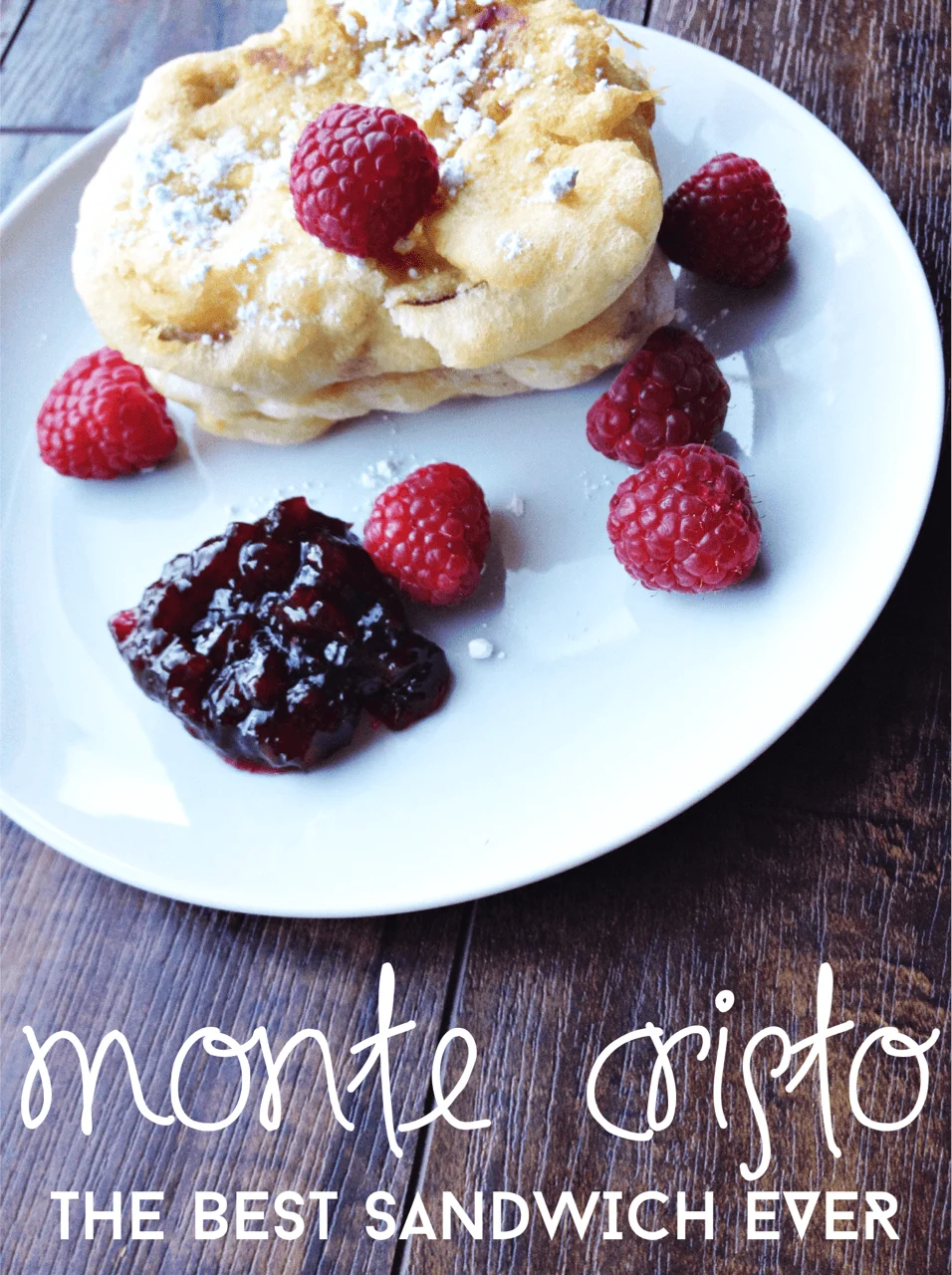 Sandwich Ingredients
1 loaf Challah bread (or Texas Toast)
8 oz deli turkey
8 oz deli black forest ham
8 oz Swiss cheese
5-8 cups vegetable oil
3 cups white flour
1/2 teaspoon salt
2 tablespoons baking powder
2 cups water
2 eggs
Sandwich Directions
Slice the Challah bread into thick slices and build your sandwich with one slice each of turkey, ham and cheese. Set aside. Pour the oil into a large pot or pan – this is what you'll be frying your sandwiches in. You can also use a deep fryer, I suppose, I just don't have one.Now, the batter (inspired by this recipe). Blend together flour, salt, baking powder, water and eggs. Scoop a tiny bit of batter and drop it in the oil to make sure it's hot enough, the batter will sizzle and fry when it's ready. Dredge your sandwiches in batter and place them in the oil to fry – only a few seconds on each side. Remove with tongs and place on a paper towel lined plate to absorb extra oil.
Jam Ingredients
7 cups rhubarb, diced
3 cups sugar
1 can blueberry pie filling
2 small boxes of raspberry Jell-O
Jam Directions
In a large stockpot, boil rhubarb, sugar and pie filling for 10 minutes. Add Jell-O and stir well. Transfer jam into mason jars, allow the jam to cool to room temperature and then put one container in your fridge for devouring and the rest into your freezer to thaw for use later.Serve your sandwiches with a scoop of jam and sprinkle of powdered sugar. They're amazing and I'm sure you'll love them as much as we do!