Looking for Mother's Day quotes? Mother's Day is almost upon us, people. (Sunday, May 8th, in case you didn't know.) Clearly, one of the most important things to do on this special day is to tell your mother—or the one who is like a mother to you—how much she means to you.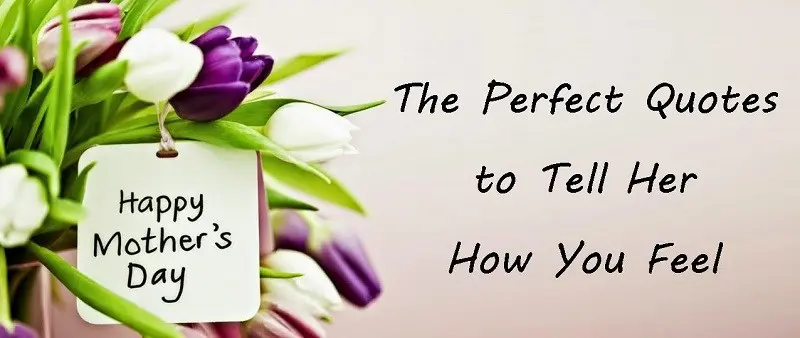 The easy way to do this is with a card, allowing someone who is much better with their words than you to sum up exactly what you wanted to say to your mom. But I was taught that you never get to just sign the card and send it; you have to add a personal note. Mine would go something like, "Happy Mother's Day, Mom!"
Unfortunately, the card usually includes that line as a "signature." (Why do they do that?! They steal the only words I have!) Never fear! There are lots of people out there with lots of words about mothers. I have summed up some of my favorite Mother's Day quotes for you right here. Write one in your Mother's Day card—with proper attribution, of course, which will also serve to indicate the thought and research you put into selecting just the right quote—sign your name, and you're done!
"A mother is a person who, seeing there are only four pieces of pie for five people, promptly announces she never did care for pie." — Tenneva Jordan
How perfect for the new mom: "The moment a child is born, the mother is also born. She never existed before. The woman existed, but the mother, never. A mother is something absolutely new." — Rajneesh
For mothers and those like mothers to us who aren't related by blood: "Biology is the least of what makes someone a mother." — Oprah Winfrey
"It is not until you become a mother that your judgment slowly turns to compassion and understanding." — Erma Bombeck
From the new parent: "We never know the love of the parent until we become parents ourselves." — Henry Ward Beecher
"Mothers and their children are in a category all their own. There's no bond so strong in the entire world. No love so instantaneous and forgiving." ― Gail Tsukiyama, Dreaming Water
From one mother to another: "Motherhood is a choice you make every day, to put someone else's happiness and well-being ahead of your own, to teach the hard lessons, to do the right thing even when you're not sure what the right thing is…and to forgive yourself, over and over again, for doing everything wrong." ― Donna Ball, At Home on Ladybug Farm
"Well, a mother—a real mother—is the most wonderful person in the world. She's the angel voice that bids you good night, kisses your cheek, whispers 'Sleep tight.'" — Wendy Darling, Walt Disney's Peter Pan
From the adult child: "Kids don't stay with you if you do it right. It's the one job where, the better you are, the more surely you won't be needed in the long run." B— Barbara Kingslover
"Mothers were meant to love us unconditionally, to understand our moments of stupidity, to reprimand us for lame excuses while yet acknowledging our point of view, to weep over our pain and failures as well as cry at our joy and successes, and to cheer us on despite countless start-overs. Heaven knows, no one else will." — Richelle E. Goodrich
From a daughter: "As mothers and daughters, we are connected with one another. My mother is the bones of my spine, keeping me straight and true. She is my blood, making sure it runs rich and strong. She is the beating of my heart. I cannot now imagine a life without her." ― Kristin Hannah, Summer Island
"Your arms were always open when I needed a hug. Your heart understood when I needed a friend. Your gentle eyes were stern when I needed a lesson. Your strength and love has guided me and gave me wings to fly." — Sarah Malin
"My mom is a never-ending song in my heart of comfort, happiness, and being. I may sometimes forget the words but I always remember the tune." — Graycie Harmon
"Mothers, I believe, intoxicate us. We idolize them and take them for granted. We hate them and blame them and exalt them more thoroughly than anyone else in our lives. We sift through the evidence of their love, reassure ourselves of their affection and its biological genesis. We can steal and lie and leave and they will love us." ― Megan Mayhew Bergman, Birds of a Lesser Paradise: Stories
These Mother's Day quotes are sure to be a winner. You're welcome.