I have never read Madeline L'Engle's A Wrinkle in Time, conveniently avoiding that assignment in fourth grade. With the release of Disney's movie version, my husband was inspired to read the book himself, and then, despite the fact that he didn't particularly enjoy it, he decided to read it with the kid. Fortunately, she has informed me that, "A Wrinkle in Time is for me and dad." I'd be offended, but I'm mostly excited that I'm off the hook. I am not at all a fan of the fantasy genre (with the exception of the Harry Potter series, which I didn't even know was fantasy until I made that sad discovery when writing this article), so why in the world am I writing a review of the movie version of A Wrinkle in Time? Because the previews for the movie were so fantastically beautiful that I simply could not miss seeing the film on the big screen. I go to the movies for the escapism, so I'm a sucker for a pretty film.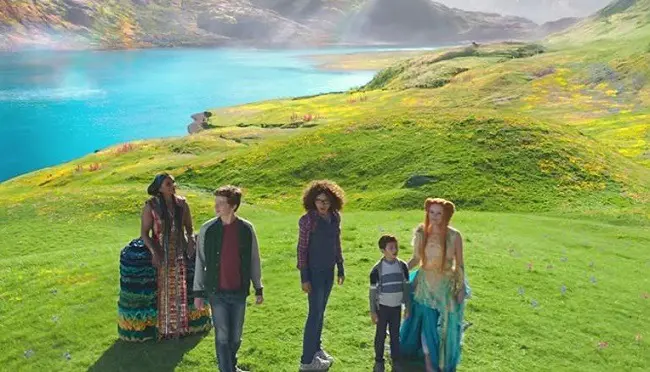 Oh my gosh, you guys! I'm so glad I went! This movie was fabulous—I loved it! It was beautiful and sweet, and heartwarming and motivational. I needed something that felt this good to watch. Before all the L'Engle loyalists come at me, my husband did inform me that the movie is based on the book, but that it is not exactly like the book. Here's the story in a nutshell. The main character is Meg. Her father finds a way to travel through space and time called "tessering." He gets lost on is travels, and three magical beings of light show up to help Meg, her little brother Charles Wallace, and her friend Calvin find her dad. They tesser around the universe and have to save her dad by fighting The IT, a being of darkness. My husband informed me that there's way more exposition of the group's travels in the book (duh, of course there's more detail in the book), and that the description of The IT is pretty different. He also said the book is more about the battle between the light and the darkness, whereas the movie is about Meg's personal journey. So, if you're looking for a faithful retelling of L'Engle's book on screen, this probably isn't it.
However, the movie is a lovely coming-of-age story. There's self-doubt, bullying, imperfect adults, sibling love and support, bravery, friendship, learning to trust oneself, perseverance, and self-acceptance. And it all happens in a movie with magical characters in fantasy settings.
My chief complaint with the movie is that the pace moved so fast that things didn't always make sense. There was sometimes a feeling of, "How did we get here?" because it seemed like a previous scene didn't fully resolve. It also felt like there was way too little time spent exploring the fantasy worlds the group tessered to! I am aware, though, that there's only so much one can do in an hour and 49 minutes, and that the alternative is moving too slowly and not telling the whole story.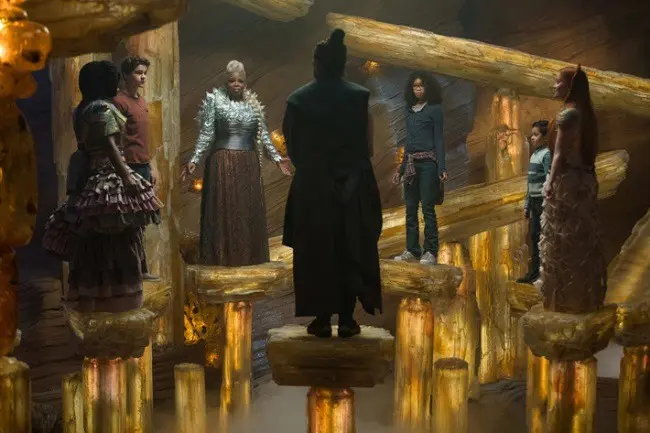 So, can you take your kids? Absolutely! Here's what mine had to say. She's getting used to this whole review thing. When we got into the car after leaving the theater, I turned around to ask her what she thought, and she was already holding her two thumbs up and said, "Awesome!" before I could say anything. She says that kids should be between six and seven to see the movie (she's six-and-a-half, by the way). Common Sense Media says ages 10 up on this one, which is the same age rating they gave the two most recent Star Wars installments. A Wrinkle in Time was had way less violence than those films, but there were some other things to watch out for. For example, there are some moments of peril and some scary scenes, and one of the heroes becomes a bad guy—and a pretty creepy and mean one at that. Also, Meg's struggle with her self-esteem can be a tough concept for younger kids to understand, as can some of the mistakes and imperfections demonstrated by adults in the film. That being said, I don't know that that lack of comprehension is necessarily detrimental to a younger child's ability to enjoy other aspects of the film. My daughter was completely enthralled the whole time, even though she did have some questions about some of the things she saw when we talked about the movie later. For what it's worth, L'Engle said that her own children were 7, 10, and 12 when she was writing the book. She used to read it them as she was writing it, and they were excited about the story. She said, "The general feeling is that it was much too hard for children… I knew kids could understand it. The problem is, it's not too difficult for kids, it's too difficult for grown-ups."
Now, as much as I recognize the movie as not totally perfect, and I can still say I loved it because I really needed a beautiful, feel-good movie right now, I also became aware right before I saw it that… well… A Wrinkle in Time isn't getting such great reviews. I've skimmed a couple of them, but the title of one of them seemed to sum of the gist of the complaints best: A Wrinkle in Time isn't for cynics — or adults. This is a kids' movie, when it's all said and done, and the fast pace and (what some are calling "overly") bright colors are going to be more attractive to that audience, while some of the plot holes are going to be less noticeable. And what I'm calling heartwarming and feel-good, a cynic might call predictable and schmaltzy. To each their own. I agree with my daughter: two thumbs up. If you're looking for a family-friendly movie to check out this weekend, head to theaters and see A Wrinkle in Time.