Right when I think our home library is full and we are in need of no new books, I discover something we can't live without. Most recently, Muddle and Match books!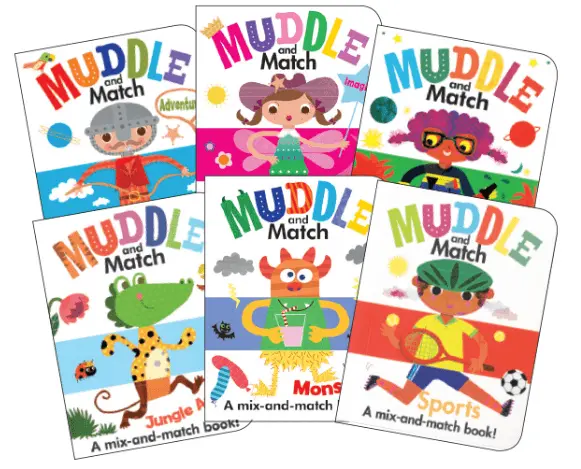 All four of my children – ages 1, 2, 6, and 8 – love Kane Miller's Muddle and Match books. They're fun and silly and always evoke a ton of laughter! I mean, how can they not when you have the ability to create such crazy characters?
Thanks to the split pages, readers are able to mix and match their own story as they create original animals and people. With three flip options the story never ends, you just keep turning 1/3 of the page and creating more/better/wilder creations. Hence, endless laughter and creativity!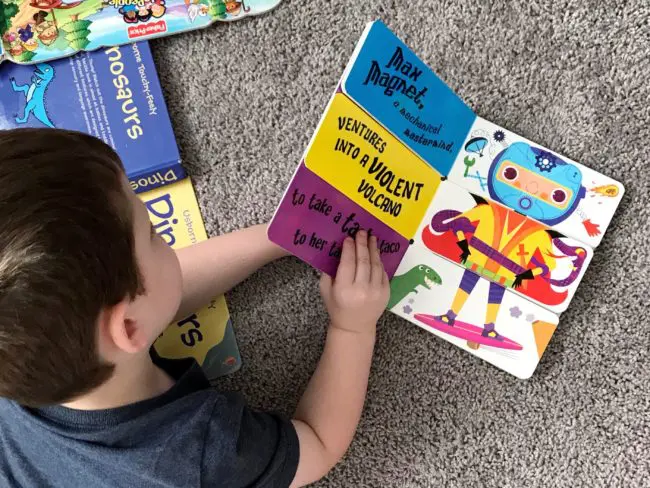 The pages are thick and smooth, making Muddle and Match books suitable for all ages. Ours have held up so well, but, that's no surprise seeing that they come from Usborne. I adore the quality of their books. Not to mention the bright colors, amazing vocabulary, and exciting illustrations. Currently, there are nine different Muddle and Match books available:
Farm Animals
Superheroes
Fairy Tales
Jobs
Jungle Animals
Monsters
Sports
Adventure
Imagine
We have Superheroes, Jobs, and Fairy Tales … all of which I can highly recommend!
Muddle and Match books are just $9 each and available through your local Usborne Books & More consultant. Find yours here. Some titles are also available on Amazon, but if you can order through a consultant, definitely do – it's such an easy way to support a mompreneur who is hustling a side business!