Our first official day of homeschool preschool is September 3rd!
With a 4 year old (and a 2 year old tagging along) our focus will be super hands-on this year. If the past tells me anything about our upcoming year, our learning will revolve around crafts. My children loves creating and I love seeing all their artwork. Craft time is a win win around here.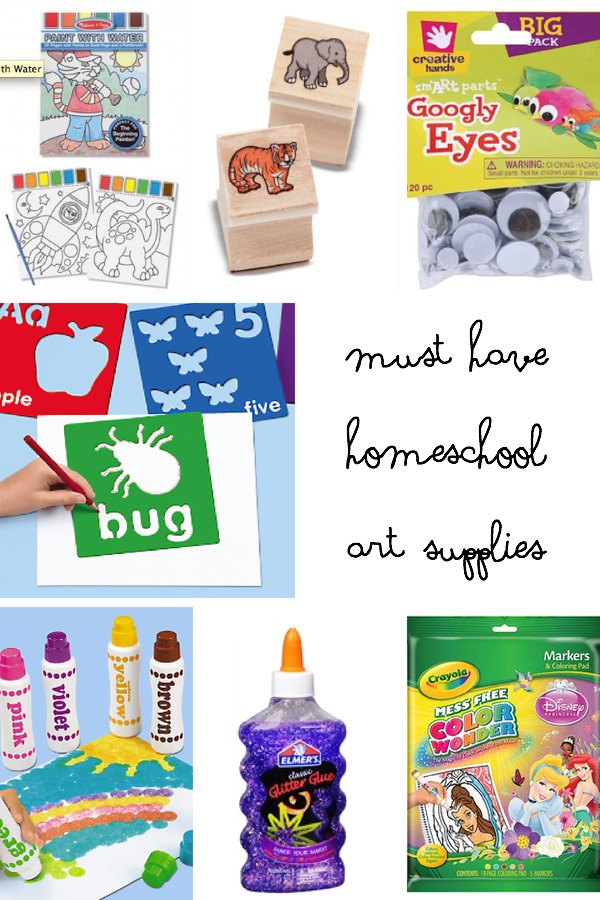 Today I wanted to share a handful of our favorite art supplies. Whether you're a homeschooling family or just another family who loves craft time, you won't want to miss these …
Paint With Water
This is how we finger paint with minimal mess. Love these paint books!
High five for stamps – we love our animal set!
Every craft project needs some googly eyes! These are a favorite around here, especially when drawing silly animals and pictures of our family.
For hard to draw pictures, tracing becomes a winner! Now your little one can trace an apple or a bug and then color or paint it in. This is great for refining those fine motor skills.
Paint brushes are great, but dot painters are better! These are a must!
My daughter has gained great glue proficiency by tracing shapes and letters lately and nothing has made it more fun than glitter glue!
Color Wonder
I'm all for teaching responsible marker use, but sometimes it's nice to hand over the markers and not worry. That's where Color Wonder comes in … these markers only write on the special Color Wonder paper and I've found this system to be perfect for beginner artists learning to color in the lines.
And last, but not least, our new favorite art supply might surprise you – but it's a helpful one, that's for sure! I wrote all about it last week here.
What's your favorite art supply for homeschooling or your art corner at home?