Does the cost of a Disney vacation almost give you a heart attack?
I hear you! The travel, accommodations, tickets, food, and souvenirs really add up! But, the expense doesn't dull the magic. At least not in my book. So, to make a Disney trip happen for our family every few years I've learned how to make it as affordable as possible. Disney on a budget if you will.
One of the best things I've done is to pre-shop. That's right, before we go on vacation, I spend some of our vacation money. But, I promise, it saves us a lot in the long run.
Here's the scoop. When you're at Disney there are gobs of shops to buy clothing, toys, Mickey ears, stuffed animals, keepsake memorabilia, and more. It's all wonderful and it's all pretty expensive. As a parent, you can anticipate what your kids will be drawn to and thanks to the internet you can research many of the necessities you might need during your park adventure (things like fans in the summer and ponchos during the rainy season). As you prepare for your trip, make note of these things and then, start shopping for those items beforehand.
My first stop for clothing and souvenirs is the online Disney store. You get Disney quality at a much better price. And, great sales happen often! Recently I scooped up an Elena of Avalor dress for my daughter (on major sale … just $12.99), Cars race cars for my son ($2.49 each), and an Incredibles toy for my other son ($7.99). In the parks I estimate these items would have cost over $100, I paid less than $30.
I've also shopped for an autograph book, tees and sweatshirts, and stuffed animals I know my kids will beg for. Instead of buying at the park, I plan to have them waiting on the kid's hotel beds when we come back to the room 🙂
The Disney store isn't the only place to stock up. Target, H&M, Amazon, and even The Dollar Store have clothing, toys, and Disney-themed activities. These darling Minnie ears were a steal compared to the Disney version!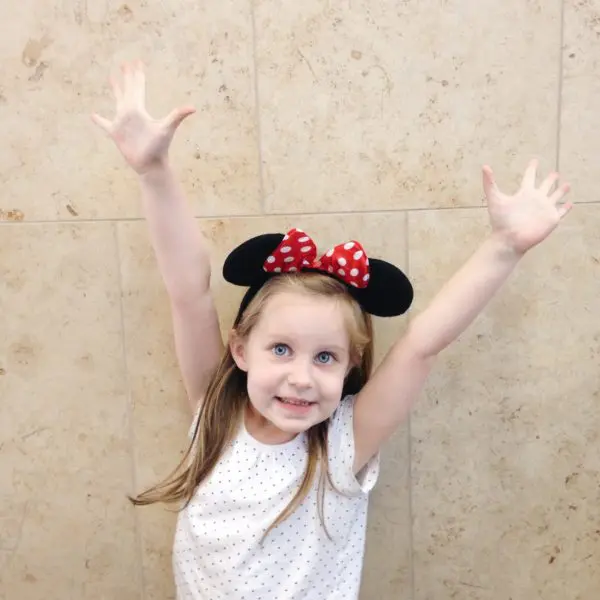 So, as soon as you know a trip to the happiest place on earth is on the agenda, write out your shopping list and start watching for Disney sales and deals! Planning ahead and shopping around – that's the secret! Then, when you arrive at Disney, souvenirs aren't the priority.
My kids are on board with this plan. They know we're not going to Disney to buy toys. We are there for characters and shows and rides. We do browse the shops … how can you not? They are super fun to look at! But our family "rule" is that each person chooses one souvenir from the park. And we don't buy that one item until the final day. This is the perfect mix for us. Essentials and fun purchased beforehand at more reasonable prices and then the one special thing directly from the park.