My grocery list rarely includes artwork, but when I make my way to Trader Joe's it sure does!
On my list you'll find pantry basics and a slew of Trader Joe exclusive favorites like paneer tikka masala, peanut butter granola bars, chocolate hazelnut biscotti, grated cauliflower (for pizza crust and stir fry!), orange chicken, and vanilla almond granola, but it's the art that is the real thing I look forward to on each visit. It's a surprise each time. And, only $1!
Where is this special art you ask? By the wine? The dairy? The checkout?
Nope! It's usually right near the flowers. Sometimes on the wall near the restrooms. It's the greeting card wall!
Trader Joe's greeting cards are printed on thick, quality paper. They are 5×7 and fit perfectly in regular 5×7 frame or a 8×10 matte option. Many of them offer simple nature scenes, cute animals, and encouraging phrases. New cards arrive often so there are always new treasures waiting to be found.
For just $1 you don't have to have an ounce of guilt stocking up. You can pick and choose what you showcase on your wall and use the rest as their original intention – greeting cards. While packing up our home to move I realized that every single room in our home boasts a framed Trader Joe's greeting card. My daughter's room has a print of a sweet flamingo duo. My son a world map with a banner that says "Adventure Awaits." And this one, this one is in our living room. A reminder of what our family strives for.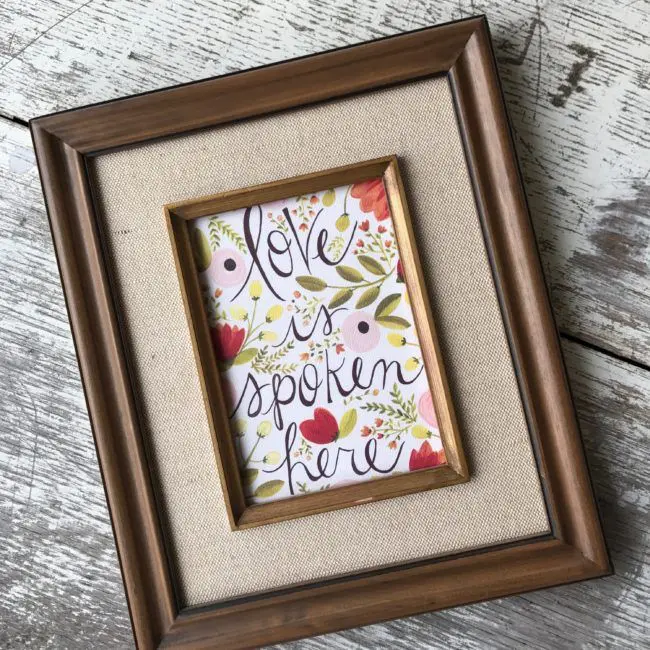 Thank you, Trader Joe's, for commissioning amazing artists and sharing their work with us mamas who are looking for a pretty deal!