Starting preschool is a big deal, and it can be very scary for a little one. Have you thought about packing a photo of your family in your child's backpack, to make them feel better if they feel sad?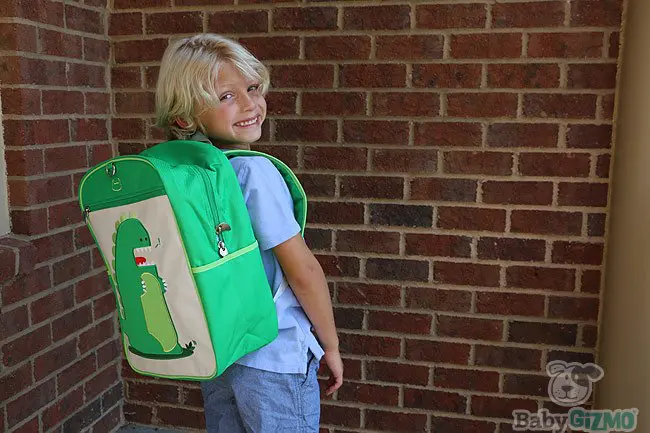 That's exactly what we did. My daughter turns four next month, and we recently visited a preschool that she just loved. So much so, that she asked me to take her there and drop her off because she is a "big girl." I may have shed a few tears at this statement and her vocalizing that she was ready for school. It was time to let go.
Cue the purchase of a cute backpack, some Daniel Tiger "Grown ups come back" episodes, discussions about how her day will go, and we were ready. Almost. I decided to pack two family photos of us in her backpack. I told my daughter that if she missed us during her time (only 9-12, but to a child that has never been to school, this can be overwhelming) or felt sad at all, she could simply take the photos out and see us! I reminded her that I'd be right there after school to pick her up.
On the first day of school, she happily waved us goodbye. I could tell she was nervous, but there were no tears in front of us. I had already talked to her teacher about it being her first time away, and contacting me if it was too difficult of her. When she finished school, she happily informed me "Mama! I cried a little bit. But then I took the photos out, then my teacher gave me a hug. And I forgot all about you!"
Umm…. That's great, honey? Well, at least the photos helped you forget about me!
She also looked at them the next day, but with no tears. By the third day, she gladly informed me that she did not take them out at all.
So for parents of new, nervous preschoolers: consider putting a photo of you in their backpack. At home, you can show your little one the picture of you all and get them to put it in their backpack so they know exactly where to find it if they're feeling sad. Or ask them to choose the photo they want to take!
I mentioned this to a friend of mine who was not looking forward to school starting because her son would usually cry. She put a family photo in his backpack, and texted me today saying thank you! Her son took them out during school and showed them to his teacher when he was feeling down. His teacher told her they were his comfort items. No tears! Yay, happy preschoolers!