Ladies and gentlemen, I have finally found an iron drop that doesn't taste like…. well, iron!
My daughter is breastfed exclusively. I am very proud that we have made it this far (11 months!). However, from what her pediatrician tells us, breastmilk lacks in two big nutrients – vitamin D and iron. I have been adding vitamin D drops to my diet since she was a month old (these Carlson Vitamin D drops have been great!). At my daughter's six month well check up, her pediatrician suggested that I started to also give her an iron drop. I tried several varieties, but my daughter gagged and spit them out. I got a drop on my finger once and licked it. Ew!! No wonder she wouldn't take it. It tasted horrible!
At my daughter's nine month well visit, she had her foot pricked to have her iron levels checked. Unfortunately, her numbers came back lower than hoped. We needed to discuss options. Iron rich foods would become a focus in her diet – like black beans, eggs, beef, fortified cereal and bread, broccoli, and so on. However, to make sure she was getting enough iron each day, I needed to get those iron drops in her.
NovaFerrum Pediatric Iron Drops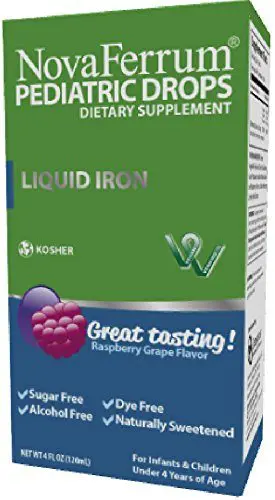 I started doing some research online and stumbled upon the NovaFerrum pediatric iron drops. They were $24 on Amazon, which seemed a little high. Upon more research, though, the bottle is a 4 month supply and had great reviews. They were worth a shot. I am so happy to report that my daughter LOVES these drops! She actually whines for more when she finishes. They are flavored and actually taste… dare I say, good.
A bit more from their site:
"NovaFerrum Liquid Iron is Free of Alcohol, Sugar, Dye, Gluten, Dairy, Lactose, Soy, Corn, Peanuts, or Tree Nuts. It contains No Artificial Sweeteners or Colors. NovaFerrum Liquid Iron is Naturally Sweetened. It is also Kosher and Vegan Verified."
We haven't had her one year well visit yet, so I don't know that her levels have improved. I can only hope that the iron drops as well as focusing on iron rich foods have been helping her. If your baby or toddler has low iron, consider trying these NovaFerrum Iron Drops!