Thanks to today's sponsor, Foster Farms (and their amazing chicken!), I'm super excited to introduce you to not only a new recipe, but a new way of thinking about food!
To start off, a few quick questions — What do you think of when you hear the phrase "comfort food"? Has your idea of comfort food changed over the years? Have the heavy gravy and gobs of melted cheese of yesterday morphed into a new, fresh and healthy sort of comfort?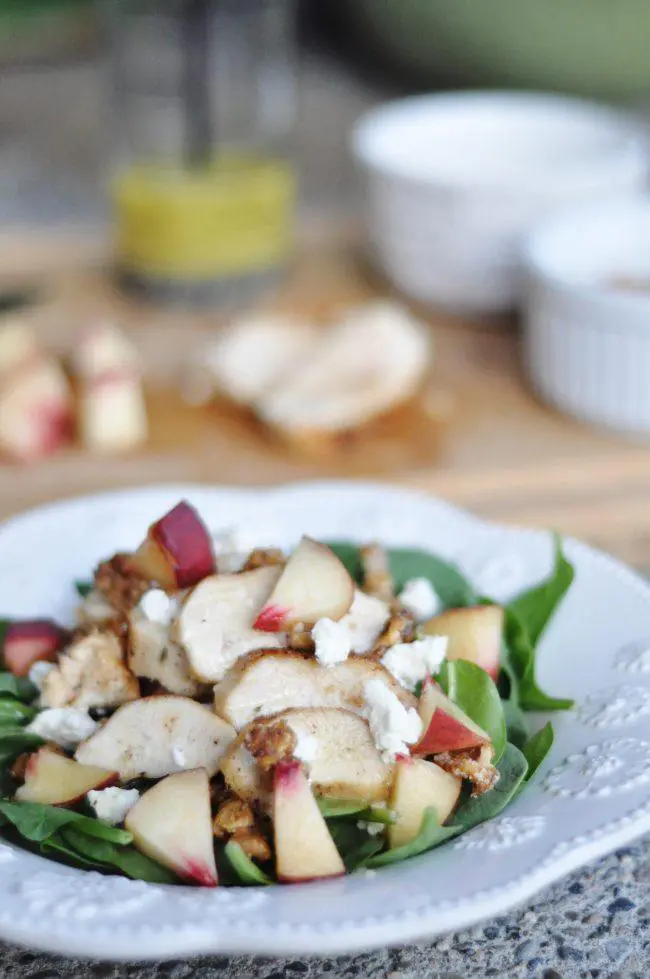 It has for me. The New Comfort Food movement, spurred by Foster Farms, is exactly what soothes my soul and leaves my belly satiated. This change from traditional, rich foods to a more health-conscious way of eating is exactly what the New Comfort Food is all about. It's something I've been doing for awhile, but until now, I haven't had a name for it. But, New Comfort Food fits perfectly, wouldn't you agree? It embodies how my perspective on food has evolved over the years. What I eat is still "comfort food," it's just updated, healthier. Fresh vegetables, quality meats, fragrant toppings and healthy twists are my new comfort food. They make my body feel good and align with my health goals. And if that isn't comfort, I don't know what is!
Today, I'm super excited to share all about one of my favorite comfort foods — a scrumptious salad filled to the brim with white peaches, perfect chicken, candied walnuts, and goat cheese drizzled with a homemade lemon vinaigrette.
It sounds restaurant fancy, but I promise, it's simple (less than 30 minutes from prep to first bite!) and everything comfort food should be. Nourishing, delicious, and fresh!
White Peach, Chicken, Walnut + Goat Cheese Salad
Serves 4
INGREDIENTS
Salad
Salad

2-3 Foster Farms Simply Raised chicken breast fillets
Salt and pepper
1 tablespoon olive oil
1 tablespoon butter
2 white peaches
16 ounces of baby spinach
1 cup walnuts
1/3 cup sugar
1/2 cup goat cheese
Dressing:
1/2 cup olive oil
1/4 cup lemon juice (or lime works great too!)
1 teaspoon oregano
1 teaspoon salt
1/4 teaspoon pepper
1 teaspoon sugar
2 garlic cloves, minced
DIRECTIONS
As with most salads, there is a little bit of prep work. Many of these steps can be done simultaneously in a variety of order, but for simplicity's sake, I'll outline how I juggled it all.
Over medium high heat, heat a swirl of olive oil (just enough to cover a 10 inch cast iron pan) and 1 tablespoon of butter. While it heats, prep your chicken breast filets by rinsing them and patting them dry. Season well with salt and pepper. Lay them in the cast iron pan and cook for 5-7 minutes on one side, flip and cover and cook for an addition 3-5 minutes. You want each side to have a golden brown color so watch for that. Remove from heat and finish cooking in a 350 degree oven for 10-15 minutes. Just enough for the center of each breast not to be pink.
Foster Farms Simply Raised chicken breast fillets are no doubt the best choice for this meal … and every meal! Foster Farms Simply Raised products are raised without antibiotics/hormones/steroids, are 100% vegetarian fed, and are American Humane Certified. They're locally grown on the West Coast and the perfect protein for whatever new comfort food meals you're dreaming of.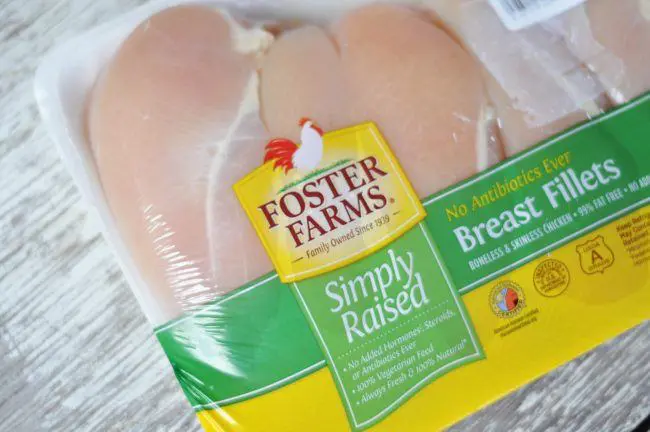 While your Foster Farms chicken is cooking, rinse the spinach and pat dry with a paper towel. Divide evenly on to plates for each person you'll be serving.
On a cutting board, chop white peaches into bite size pieces.
In a non-stick pan, heat walnuts and sugar over medium high heat. Stirring frequently. The sugar can burn fast so keep an eye on this … or opt for plain walnuts if you don't have a preference between candied and not. Remove from heat as soon as the walnuts are coated with a light layer of sugar.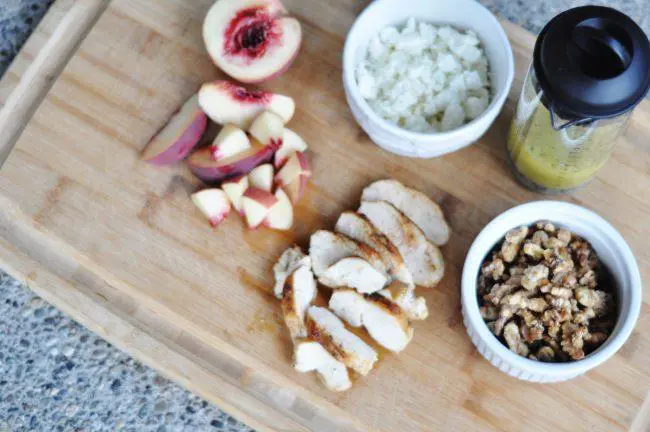 Whisk all dressing ingredients in a small cup and set to the side.
When your chicken is done, slice each breast and begin layering your salad. First, a bed of spinach, then a fan of sliced chicken and a sprinkle of white peach bites, candied walnuts, and a crumble of goat cheese. Top with dressing and get ready to taste comfort!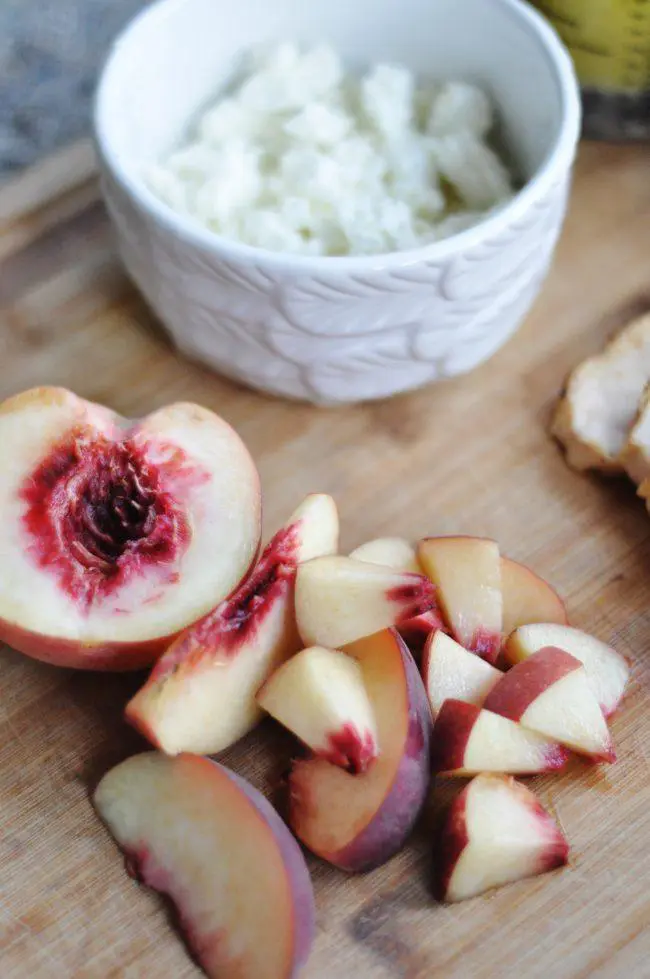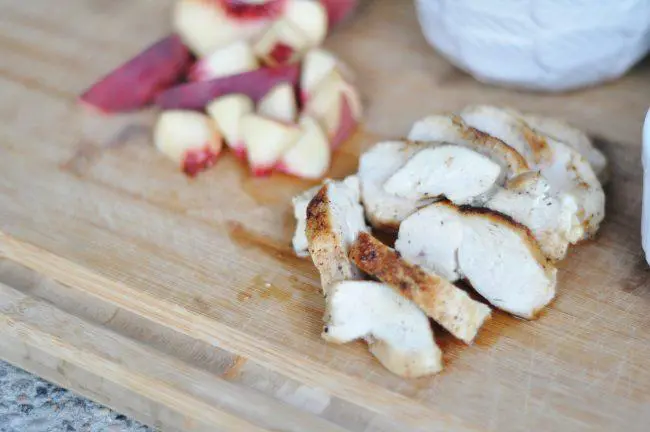 This is a sponsored post written by me on behalf of Foster Farms Simply Raised Chicken.
More Chicken Recipes
Artichoke Stuffed Chicken Breast
Slow Cooker Honey Garlic Chicken