Simple, delicious lunches are no doubt God's gift to busy moms.
Once the littles are served up (and most assuredly, ready for seconds), it's time for mom to whip up some nourishment for herself. My usual go to is some sort of leftover from a previous meal, but on the days where I start fresh you can almost bet I'm choosing to make an avocado chicken salad melt.
Imagine grilled cheese meeting chicken salad with a fancy, but still easy twist. That's an avocado chicken salad melt and here's how you can enjoy one too!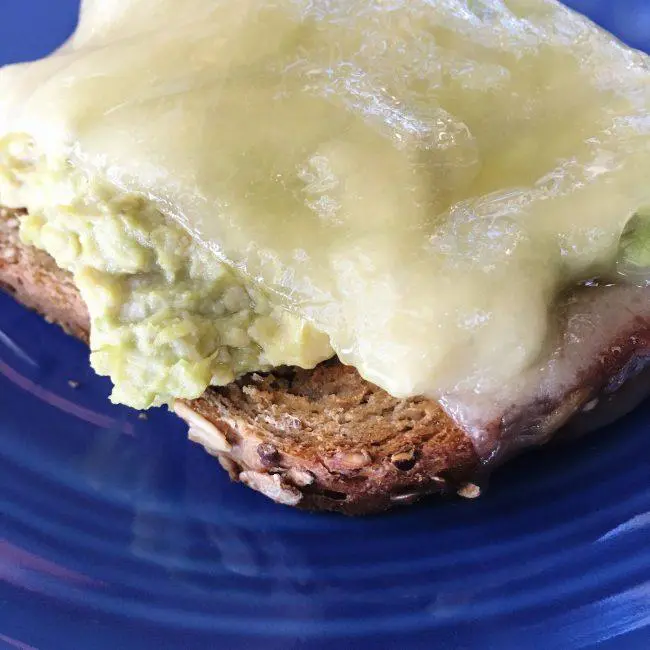 — 9 grain bread, avocado chicken salad, and Swiss cheese —
Ingredients
Fancy bread – like pumpernickel, sourdough, or 9 grain
1 12.5 ounce can chunk chicken breast – I buy this at Costco
1 large avocado
2 teaspoons lemon or lime juice
Salt and pepper
Sliced cheese – my favorites to rotate through are pepper jack, Swiss, and sharp cheddar
Directions
In a small mixing bowl mash the chicken. Fold in the avocado. Add lemon or lime juice and salt and pepper to taste. Mix it all together. Pop your slice of bread in the toaster and turn your oven's broiler on to high. Spread a thick layer of avocado chicken mix onto your toast, place on an oven safe plate or pan and top with cheese. Put your almost complete lunch underneath the broiler for 2-3 minutes, just enough time to melt the cheese. Take a bite, enjoy, and toast another piece of bread … you're probably going to want a second one!
More Chicken Recipes
Artichoke Stuffed Chicken Breast
White Peach, Chicken, Walnut and Goat Cheese Salad