Keto Butter Chicken That the Whole Family Will Love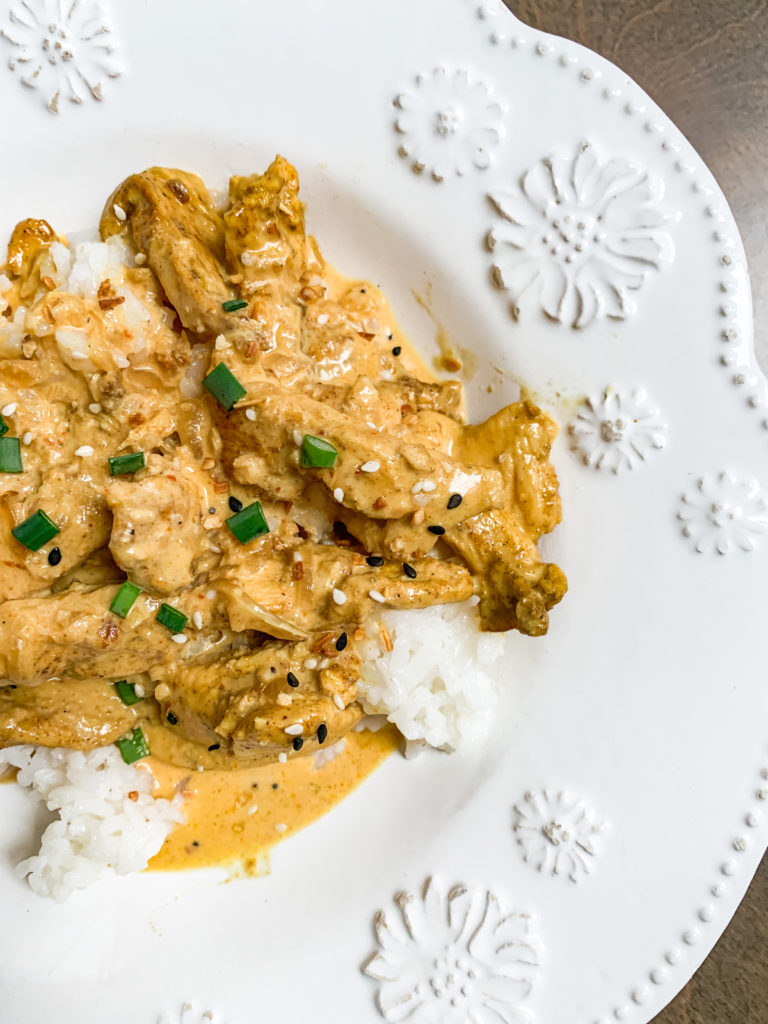 Awhile back my husband committed to a round of keto. We experimented with a ton of low carb recipes hoping to find some winners … and we did! The top one though, the one even our kids ask for is this butter chicken!
It's smooth and hearty with just a hint of sweetness from the sprinkle of cinnamon. You can play around with the spice level and even make a double portion to freeze for an easy weekday heat up option.
Get ready for a new favorite – butter chicken will surely please the whole family!
Ingredients
1 pound chicken breast
1 cup heavy cream
2 tablespoons butter
1 1/2 tablespoons tomato paste
2 clove garlic
1/2 cup onion, chopped
1 tablespoon lemon juice
1 1/2 teaspoons turmeric
1 teaspoon ground ginger
1 teaspoon sea salt
1/2 teaspoon chili powder
1/2 teaspoon cinnamon
Optional: Green onions and Trader Joe's "Everything But the Bagel" seasoning
Directions
Begin by cutting chicken into bite size pieces.
In a large mixing bowl whisk turmeric, ginger, salt, chili powder, and cinnamon. Toss chicken to thoroughly coat in spices.
Over medium heat melt butter in a cast iron pan. Add onion and garlic and good for 3 minutes.
Add chicken and cook for 3-5 minutes, almost entirely through but not quite. Add in heavy cream and tomato paste. Mix until a warm, orange color sauce appears. Turn down the heat and cover with a lid. Cook for 5-7 minutes.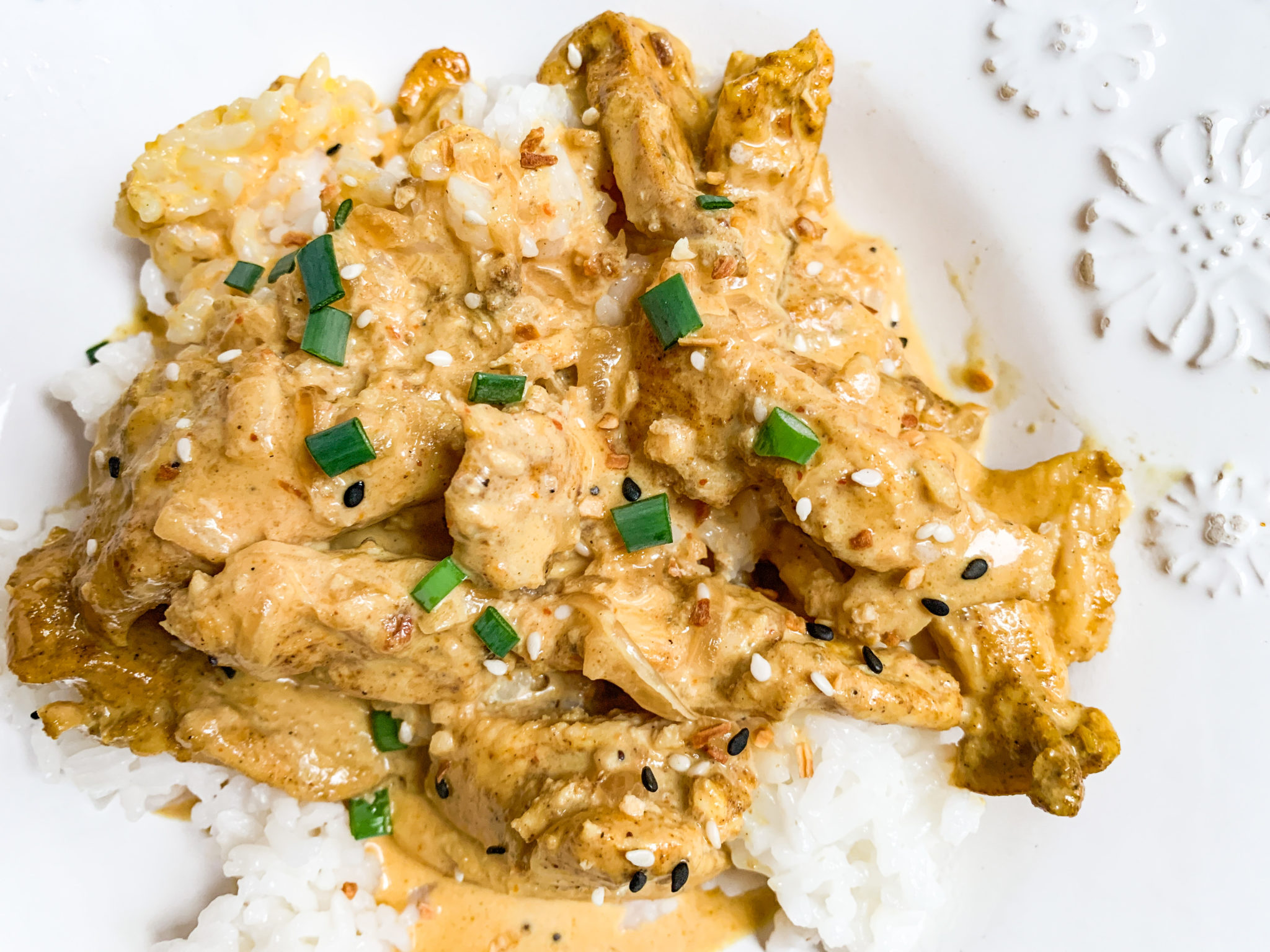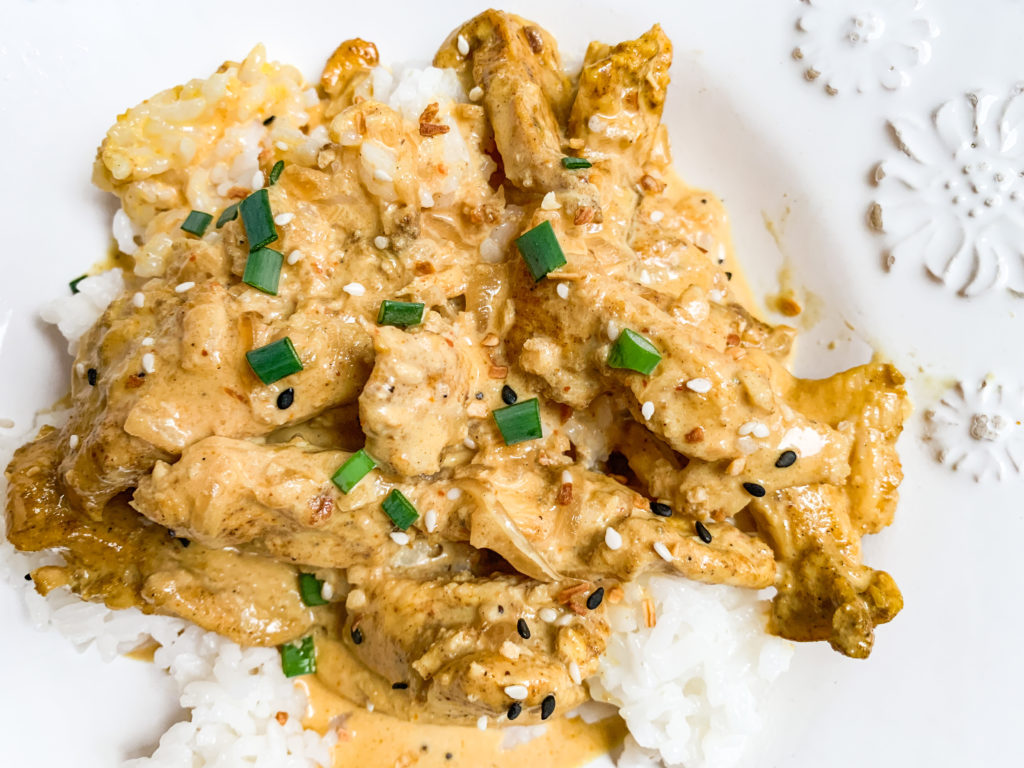 Our family often serves this butter chicken over a 1:1 blend of white rice and cauliflower rice (gotta sneak in those veggies where you can!). We like to have Stonefire naan from Costco too on the side too! It's the perfect dipper for the sauce!
Finally, before digging in, add a sprinkle of fresh green onions and Trader Joe's "Everything But the Bagel" seasoning. Those two things add the perfect flavor and slight crunch with each bite.