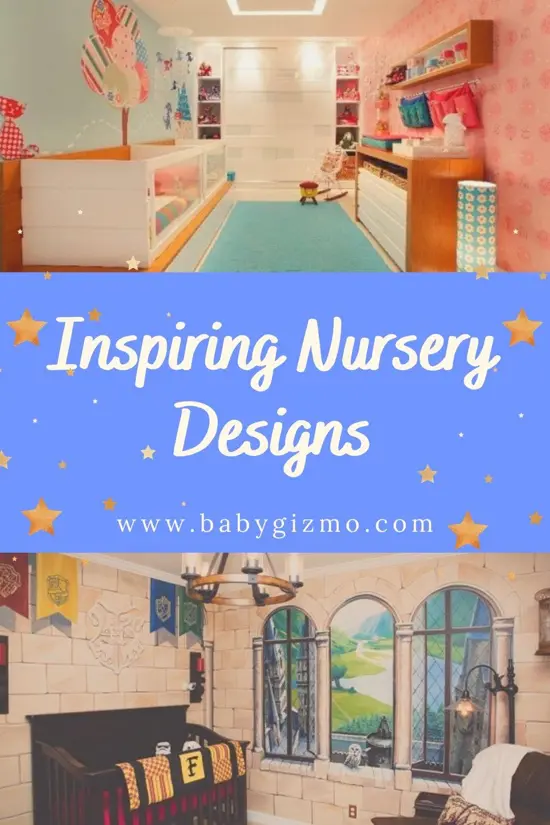 Last week, I shared some fun DIY nursery ideas for all you expecting parents. This week, I'm going even bigger. I've looked around and found ideas for the whole room! Think of me as your personal Pinterest curator of your Inspiring Nursery Designs board. (And for my friends and family who are starting to wonder: None of this is for personal use, unless you have a nursery you'd like me to decorate. It's just that it's about nine months post-Valentine's-Day. Bow chicka wow wow.)
When I decorated my daughter's nursery, it was important to me that the room still looked like it belonged in my house. Our townhouse was new, but Colonial in style and so we kept the décor pretty much transitional. When we did the nursery, we chose to stick with furniture and design elements that would look at home in the rest of the house. (In fact, the rug we chose ended up not working at all when we got the furniture for her big girl room; it's now made its home in a couple other rooms in our house and has looked fabulous in both!) Boho is a huge décor—and fashion—trend right now, and a bohemian nursery with modern elements can provide pieces that will grow with your child or can be used in other ways in your house when the time comes.
Bright and high contrast colors are great for babies, as that combination is what their eyes see most easily. Adding bright, contrasting colors to the ceiling is such an awesome way to decorate. Plus, it gives baby something to stare at during those many, many diaper changes.
Favorite books and stories serve as wonderful inspiration for nurseries. Check out fairytales, or look to classic children's stories like Blueberries for Sal or Where the Wild Things Are. Story themes are fun because you can choose to go over-the-top in theme-inspired décor (like this Harry Potter nursery), keep it simple with smaller touches in a more neutral room, or shoot for something in the middle (like this Star Wars nursery).
Speaking of themes, it's hard for lots of people to think "girl's nursery" without also thinking "princess room." This is another theme with lots of variation, from bright pinks and blues reminiscent of Disney's animated classic Cinderella, to a regal design Princess Charlotte could be proud of, and everything in between. And for those who want to decorate lavishly for their little prince, you're sure to be able find what you need to design nursery fit for a king.
One of my favorite things about nurseries is that the original design only needs to work for a couple of years. This allows you to embrace trends—like faux taxidermy—without worrying about how long they'll stay in style. By the time they start to look dated, it'll be time to transition to a toddler or big kid room.
Are you having twins? Worried about how to decorate for two? Don't be! There are ton of options available. For inspiration, check out this modern gender neutral nursery, this playful design with modern touches, this design with—gasp—different cribs, this lavish design, and a nursery shared by a boy and girl that's mostly neutral with pops of blue and pink.
While we're on the subject of shared rooms, what about those of you who are planning for your new baby to share a room with an older sibling? Have no fear—I have inspiration for that! There's a shared room for a boy and a girl, this sunshine yellow room, a garden-themed room, and this fresh, bright design.
Will baby be sharing your room for a bit? It sounds weird, but consider converting a closet into a nursery nook. (Earlier this year we gave my then four-year-old a closet to use as a bedroom when we had multiple families crashing at one house and she thought it was a riot.) You can also turn an empty corner into baby's space; I love the idea of using a huge stuffed animal as a nursery statement piece. Adding baby to the bedroom might result in some rearranging, but you also get to redecorate a bit, maybe by using a bright color as a fun accent to tie the spaces together.
Inspired yet? If you're still looking for that exact right idea to get your interior design juices flowing, we have even more ideas for you. Check out this post, this baby bedding post, and this artwork post.