Parenting is a tough gig. When it's fun, it's really fun, but when it's turns to tears and tantrums, it's mentally exhausting. It comes as no surprise that there is a huge array of parenting books, blogs, classes, seminars, you name it, it's probably out there, waiting to teach you how to handle the emotions and needs of your little one(s). With a three and one year old running around, a friend of mine recommended the book Discipline Without Distress by Judy Arnall, and I have found it so useful on my parenting rollercoaster ride journey.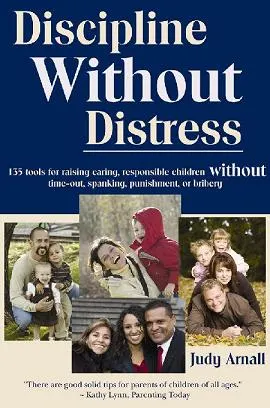 ********************
Book name? Discipline Without Distress by Judy Arnall.
Price? Currently $14.96 on Amazon.
What age does it work for?
There are teaching tips for children up to 19 years of age. So it'll be with you for a long time!
What approach does it take?
"135 tools for raising caring, responsible children without time-out, spanking, punishment or bribery." Keeping in mind that every family is different, this works for us because time-outs etc are not something we're comfortable with. Most books nowadays focus on the bond between parent and child, because this is the ultimate way that a child will learn and do what's right- through their love and respect for you. It addresses the needs of both parent and child in a mutually respectful way, in order to create a long-term positive relationship.
What's the format like?
I love her writing style because it is mainly in bullet points, with short paragraphs. With other books, I have been known to underline parts, but not this one. She doesn't say anything "extra" but keeps the points short and sweet. You can take a look inside on Amazon here.
What's my favorite part?
I was tempted to say the parts that are broken down into age groups, but it's probably the last fifty pages. They consist of a really useful, easy-to-read table of common behaviors in children and how to handle them. It makes resolving issues much quicker, and once you start using them a lot, you won't need the book to refer to because you'll know what to do!
Quote something from the book?
"When people say their methods "work," what they really mean is they work to stop a certain behavior in the short run. Their children obey unquestionably. Many discipline methods will do that: punitive and non-punitive. What parents don't realize is that some of their methods don't necessarily work in the long run goals of their parenting: goals that achieve a caring bond, open communication, trust, honesty, and respect, in the relationship and responsibiltiy in the child, especially in the teen years."
Does it really work?
I believe so. But you need to actively be ready to throw yourself into it. Not half-heartedly try. Whole-heartedly.