Okay, Moms, fess up! Who was a fan of Ricky Schroder in Silver Spoons as a kid? Who wished they too could have a train that they could ride INSIDE the house? I totally just dated myself, didn't I?
Good news, your toddler can! While the Peg Perego Choo Choo Express is much smaller so you don't need a Silver Spoons mansion to fit it in and dad can't ride it, this battery-powered, 6-volt train is super fun for the littles. The Choo Choo was designed for kids ages 1-3 (max 40 lbs) and works inside or out and with or without the included track.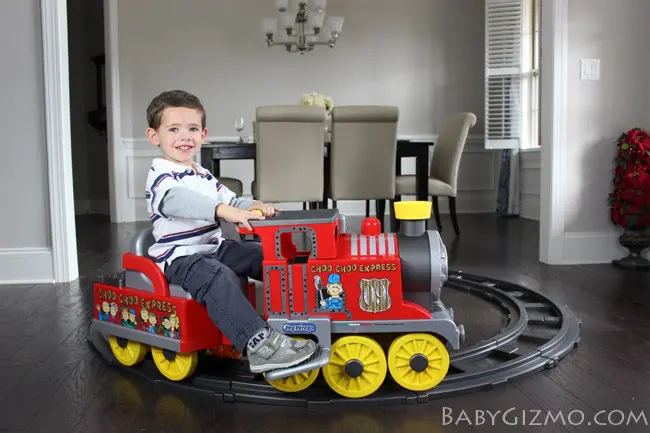 There are two buttons on the top of the train engine – the red button plays fun music and the black button starts and stops the train. The buttons are super easy to push and a toddler just has to hold down the black button to go and let go to stop. We love that there is a platform on either side of the train for toddler's feet to set to keep them from dragging them along.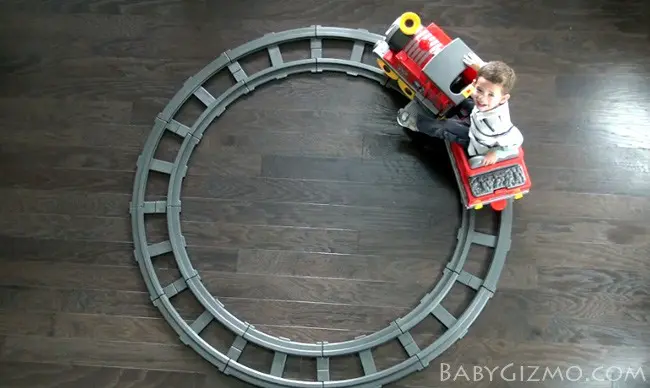 Yes, the 76″ round track set keeps the Choo Choo in one place and is easy to snap together with no tools needed, but sometimes toddlers like to go off on their own route. That's why we love that the train works without the track.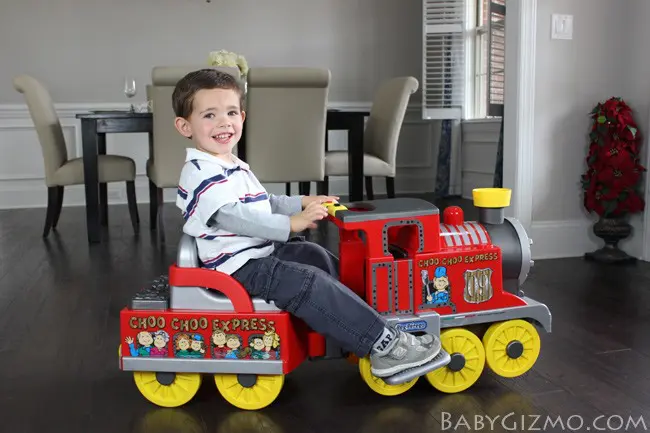 I figured the train would work great on the track, but honestly, was a little weary about how well it would work on its own. The train worked surprisingly well on our indoor wood floors and was easy for our 2 1/2 year old BG little to maneuver. I figured he would be bumping into my new walls everywhere and I'm happy to report that not one wall was even touched. Yep, he could maneuver it that well.
We love that the battery and wiring is all hidden under the seat and locked down with a screw. The Choo Choo Express comes with a 6-volt rechargeable battery and charger, and all you need to do is remove the screw on the seat, plug it in and let it charge.
When it time to put the train away, the track is easy to clean up and stacks up for storage. The Peg Perego Choo Choo is an investment at $249 but that is comparable to many motorized ride-ons, and just imagine the look on your toddler's face! 🙂