My 6 year old is turning into quite the little chef and one of her favorite recipes to make is French toast. It's a real winner of a recipe for new cooks because it incorporates things like measuring, cracking eggs, and safe stove use. And it doesn't take too long 🙂
In honor of spring, I encouraged her to reinvent her signature recipe and together we developed raspberry cream French toast! And let me tell you, it's a real treat! No one in our family missed the traditional syrup that tends to accompany French toast, the raspberry cream was divine! It was sweet, fresh, and bold – the perfect addition to our French toast favorite.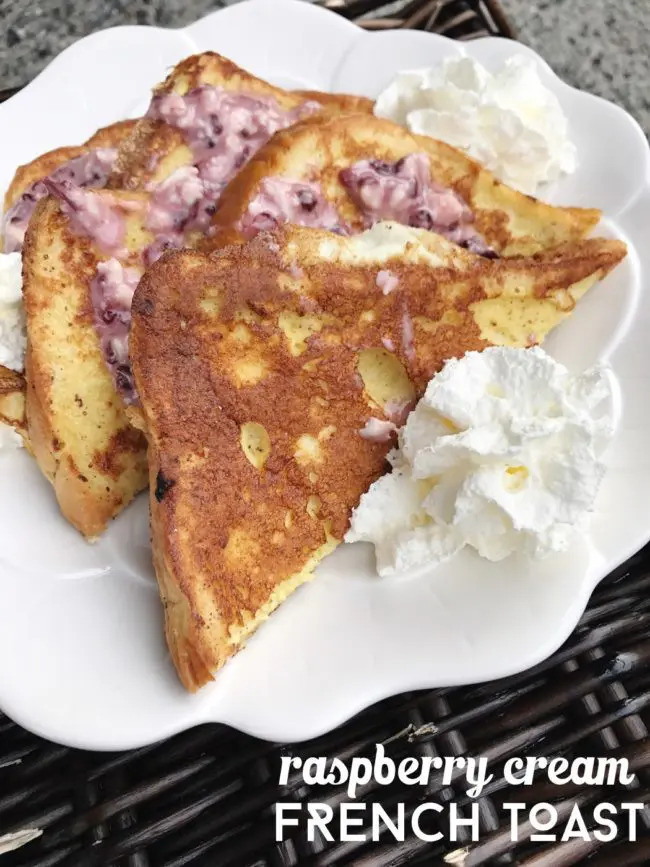 French Toast Ingredients
8 pieces of toast, we like brioche or sourdough for French toast best
3 eggs
3/4 cup of milk
1/2 teaspoon cinnamon
Raspberry Cream Ingredients
1/2 cup raspberry jam
1/2 cup marshmallow cream
1/2 cup cream cheese, softened
Optional: whipped cream
Directions
In a pie dish, whisk eggs, milk and cinnamon. Butter a griddle and allow to warm for 1-2 minutes over low heat. Dredge both sides of each bread slice in egg mixture and lay on griddle. Use a spatula to check doneness after 2 minutes, flip once golden brown and allow the second side to cook for another minute. Complete the same process for each bread piece. Our griddle can fit 4 pieces so it usually takes 2 rounds to prep enough French toast for our family.
If you're up to multitasking, mix together the raspberry cream while your French toast cooks. In a mixing bowl, use a fork to blend raspberry jam, marshmallow cream, and cream cheese together.
Spread raspberry cream on each piece of French toast and sandwich together. Add whipped cream on the side if you like, and dig in for a sweet treat!