Planning a multi-generational vacation is a great way to spend extra time and make more memories with the grandparents and grandchildren especially if the entire family lives far apart. That's why Universal Orlando is on the top of our list for visiting with the grandparents.
Since we live quite a distance from our extended family, we try to invite the grandparents on vacation with us as much as possible. In October, we met one set of grandparents in Chattanooga for the weekend just to explore the city and have a good time. In January, we set sail with another set of grandparents on a Royal Caribbean cruise for a week vacation. (Yep, like many modern families we have more than 2 sets of grandparents.)
This past week, we headed down to Orlando, Florida to meet up with the grandparents again for a fantastic Spring Break trip.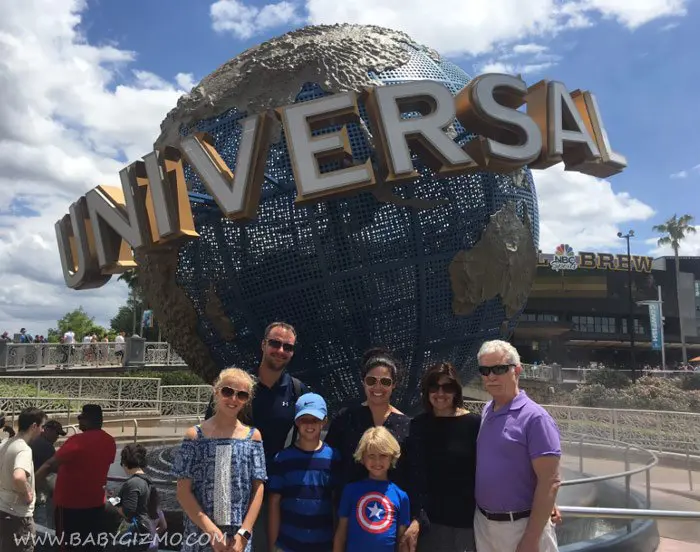 Today, I want to share some of our visit to Universal Orlando Resort theme parks with you. We had not been to Universal for a few years, and with the kids getting older, we knew that the two parks (Universal Studios Florida and Islands of Adventure) would be a perfect fit.
How Many Days Should We Go to Universal Orlando?
With two parks jammed with rides, shows and things to see and do, we got 2-day, 2-park tickets so that we could do everything that we wanted to do. I highly recommend getting the 2-park passes because we had favorite sections in each park so being able to go from park to park is key! Plus, the ONLY way that you can ride the Harry Potter train from park to park is if you have the 2-park pass.
The first day was dedicated to the Universal Studios Florida theme park. (We'll share our experiences in Islands of Adventure in another article!)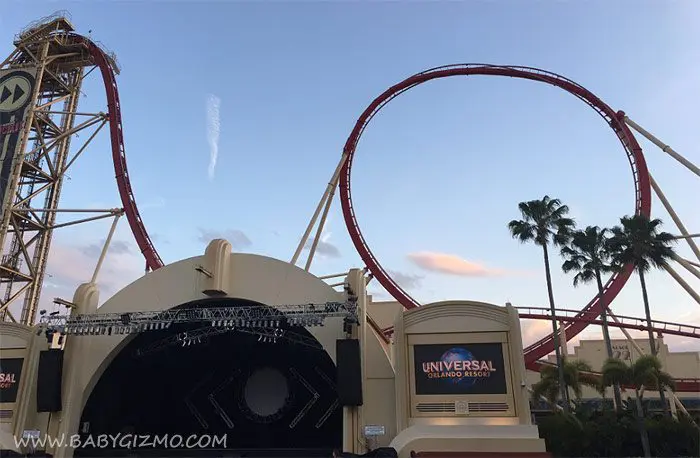 Hollywood Rip Ride Rockit Roller Coaster
Our first stop was my all-time favorite roller coaster ever! Yep, I've been to many a theme parks all over the country and the Hollywood Rip Ride Rockit roller coaster is my ultimate favorite. I don't know if it is because it starts out going straight up to the sky, the fact that you get to pick your own music and rock out during the ride or if it is the sheer speed of it, but I love it! Okay, maybe it's all of those reasons. Grandma even joined us on this high-speed ride while grandpa stayed on the ground with my youngest son because he missed the height requirement by an inch. Next time, buddy!
Despicable Me Minion Mayhem
Our next stop was Despicable Me Minion Mayhem. This 3D ride/show that featured everyone's favorite Minions, Gru and the girls was tons of fun and the whole family could ride along. If you like Despicable Me, this is a must-ride!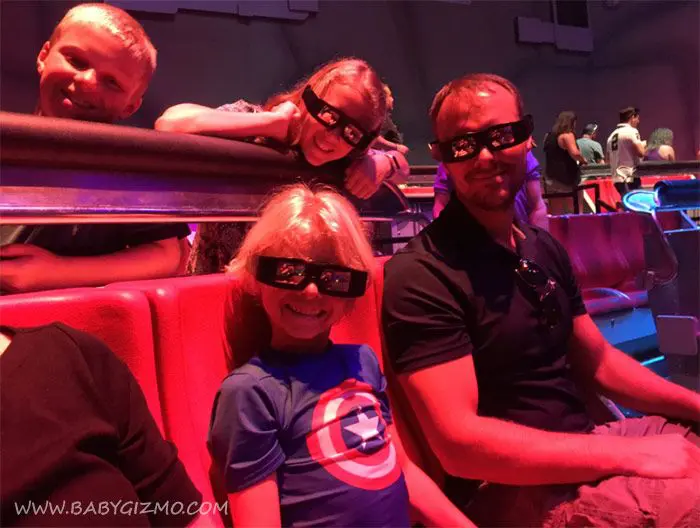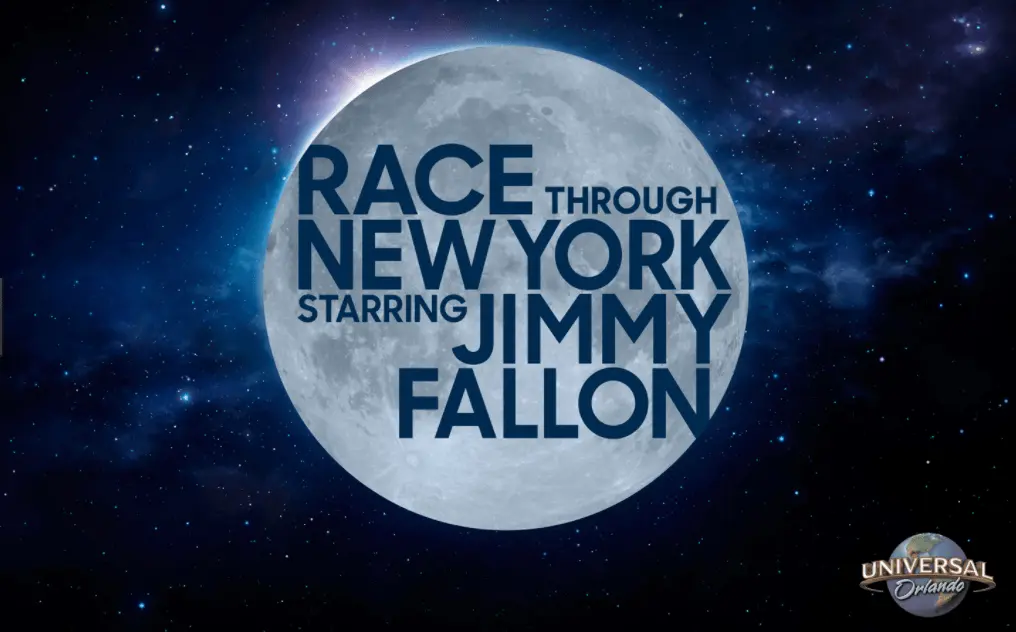 Race Through New York
The newest ride in Universal Studios Florida is the Race Through New York with Jimmy Fallon ride. This ride just opened up last week and stars my favorite, hilarious Tonight Show host, Jimmy Fallon.
In this 3D ride, you "board" a "flying studio audience" and race Jimmy down The Tonight Show's hallways and through the busy streets of midtown Manhattan.
One of the reasons that I love this new ride is that your experience begins the moment you step inside the building. There are two interactive pre-show areas with entertainment, so you don't even realize that you are waiting to race Jimmy.
The adults all loved the over 60 years' worth of The Tonight Show memorabilia displayed and the kids could play games or send "Thank You" notes from interactive desks while we waited.
Revenge of the Mummy
After zooming around with Jimmy Fallon, we headed to Revenge of the Mummy. I would have to say that this was my second favorite ride in the park (after Hollywood Rip Ride Rockit, of course!). It was a fast-paced ride that featured speed, darkness and fire so it may be a little scary for kids who are easy to fright. FYI my kids loved it! We also loved the Mummy characters outside the ride.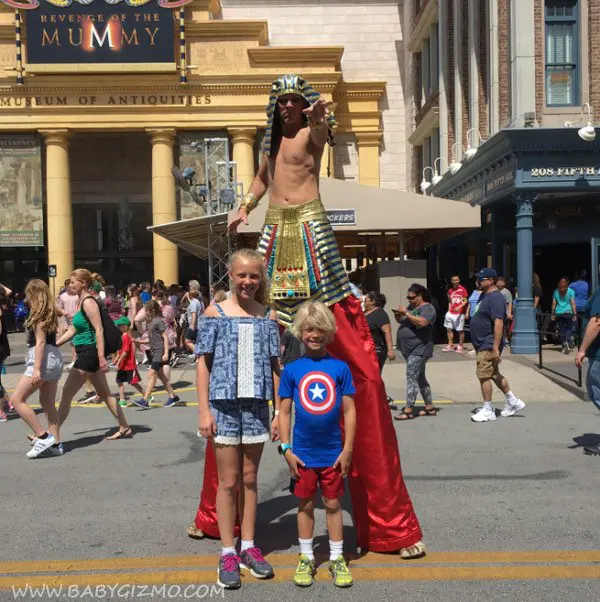 Men in Black Alien Attack
The Men in Black Alien Attack ride is a fun, competitive ride where you ride in a slow moving alien car and try to blast all the aliens along the way. Of course, it keeps score and you'll be challenging your family and friends who gets the highest score. Hint: Make sure you blast the light on the other people's alien car when it lights up red at the end. It's extra points! And even though they say "not to hit the red button", if you hit it first at a certain time at the end of the ride, you get a bonus 100,000 points. Yep, I was always slow to the draw on that one and those points always let the kids win!
Simpsons Ride
Near the Men in Black ride is The Simpsons Ride but I remembered that during our last visit this 3D ride was a bit much for me (it made me very motion sick last time!) so we skipped it this time. Even if you aren't going to ride the Simpsons Ride, I highly recommend that you walk around the area because it does have a lot of cool things to look at and do. If you happen to be in the area during lunch or dinner, Moe's Tavern is a great option. I ate there during my last trip and it was a super fun. You read more about Moe's Tavern here.
The Wizarding World of Harry Potter Diagon Alley
After exploring most of the park, we saved the best (besides the Hollywood Rockit roller coaster, of course!) for last. The Wizarding World of Harry Potter Diagon Alley is located towards the back of the park and is a must-visit for Harry Potter fans. You know what? Even if you aren't a super Harry Potter fan (gasp!), you will probably still love and appreciate how cool Diagon Alley it.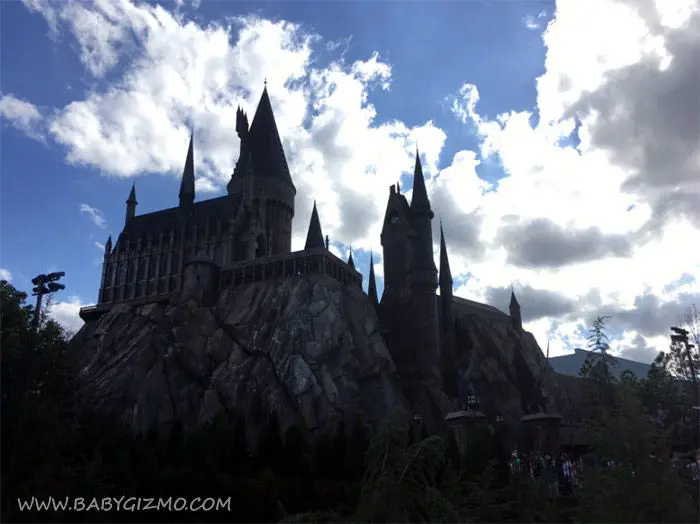 As you walk into Diagon Alley, it's like you are transformed into the book. Well, with an additional 1000+ people. Yes, it's the busiest part of the park but when you get there and see the detail that went into Diagon Alley, you will know why.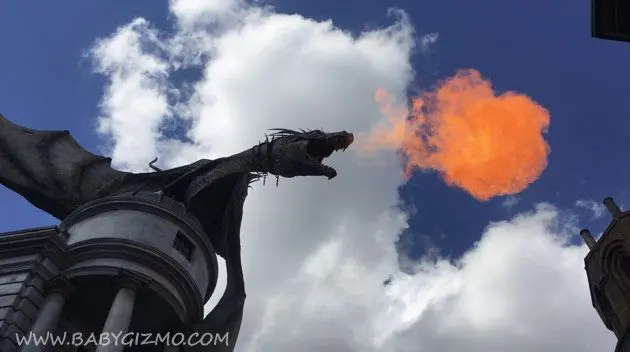 Harry Potter and the Escape from Gringotts is an indoor roller coaster ride that takes you on a journey that you'll have to evade the wrath of malicious villians, Voldemont and Bellatrix, as well as trolls and other creatures, while encountering Harry, Ron and Hermione along the way.
There are two main Harry Potter rides (one at Universal Studios and one at Island of Adventures) and this was by far my favorite. The other one (which we'll talk about later) is super elaborate but made me VERY, VERY motion sick. So, this one was my favorite.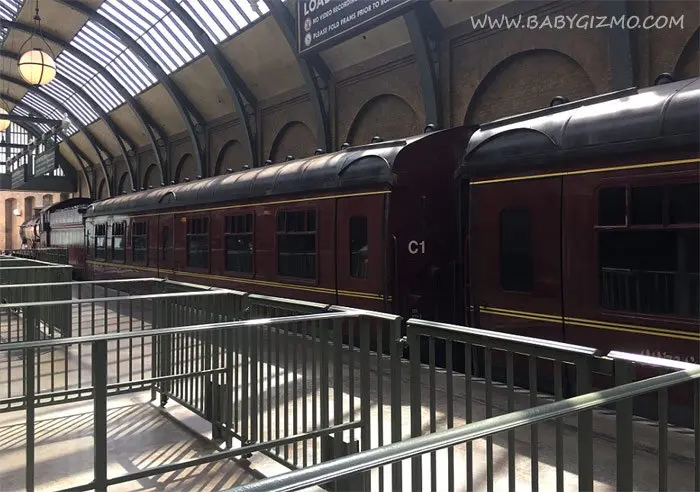 We ended the day with a train ride on the Hogarts Express over to Islands of Adventure where we walked through the park to City Walk for dinner at Vivo Italian Kitchen.
Overall, we had a fantastic day and can't wait to share our Islands of Adventure experience with you!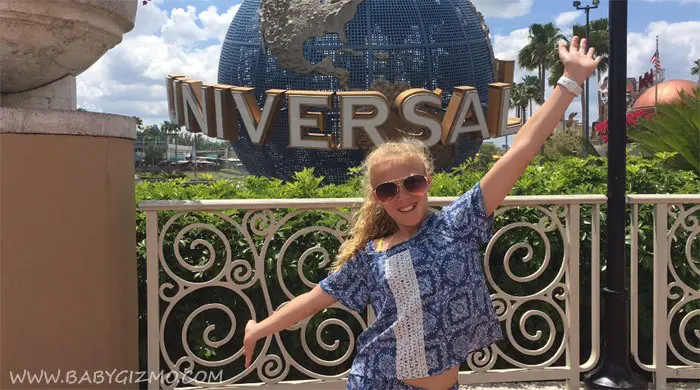 Don't forget to watch our Baby Gizmo Travel video above that takes you along with us into Universal Studios Orlando.
FAQs
How much are Universal Orlando tickets?
2 park / 1 day pass (adult): $164
2 park / 1 day pass (child 3-9): $159
1 park / 1 day pass (adult): $109
1 park / 1 day pass (child 3-9): $104
What are the three Universal Orlando parks?
There are three theme parks – Universal Studios Florida, Universal's Islands of Adventure, and Universal's Volcano Bay water theme park.
Can you walk between the Universal Orlando parks?
Yes. You can walk freely between the parks but you do to need to show your ticket again at the entrances.
*Disclosure: Thanks to Universal Orlando Resort for providing us media tickets for the park. As always, all thoughts, opinions and statements are my own.