It's time for S'More Pancakes. Growing up I never liked pancakes. Back then, I was strictly a French toast kind of girl. But, things changed during my second pregnancy when I started CRAVING pancakes.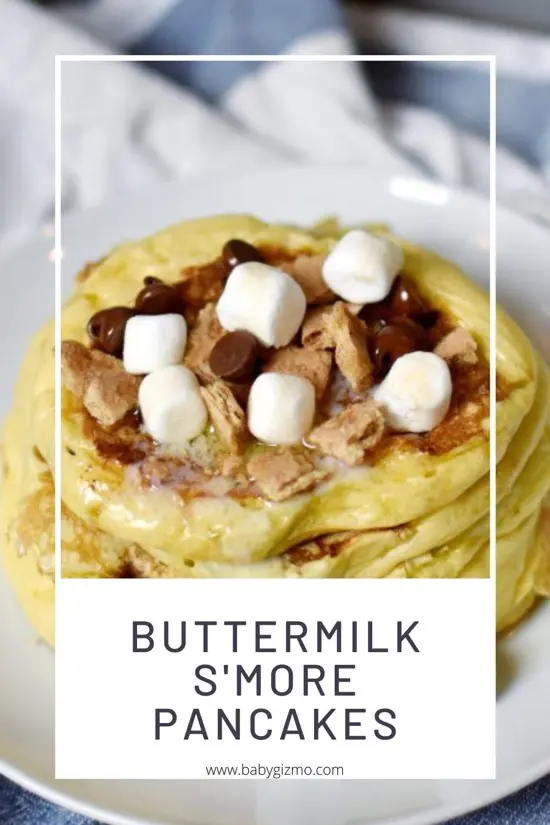 The summer that I was very pregnant with my son, I made pancakes almost every morning. I perfected my homemade recipe and experimented with a smorgasbord of toppings. Things like basic butter and fancy syrups, homemade jams, fresh fruit… and a s'more-inspired concoction!
Buttermilk S'more Pancakes are one of those summer treats that make breakfast feel a little extra special. It's practically dessert, but served with eggs and bacon, I figure it's all good. My kids adore these fancy pancakes and it's a fun way to bring the spirit of a summer campfire indoors.
S'More Pancakes Ingredients
1 1/2 cups flour
1 tablespoon baking powder
1 teaspoon baking soda
1/2 teaspoon salt
1 3/4 cup buttermilk
2 eggs
1/3 cup chocolate chips (plus some for the topping)
3 graham cracker rectangles, chopped (plus some for the topping)
1/2 cup mini marshmallows (plus some for the topping)
Butter + maple syrup
Directions
1. Heat a large, well-buttered/greased cast iron griddle over high heat.
2. In a large mixing bowl, whisk together dry ingredients – flour, baking powder, baking soda, and salt. Add buttermilk and eggs, whisk thoroughly by hand or with a mixer until there are no lumps.
3. By hand, fold in chocolate chips, graham crackers pieces, and marshmallows.
4. Turn the griddle heat to low-medium, and with a 1/4 cup measuring cup pour batter onto the griddle. Cook for 2 minutes or until you see large bubbles in the batter like this: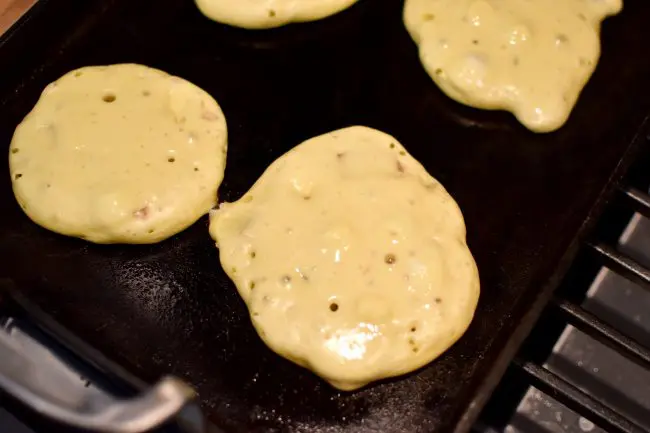 5. Then, flip and cook on the other side about 30 seconds.
6. Remove pancakes from the heat, stack, and top with s'more toppings, butter, and a drizzle of syrup. Enjoy!
Looking for more pancake recipes? We got you. Baby Gizmo Pancake Recipes