I came of age in the 1990s, during an explosion in pop culture's focus on Reducing, Reusing, and Recycling. Since then, the idea of throwing away a soda can or a piece of paper is appalling. I mean, who doesn't provide a mixed-stream recycling bin anymore?! (Of course, this explosion coincided with the rise of the status plastic water bottle—a trend in which I also participated, but I digress.) My point is that, with all that environmentalism infiltrating my developing brain twenty (no. way.) years ago, it's now a habit to look for easy, everyday ways to save the planet. One of the easiest—and cutest!—ways to do this is to think green when packing snacks and lunches. Here are some of my favorites, great for kids and grown-ups alike!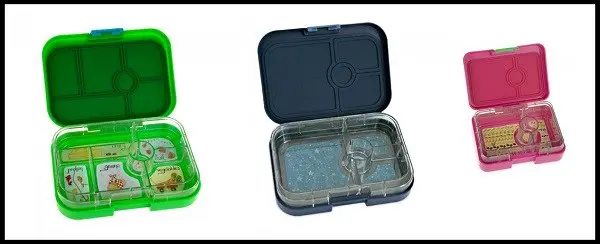 Yumbox
As I've mentioned elsewhere, I love Yumbox lunch boxes for my preschooler. I am a Yumbox evangelist at park playdates, and I'm sure my friends are sick of hearing my sing its praises. But you're not, so listen up! Yumbox holds a whole meal in a one-piece, leak-proof container with an easy-to-operate latch. There are no lids or containers to keep track of—or lose, as the case may be. I love these boxes so much that shortly after I got my daughter her Yumbox, I ordered one for myself. And then one for my husband. We have the Panino boxes and they're fabulous for picnic lunches and days at the zoo. I can easily fit all three of them plus water and snacks in a backpack for an outing. There is also a more traditional bento-style box with six compartments and a mini snack box.
If you're going to use the Yumbox daily, I'd suggest getting an extra tray or two. The trays are dishwasher safe and I am lazy, so mine only get washed when I run the dishwasher; my family's dirty trays are very rarely clean and ready to go the next day. (It is recommended that the exterior shell be hand washed to preserve the silicone seal.) I should also mention that compared to using (reusable!) bags and plastic containers, the Yumbox is on the heavy side. It's not oppressive—it's kind of like the difference between a reusable plastic water bottle and stainless steel one. Speaking of…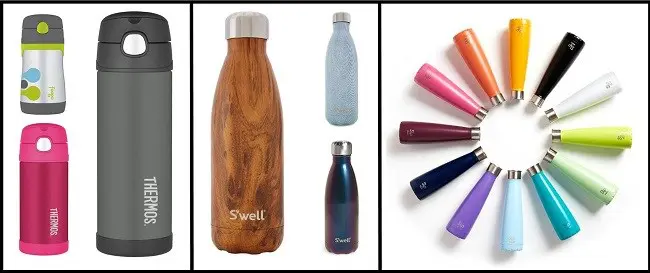 Water Bottles
So, that whole "bottled water is superior thing" I fell for in the 90s? Yeah, I'm all grown up and over it now. I feel guilty every time I use a disposable water bottle. You know that question that the blogs always ask: What's the one thing you always have in your diaper bag? I always have a water bottle for me and one for the kid. I like insulated stainless steel for its look, its ability to keep drinks cool, and the fact that it doesn't sweat.
My daughter's favorite is her Thermos Foogo. She also has a 12 ounce Thermos FUNtainer, and I have a couple of them in the 16 ounce size for myself. Both the Foogo and the FUNtainer are stainless steel straw bottles that are easy to use open and close with one hand, and that keep drinks cool all day. While I've had a few dribbles here and there (particularly if I wasn't paying attention when reassembling them after cleaning), they're pretty much leak-proof. Thermos notes that another cause of leaking is a worn or damaged straw; you can get replacement straws by calling Thermos directly. All parts are listed as dishwasher safe, but hand washing is recommended. Because these get carried around in my kid-bag and used all over the place, I run mine through the dishwasher. Be forewarned that doing so will eventually wash off any designs or colors on the stainless steel and will shorten the life of the silicone part of the straw.
Next up is my favorite bottle, S'well. I spurged on this spendy little number because it's adorable. And it doesn't have a straw so I feel like bona fide adult when I drink out of it. Without the tiny hard-to-clean straw pieces, I also feel much more comfortable drinking whatever I want out of the bottle, plus I can use it for hot beverages, too. These bottles come in tons of colors and three sizes. (The largest holds a bottle of wine. Just sayin'.) You can shop for S'well at Amazon or browse the wider selection on the S'well bottle website. Note that these bottles are not dishwasher safe. I'll also add that the pretty finishes can scratch, so consider where and how you'll be carrying the bottle. S'well also just launched a line at Target, so check out the slightly-less-expensive-but-still-fun-and-cute S'ip line.
spbang
What is a spbang (pronounced "spuh-bang"), you ask? It's a silicone snack/sandwich bag. I love mine! Or should I say "my collection?" We have tried other bags like Lunchskins; personally I can't get past putting my food in fabric, and I think they're a pain to clean (you try getting crumbs out of Velcro). Bags by spbang are dishwasher safe, so they're super easy to take care of. I appreciate that they don't have a lot of give, which keeps me from overpacking my new favorite pretzels (so. good.). Those sturdy sides also provide a bit of protection to the contents when I slip the snack bag into my kid-bag, and the bag's slim profile helps it fit easily into my overstuffed bag. Oh! Did I mention the notes version, where you can leave a message for the bag's owner? And don't be limited in your use of these bags; I've seen people use them for storing paintbrushes and carrying crayons around, too.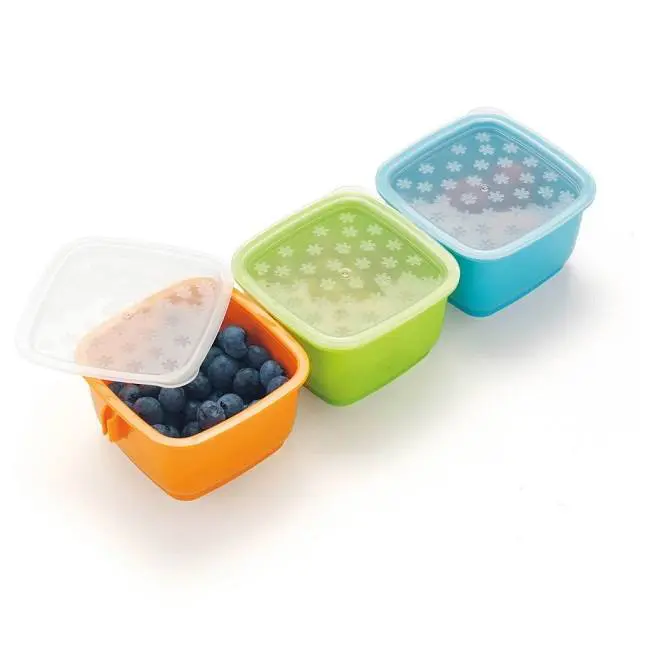 Skip Hop Clix
I have the whole Skip Hop Bento Mealtime Kit, but to be honest, I've only ever really used the Clix containers that came in it. These are awesome. The lids attach very securely, which does mean that my daughter can't use them on her own, but it also means the lid isn't falling off when I toss one of the containers in my bag. I like them for snacks that should be eaten—or at least served—in smaller portions (trail mix, dried fruit) and for snacks that disintegrate if you're not careful (Cheerios, Goldfish crackers, puffs). I've not used them to warm foods, but the containers are microwave safe, as well as dishwasher safe. They also connect to each other, which is a fun little feature.
As you're heading out, remember to pack your silverware and some cloth napkins, and you'll be all set for an earth-friendly dining adventure wherever you are!