I can't remember exactly when I came across Swoop Bags—probably some giveaway on some blog I follow—but I fell I love with the idea as soon as I read about them. Made-in-the-Seattle Swoop Bags are a combination play mat and storage bag. When it's open, it's a big circle with slightly vertical edges (like a cake pan or pie plate with short sides). When you're done playing, you use the nylon cord sewn into the mat's edge to cinch it closed into a storage bag. The bags are made of cotton canvas (large) or a water-resistant material (small), and come in tons of fun, bright colors as well as a selection of neutrals. And you want to know something really neat? They were inspired by a Lego bag owner Sarah Kirk's grandmother made for her brother's toys in 1978! How cool!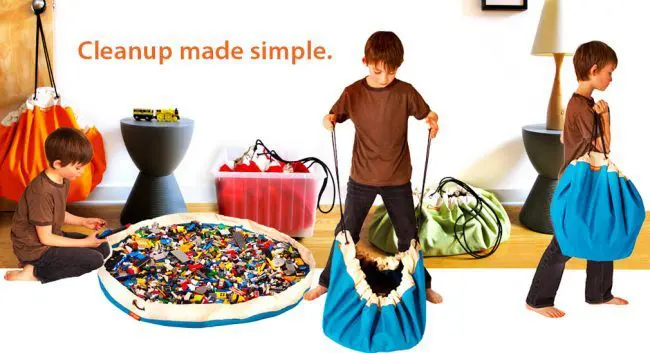 We're usually a bin family in my house, and by the time I discovered Swoop Bags, I'd already purchased storage furniture filled with adorable bins to corral my daughter's collections of Lego, train tracks, cars, dolls, and other toys. I seized my opportunity to try Swoop Bags when we were preparing to move, and I ordered two large bags from Swoop's seconds offerings. (The items available as seconds have small flaws; I have yet to discover any flaws in the two I ordered.) We have storage in our couch and I thought that the bags would fit perfectly in there so that we could keep the kid's favorite toys available while hiding them for showings when our house was on the market. Apparently, it's bad if people can tell that kids live in a house that's for sale…?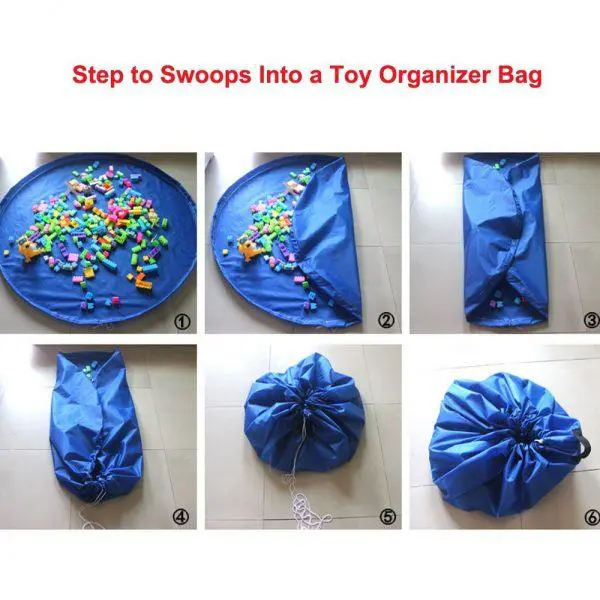 Anyway. I was really excited when the bags arrived. My daughter was visiting relatives and I was so tempted to open the bags before she came home. I managed to control myself, though, since I had purchased them "for her." When she opened the package to find the bright pink and purple bags, she was thrilled; she loved the colors (and so did I). The cotton canvas is thick and feels soft, as does the cording used to close the bag.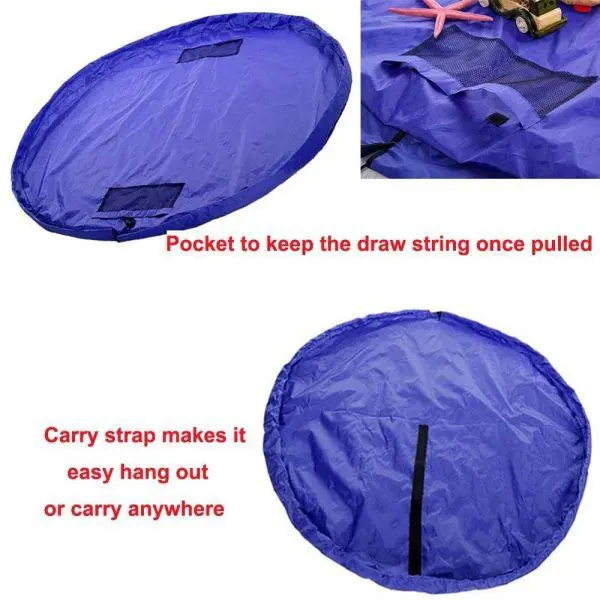 I was torn when choosing which size bags to get, as my kid's Lego/Duplo collection isn't particularly big, but I ended up choosing the large bags just because I like the look of the cotton canvas material with the natural trim much better than the water-resistant material with the black trim that's used on the small bags. I'm glad that I went with the larges, though, since I was able to fit in the big square Duplo and Lego building bases, as well as keep the Lego in small storage containers so the pieces didn't get mixed up with the Duplo pieces. I used the second bag for my daughter's kitchen accessories (pots, pans, food, etc.) and I could have used two bags for that stuff—not that bag isn't sufficiently sized; apparently, she has a lot more kitchen stuff than I realized.
Cinching the bags closed for storage was super-easy, but here's where I can see that the small bags have an edge. The small bags underwent a recent makeover in which the material was changed from cotton canvas to the water-resistant material. At the same time, the bags were redesigned to close more securely, to the point where people now use them to carry toiletries when traveling and food when hiking. The large bags do not close that securely, and even tying them closed after cinching doesn't completely seal them. Plus, the cords are so smooth that they slip out of their ties. (I'm not a Boy Scout, though, so maybe there's a more secure knot to use.) For the way we're using the Swoop Bags in my house, this isn't an issue, but for those who want secure storage or want to use their bags to carry things around when traveling, it might be. For what it's worth, the large bags did hold their contents safely for a 15-hour car trip, and it was awesome that my daughter had some of her favorite stuff ready to use right when we got to our new house. A fabulous bonus was that with the bags opened as play mats, we had a way to mark my daughter's space while the movers were working.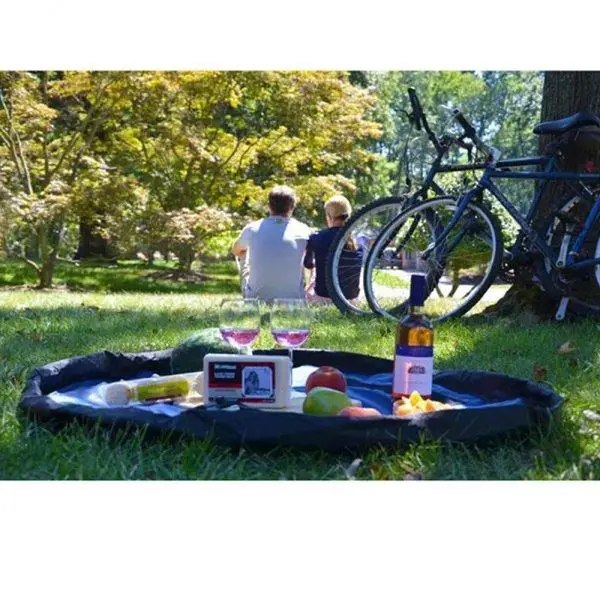 Swoop Bags aren't cheap ($26-$48), but they're one of those pieces that can grow with your child, since what you store in them can change with your child's interests. They're not just for toys, either. The bags can be used to organize things in the car, carry supplies to and from the car at the beach or an outdoor concert, store things in the garage (think balls, pads for different sports, etc.), keep dog toys and supplies in one place, and as laundry bags in college. Their contents are only limited by your imagination. Oh, yeah. Did I mention Swoop Bags are guaranteed for life?
If you've got stuff to organize, check out Swoop! Buy them HERE!
Photo credit for all images in this post: Swoop Bags