The first time I heard of a weighted blanket was an ad for Gravity Blankets' Kickstarter. Why that showed up in whatever I was looking at I have no idea, but I clicked on it anyway. Oh my gosh! People. Who wouldn't want something that promised to help you sleep better and feel less anxious without drugs?!
If you are a parent, these are two of the most sought after and precious things in the world. But achieving them does not come without a price. $249 to be exact. (If you clicked the link above you'll see they're no longer kickstarting, and as I've learned, they're not the only option on the market. But the other prices were still in the mid-hundreds and up, and at the time I discovered Gravity, let's just say when it came to looks, well, it was worth the other $100 Gravity was charging.
Unless you enjoy fun colors and minky fabric, in which case you were all set.) But this holiday season, my friends, Target entered the weighted blanket market with a $70 version from Tranquility. Okay, okay, it's $69.99. And because my mom and dad love me, they got me one for Christmas so I'm going to review it for you. But before I do, I want to tell you a little bit about weighted blankets and their benefits.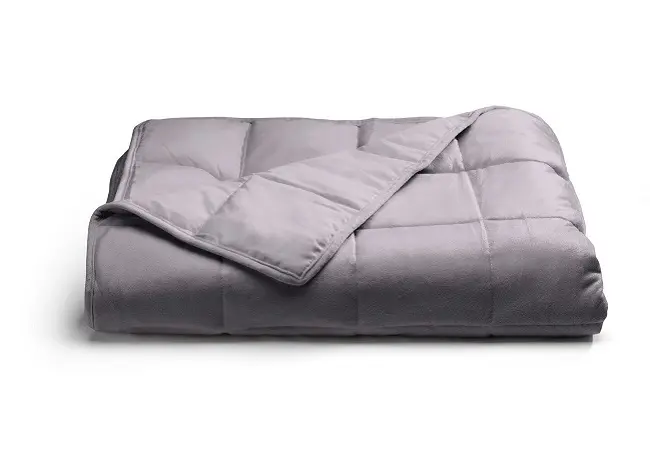 Weighted blankets serve as a way to calm anxiety through deep pressure touch. The best explanation I found for it was from a company selling weighted blankets, which seems hinky, but everything was reviewed by a Master of Occupational Therapy with an Occupational Therapist Registered/Licensed (OTR/L) Certification, so I'll go with their explanation rather than reinventing the wheel.
The pressure helps release calming chemicals in the brain and decrease stress hormones. (Weirdly, this is the same idea behind swaddling a baby or your dog's Thundershirt.) Details are here if you like geeking out about this kind of stuff—it's pretty neat!
Because weighted blankets can mimic the positive effects of deep pressure touch, they have been used effectively to help people with Sensory Processing Disorder, people with Attention Deficit Hyperactivity Disorder (ADHD), and people on the autism spectrum to stay calm and focused when they are feeling anxious. That use expanded to helping people with anxiety disorders, and weighted blankets are now being used by people with insomnia as well as people who just want to sleep better (see baby swaddle above).
So, these blankets claim to do a lot. What about the Tranquility Weighted Blanket?
Weighted Blanket Pros:
One side is a soft velour with a short nap. I'd call the other side a nice crisp cotton, but since the whole blanket is polyester, it's a nice crisp polyester. As I said, finding a non-fuzzy blanket was pretty hard, so I love the materials in this one. The velour is a soft texture that can be great for curling up with in cooler weather or turned the other way when it's a bit warmer.
As a well-made weighted blanket should be, this one is quilted into squares, with the beads divided into the quilted squares. The beads are itty-bitty glass beads, which you can't individual feel when the blanket is laying on you. I've read that some blankets can be noisy when you toss and turn. I don't have that experience with my Tranquility blanket. There's some rustling, but to me it just sounds like I'm dragging a big heavy blanket around, same trying to adjust my giant king-size comforter.
I was able to see it in person before buying it! Every other blanket I considered I was only able to find online. Of course, that was back in October and everything may be different now, but that's one of the big reasons the Tranquility blanket made my Christmas list. I was able to see the colors, which was good because the one I thought I wanted to match my living room it turned I most definitely did not
It does actually help me calm down when I'm feeling anxious! It can help prevent and anxiety attack and if I'm having an anxiety attack, it can help lower the intensity and duration. (Now, I'm on medication, too, so the blanket doesn't have magic superpowers, but it helps! And it keeps me from adding more medication to my regimen.) Also, if I'm feeling restless before bed, I can curl up with the blanket, and it is a bit like a big old hug—a few minutes snuggled under my blanket can help me feel a little more relaxed and ready for bed.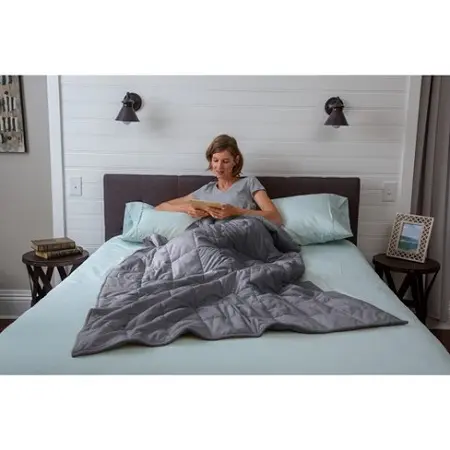 Weighted Blanket Cons:
The big con for me is that this particular blanket style isn't an insert with a cover so it can't be washed. It is, in fact, officially "Spot clean only," so the dogs and the kid aren't permitted anywhere near it. Realistically, though, I could buy four of these for the price of the Gravity blanket, which was the only other one on my list (NO MINKY!); I think I can deal with this draw back for the $179.01 savings. Also, I'm not exactly a skilled sewer, but making a duvet cover and adding ties to the Tranquility blanket is a Sewing 101-level project.
It only comes in one weight. The blanket should be 7 to 12% of one's body weight, and this one only comes in a 12-pound size.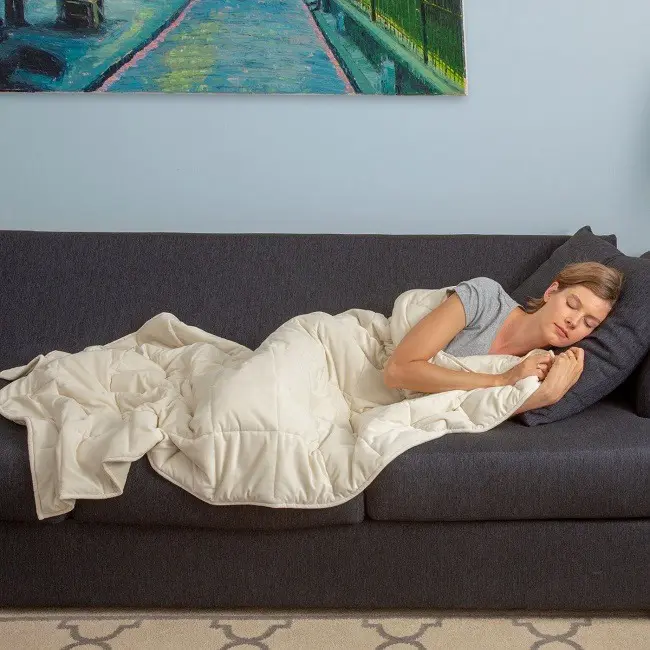 Overall, the blanket is a really great value. I looked at some custom options and some higher end options, but I'm really pleased with the Tranquility blanket. I love the color, the quality is great, and while the blanket is a little bit light for me, it does its job just fine. If you're in the market for a weighted blanket, or have been thinking about trying one out but have been put off by the cost, check out the weighted blanket from Tranquility!