Last week, we took a much-needed vacation with family over the Thanksgiving holiday to the Caribbean aboard the Royal Caribbean Vision of the Seas cruise ship. With the 8th Annual Baby Gizmo 12 Days of Christmas starting this week, it was a perfect time to get a little relaxation time in before the giveaway extravaganza craziness started.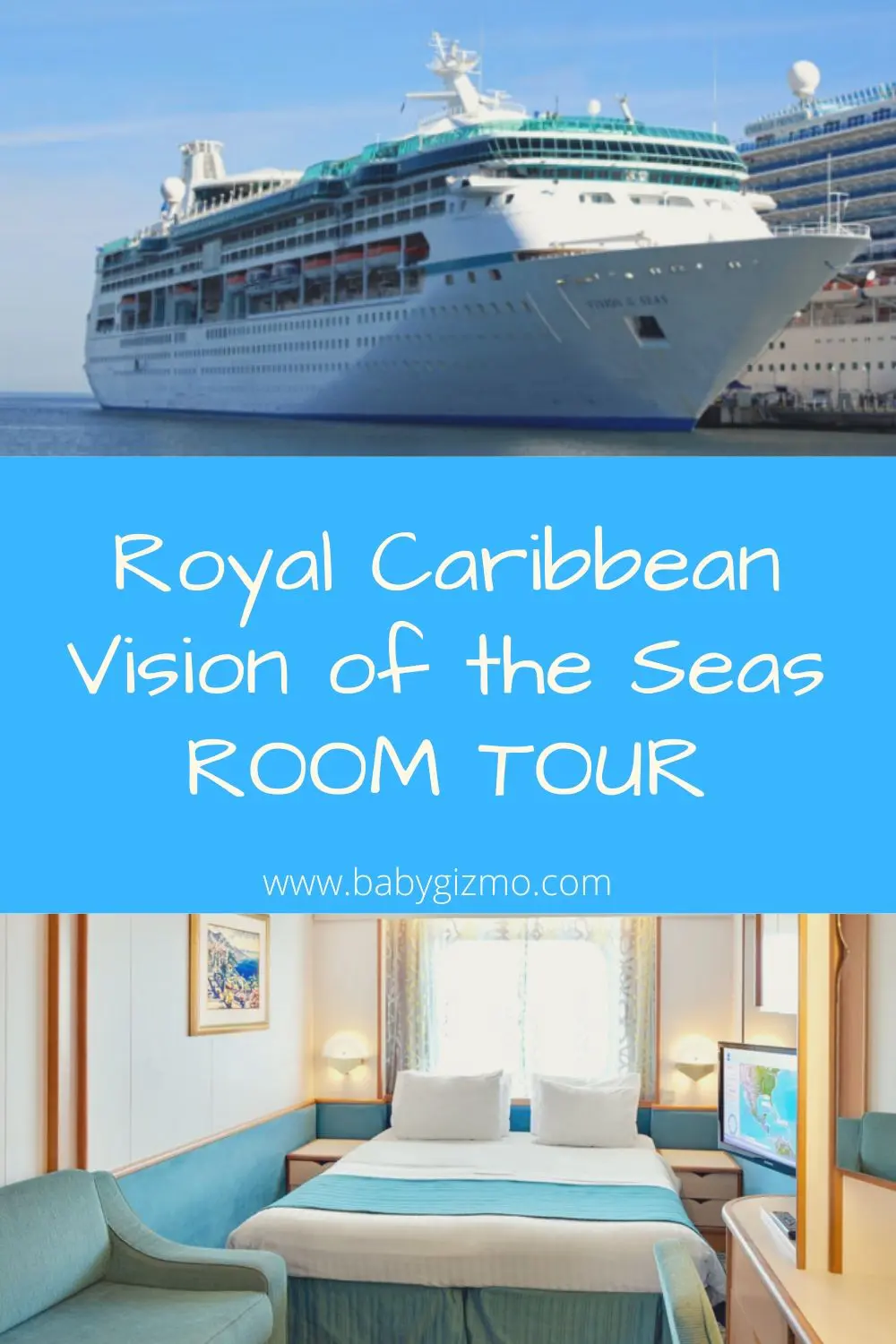 Why We Chose The Vision of the Seas
While there are bigger, grander and newer ships in the Royal Caribbean fleet, we chose the smaller Vision of the Seas boat this time for a few reasons.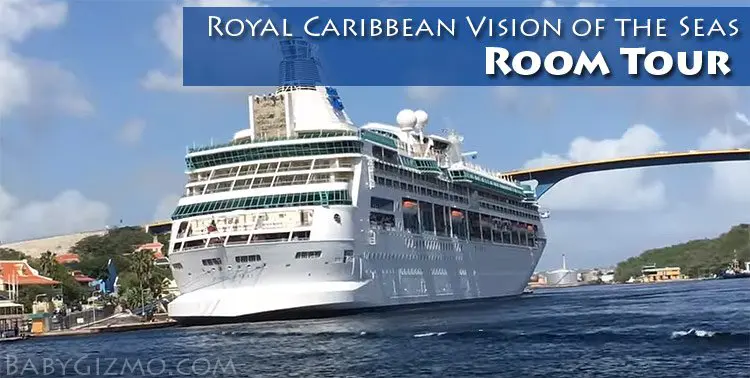 Itinerary. First, we just liked the itinerary a lot on this cruise. It sailed down to the Southern Caribbean where I figured I could be guaranteed warm weather at our stops in Key West, Aruba, Curacao and Cayman Islands. Sometimes the bigger ships have a more predictable itinerary because those massive ships cannot fit in some of the smaller ports.
We didn't need the extra features this time. We were traveling with the grandparents and a two-year-old so this vacation was all about hanging out with the family. We knew the grandparents wouldn't use the ice skating rink, FloRider (surfing), RipCord (skydiving), water slides and other amenities that are found on the newer ships such as the Quantum of the Seas and Anthem of the Seas so we thought we'd save that voyage for the next trip with just the kids. By sailing on the smaller Vision of the Seas, we saved a bunch of money since it didn't have those newer features and the ship was much easier to get around so the grandparents didn't feel overwhelmed by a massive ship with 5,000 people aboard! (It important to note that while the Vision of the Seas maiden voyage was in 1998, it was renovated in 2013.)
Dates. Third, we were looking for a longer cruise and the Vision of the Seas' 9-day voyage was perfect for the dates we were looking to sail.
Sure, everyone gets sucked in with the glitz and the glamor of the newest ships (I have to admit that I do too!), but after our cruise last week, I have to say that you shouldn't overlook the other ships when looking to book a vacation.
Over the next week or so, we are going to share pieces of our vacation with you from a room tour to dining options to the Ocean Adventure program for kids. Each day, we will tackle another aspect of the Vision of the Seas to show you everything it has to offer in case you are thinking about booking your next family vacation and a cruise is on your list.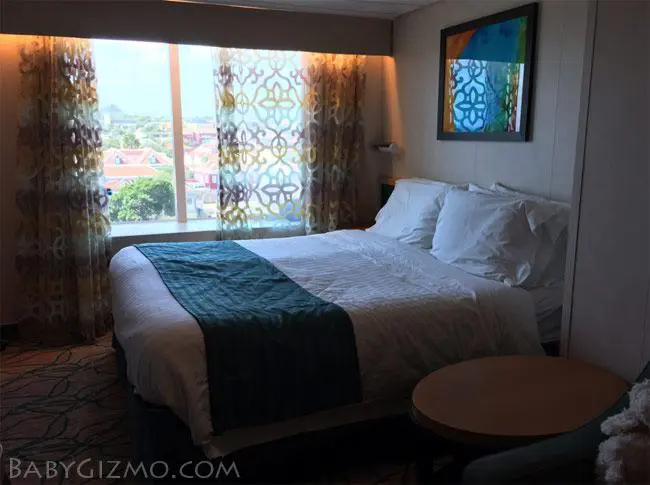 Why We Chose an Oceanview vs a Balcony Room
Today, we are taking you inside our Ocean-View Stateroom! Our room was on the 7th deck and had a giant picture window. The others in our group had balcony rooms but we opted for just an oceanview room for a couple reasons.
Money. I wanted to save money. The oceanview room was cheaper and with a family of five, I was looking to save a few bucks. Period.
I'm a Nervous Nelly. I get nervous with a balcony with kids. The large window in our room had a window seat that the kids could sit and look out at the ocean without me being afraid of them being too close to the edge like I do with a balcony. The balcony rooms on the Vision of the Seas have a solid wall at the bottom up to the railing and that makes me worry that the younger kids might try to stand on tip toes or push up on the railing to get a better view. The newer RCL ships have upgraded to a high plexiglass wall and banister that the kids can look out if they are shorter and this option isn't available on the Vision. (You can see this type of room in our Allure of the Seas Video that we did a few years ago!)
What We Did Since our Family of Five Exceeded the Room Limit of Four
Since we have a family of five, and Royal Caribbean only allows four in most of their rooms, we had to put one child in the grandparent's room when booking. If you have a family larger than four, you have two (maybe three!) options:
Get two rooms
Invite family and/or friends that can take one or two of your kids in their room.
Splurge and get one of the suites that accommodate more than 4 people (these usually cost more than two rooms though!)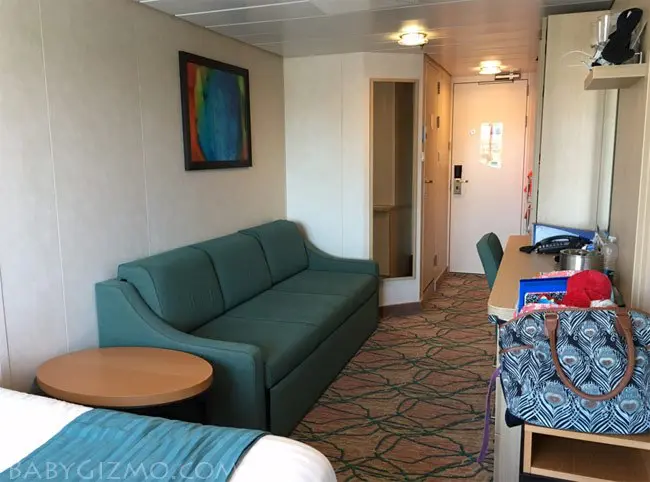 Things to Bring for Your Royal Caribbean Vision Stateroom
There are some key things not to forget for your cruise vacation that you'll need in your stateroom.
A clock. There are no clocks in the staterooms at all. If you like to wake up and know what time it is, bring a small clock. If it has an alarm for those days you want to make sure you get off the ship early at the ports, that's even better.
A nightlight. If you are traveling with kids, the cruise rooms can be quite dark. Instead of keeping the bathroom light on all night, we chose to bring a small nightlight that worked perfectly.
Plastic bags. We had a rough first couple days with a 24-hour flu bug that hit the kids and hit them hard. (It was ugly.) We didn't see it coming so having extra plastic bags (like Target bags!) for dirty clothes, sea sickness mishaps and stuff like that is key.
Pillow. If you are like me and you need your own pillow/blanket or whatever to sleep, bring it. While the pillows are fine, they are not as comfy as yours.
Shower wash. The cruise line provides a bar of soap, shampoo and conditioner but if you like your own body wash, bring it. I ended up buying some at the first port of call. 🙂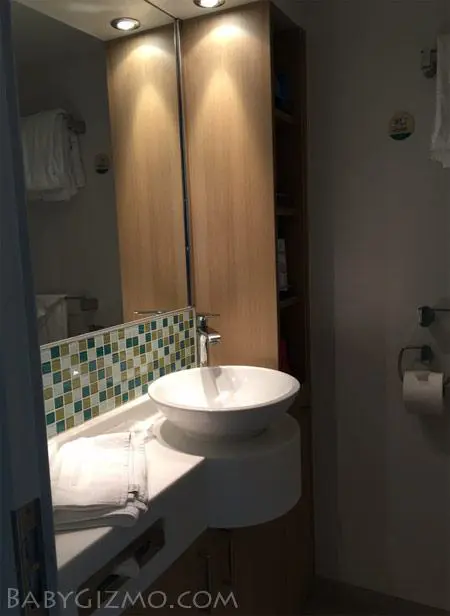 Okay, it's time to see inside the Royal Caribbean Vision room in today's Baby Gizmo video.
For more information on Royal Caribbean, you can visit their website at www.royalcaribbean.com.
Vision of the Seas Room Tour Video