Summer is just about here, which means we are going to be enjoying the great outdoors more with our children for the next few months. Parents everywhere will be hitting the park, the playground, the zoo and much more. Our sporty parent friends will be on the pavement with their jogging strollers to get out and enjoy the sunshine and warm weather, getting some exercise with baby in tow.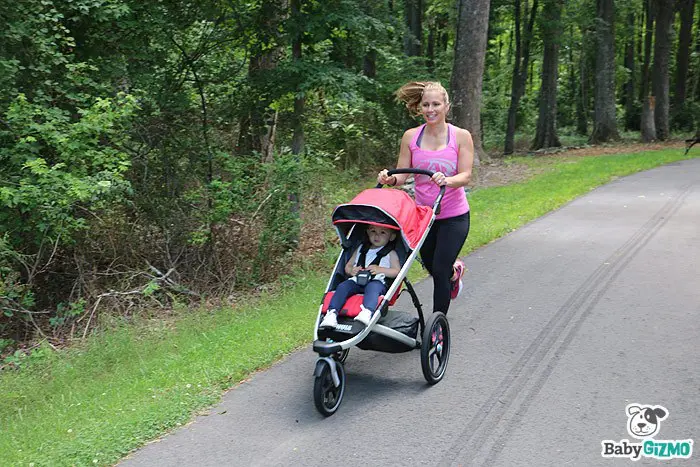 A jogging or sport stroller is a great investment for moms and dads who like to run, jog, or walk trails on a regular (or semi-regular!) basis. I've always been a big fan of sport strollers because they have really high weight capacities, sturdy frames and fantastic air-filled tires. This means that you can take your kids, who may not still be riding in a stroller on an everyday basis, but who can't keep up with you on foot on a jog. My 7 year old still hops in ours to join me on a run from time to time.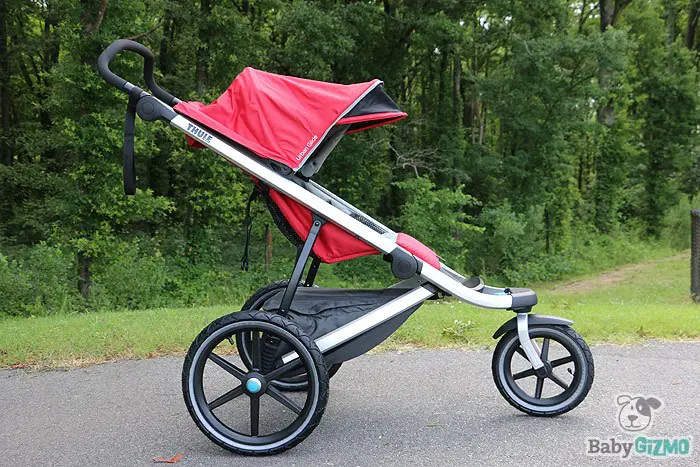 The Thule Urban Glide is a sleek sport stroller ready for urban mobility or running. With a one-handed compact fold for transporting, maneuverability with a swivel front wheel (but lockable for running), an ergonomic handlebar and rear suspension, kids are comfortable and parents are ready for a walk in the park or a power run down the trail.
SEAT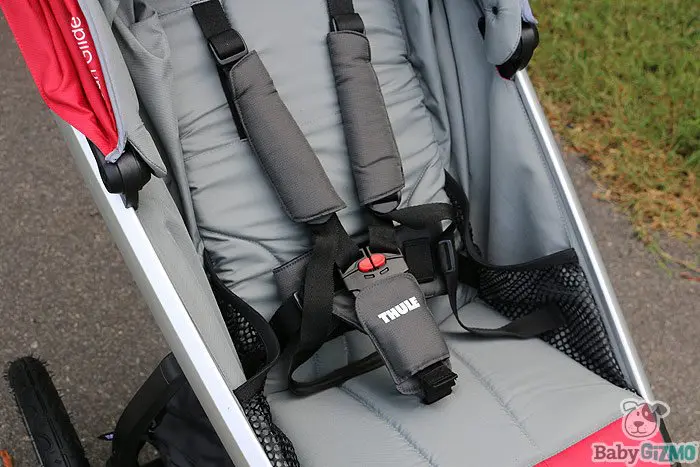 The seat on the Urban Glide is super roomy measuring 15″ wide with a 21″ seat back and a 25″ measurement from back of seat to top of canopy. It has a high weight capacity of 75 lbs and we could easily fit an 8 month old, 2 year old and a 7 year old in the seat with no problem, so this stroller will last you a long time! The seat sports a padded, secure, 5-point harness and I love-love-love the buckle on the harness because it's houdini-proof! Yes, your toddlers (and even preschoolers!) are not going to escape this harness because it's easy for parents, but nearly impossible for little ones to figure out. Check out our video to see it in action!
There are two mesh pockets in the seat for sippy cups, snacks or small toys, and a large mesh pocket on the back of the seat for parent essentials.
The seat has a deep recline that is perfect for a napping child. When the seat is fully reclined, there is a mesh window that will allow air to circulate through the seat to keep your child cooler on a warm day.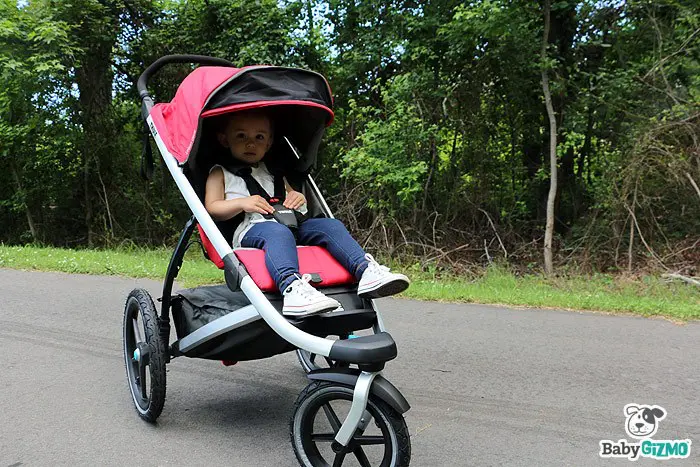 STORAGE
In addition to the mesh storage pockets on the seat, there is a large storage compartment with a zippered, water-resistant lid under the seat. It easily fits a large diaper bag and we love that the lid keeps the contents dry and out of site. There is also an additional zipper pocket on the outside of the storage compartment.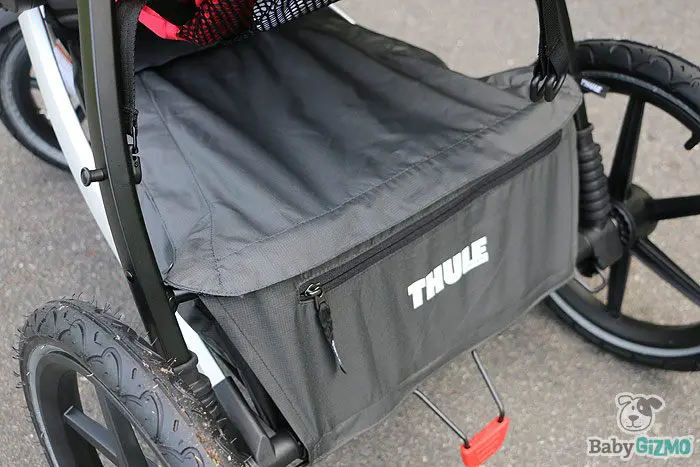 CANOPY
Since a sport stroller is designed for the outdoors, good sun protection is key, and the Urban Glide doesn't disappoint. It sports a large, floating canopy that can be rotated all the way forward to shade your child. There is a peek-a-boo window with cover on the top of the canopy to keep an eye on them. I LOVE that the canopy has a magnetic closure instead of Velcro.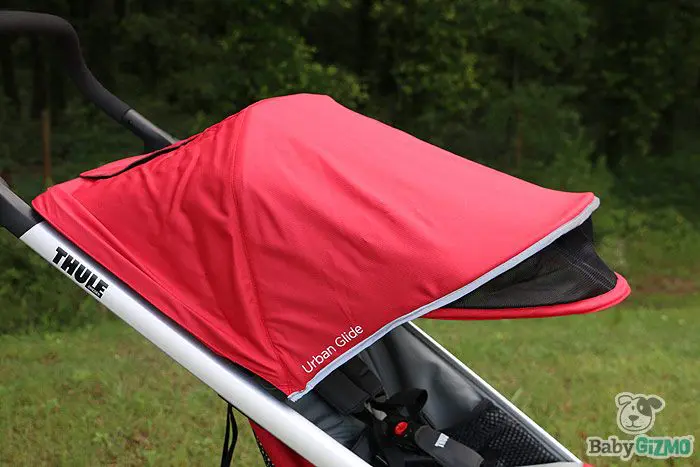 HANDLE
The Urban Glide has an adjustable, ergonomic handle that makes for a comfortable push for shorter and taller parents alike. While it doesn't telescope out, the adjustment up and down does give enough clearance for a parent with a long stride.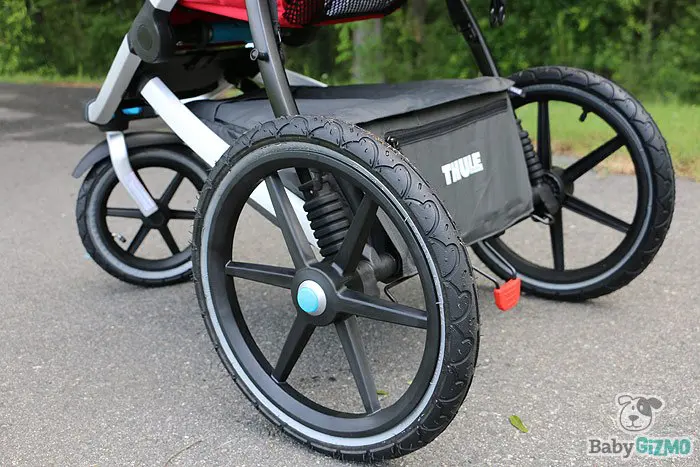 WHEELS
Wheels are also super important on a sport stroller because you really want air-filled tires for jogging. The Urban Glide has a three-wheel design with one 12″ air-filled tire in the front and two large, 16″ air-filled tires in the back. The front wheel is a 360 degree swivel wheel, but has the ability to lock straight for running, jogging and sport use.
The rear wheel suspension on the stroller absorbs bumps to give baby a smooth ride and parents a smooth push.
FOLD/UNFOLD
The stroller is super easy to fold and unfold and it can be done with one-hand with a lever under the leg rest. You push, twist and the stroller folds down into a standing fold. You can pop off the rear wheels for a more compact package, and the stroller locks with a manual lock for transport.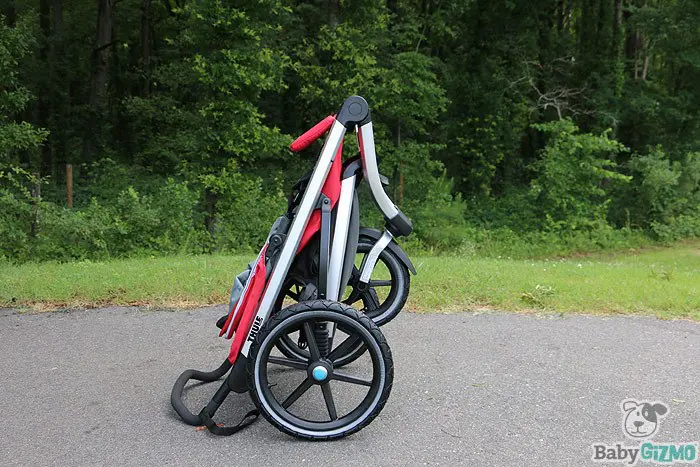 WRAP-UP
The Urban Glide is available as a single for $399 or a double for $649. We love the adjustable handle, unique, under seat storage, roomy seat and the one-handed fold. If you are looking for a high-quality sport, jogging stroller, we encourage you to look at the Thule Urban Glide! To see the stroller features up close and personal, please watch our Baby Gizmo video review above.
You can purchase the Thule Urban Glide HERE.