It's time for another episode of Baby Gizmo Must-Have Monday! Yep, we are making Mondays fun again! Don't think about the fact that you are still 5 days away from the weekend, but think of it as we are showing you a new product that we think you MUST know about. That's how Mondays can be fun again!
Today, we are talking about a newborn product that is a safer-alternative to the traditional bed sharing (baby in your bed). Having a newborn at home is stressful for parents and many times you want that baby right next to you at all times. This is especially true at night when there are feedings and diaper changes every 2-3 hours.
The American Academy of Pediatrics recommends ROOM sharing with baby but recommends that baby should be in their own safe environment such as a crib or bassinet. This is why we love the new SwaddleMe By Your Side Within Reach as the safer alternative.
The SwaddleMe By Your Side Within Reach is a portable, lightweight sleeper designed with a sturdy metal frame to keep baby right next to you but in their own safe sleeping environment.
It features all mesh sides for a clear view of baby and to help air circulate to prevent baby from overheating. The drop-down side wall is great for easy nighttime feeding and soothing. You can elevate baby's head for better sleep with the adjustable incline wedge that also integrates into the bassinet under the mattress when an incline is not needed.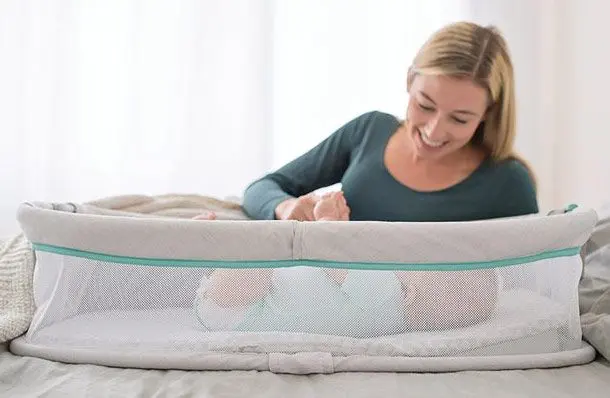 The By Your Side Within Reach comes with a mattress pad and fitted sheet that is removable for washing. This sleeper is designed for babies from birth until they begin to push up or roll over and retails for $39.
Purchase the SwaddleMe By Your Side Within Reach from Amazon.com.