I always figured you couldn't really pre-make a salad well, especially days in advance, because it would just wilt and turn gross. Heaven forbid you could actually pre-make a salad AND include the dressing. Unheard of!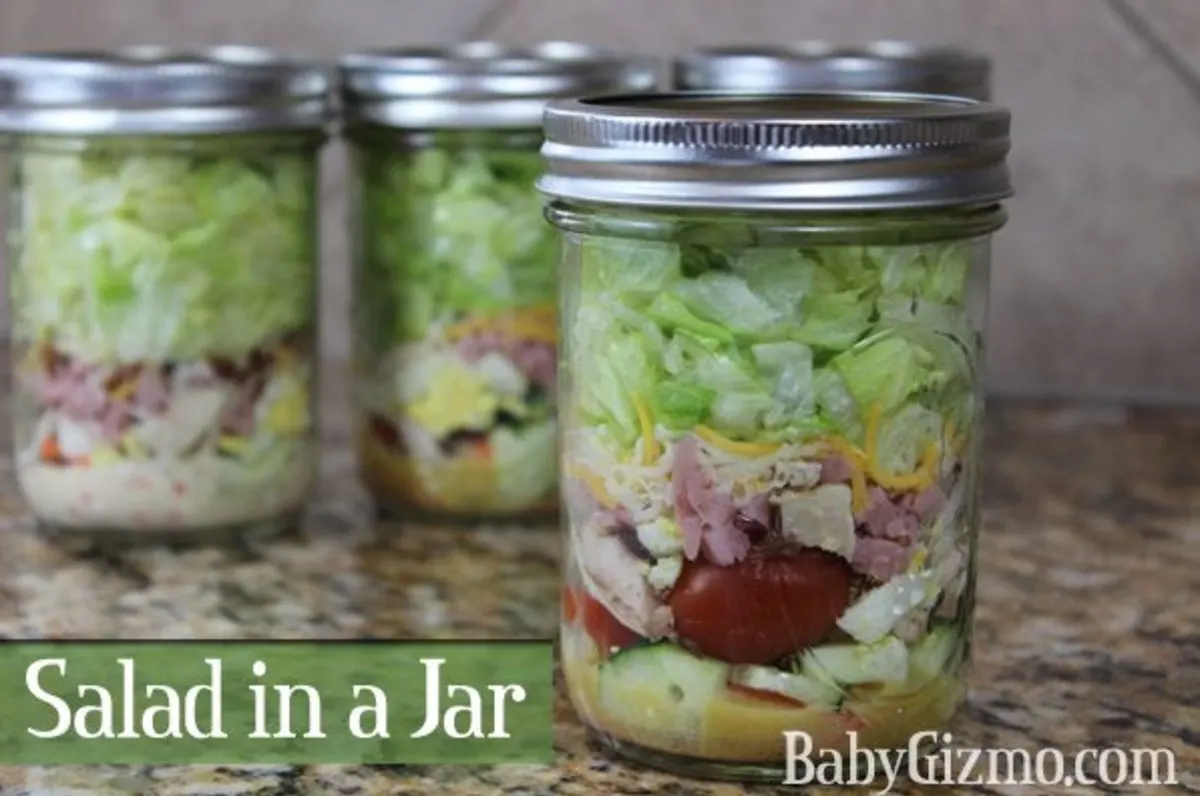 Well, that is when the "Salad in a Jar" came into my life and turned my salad ways upside down. I was over at my friend Cathy's house a couple weeks ago and I tried to convince her to do the 3-Day Military Diet journey I was about to begin.
Yes, I'm kind of a serial dieter. I'm always trying something new. Then I eat brownies. Then I try again.
Okay, back to my story. She was totally in with the 3-day Diet until she remembered her salads. She opened up her fridge to reveal about 10 jars of ready-to-eat salads for her and her husband for the week.
What?!? Salads already made for 5 days from now? Was she mad??
Apparently not! She even topped her salad reveal with telling me that the dressing was already in the jar.
"What?!? I completely reject," I said. No way. "Those salads are going to be mush by Friday! Good luck with that, my friend."
This is where she had to sit me down and bring me up to speed. Salads in a Jar are all the rage.
Who knew, right?!? Well, apparently Cathy did and a bazillion people online.
So, what is a "Salad in a Jar"? It's when you stuff a glass mason jar (usually a pint or quart size jar) with lettuce and all the fixings, put a lid on it and store it in your fridge for up to 5 days to always have one on hand. And you know what, sealing the salad in the mason jar actually keeps it fresh for 3-5 days. I know, I know, I was shocked too! Yes, there are tricks and things you HAVE TO DO in order to be successful with a Salad in a Jar.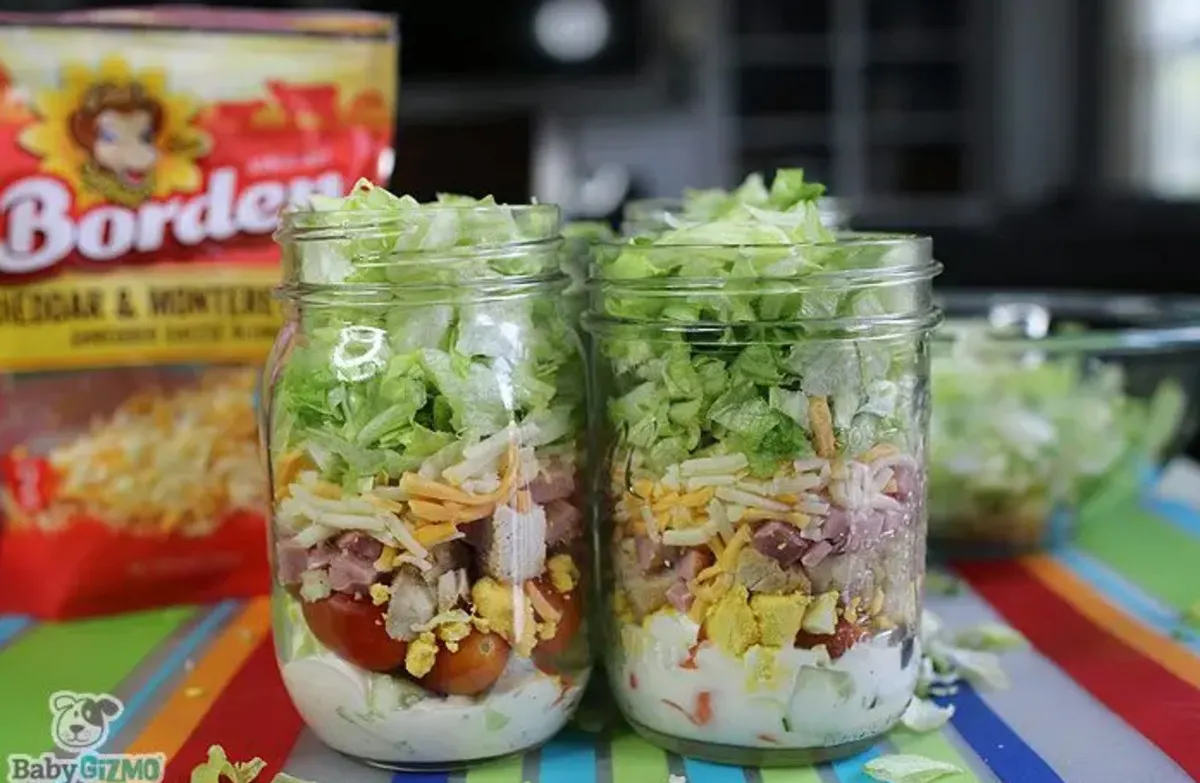 RULES OF SALAD IN A JAR
Use a glass mason jar.
2. You must layer your salad in a specific order – dressing at the bottom, followed by veggies and other heavy foods and finish with the lettuce.
3. It's not recommended to add the croutons to the jar as they will get soggy.
4. Lettuce shouldn't actually touch the dressing in the jar.
5. Heaviest foods at the bottom.
6. You want to pack the jar contents in tight so that there isn't room for the salad to move around and potentially have the dressing get to the lettuce.
7. Be creative with your salads.
Here are a couple of my favorite Salads in a Jar that I have made recently. Remember you can make your salads anyway you want! There is no wrong way to do it!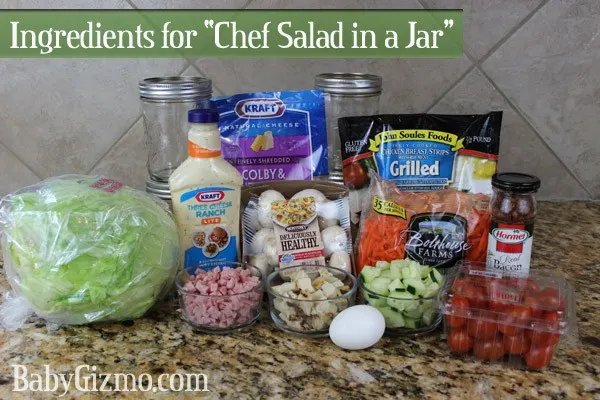 CHEF SALAD IN A JAR
Ingredients in order of layering them in the jar:
Lite Ranch Dressing (or Lite Honey Mustard) – I used 2 tbsp of dressing in a pint jar.
Cucumbers
Carrots
Mushrooms
Tomatoes
Hard Boiled Egg
Chicken
Ham
Cheddar Cheese
Lettuce
Preparation:
Just layer as much or as little of each ingredient in the mason jar in the order above. It's very important that you start with the dressing and end with the lettuce. When you add the lettuce make sure you push the lettuce down into the jar as much as possible to fit as much lettuce as possible.
You don't want a lot of wiggle room in the jars so that the dressing doesn't have the possibility of getting to the lettuce if jostled around. Pack it in there!!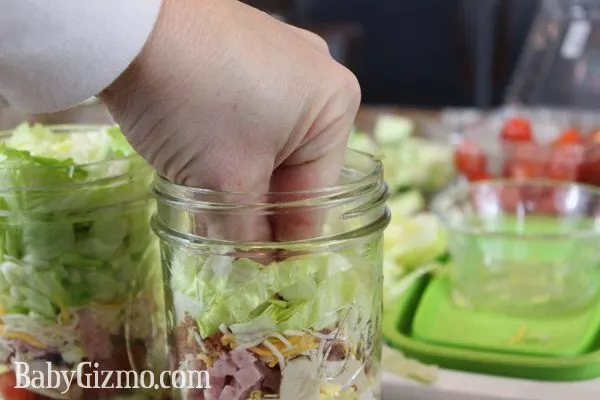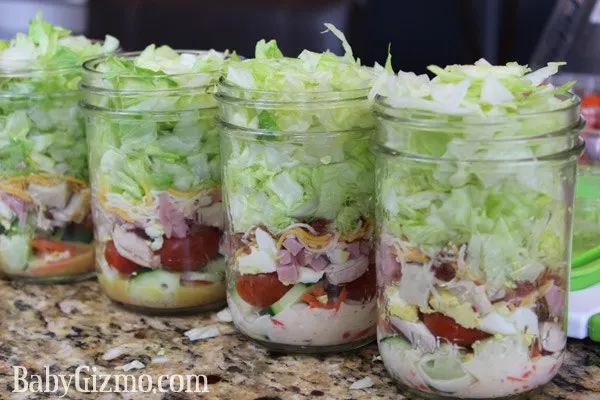 Once you are finished preparing your jars, store them in the refrigerator for up to 3-5 days.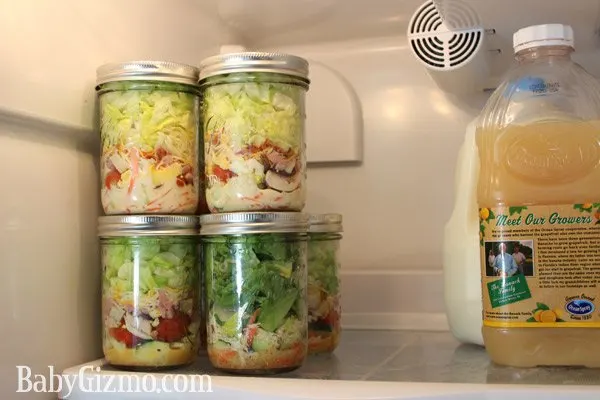 Here is what it looks like tossed out onto a plate. Yum, right?!?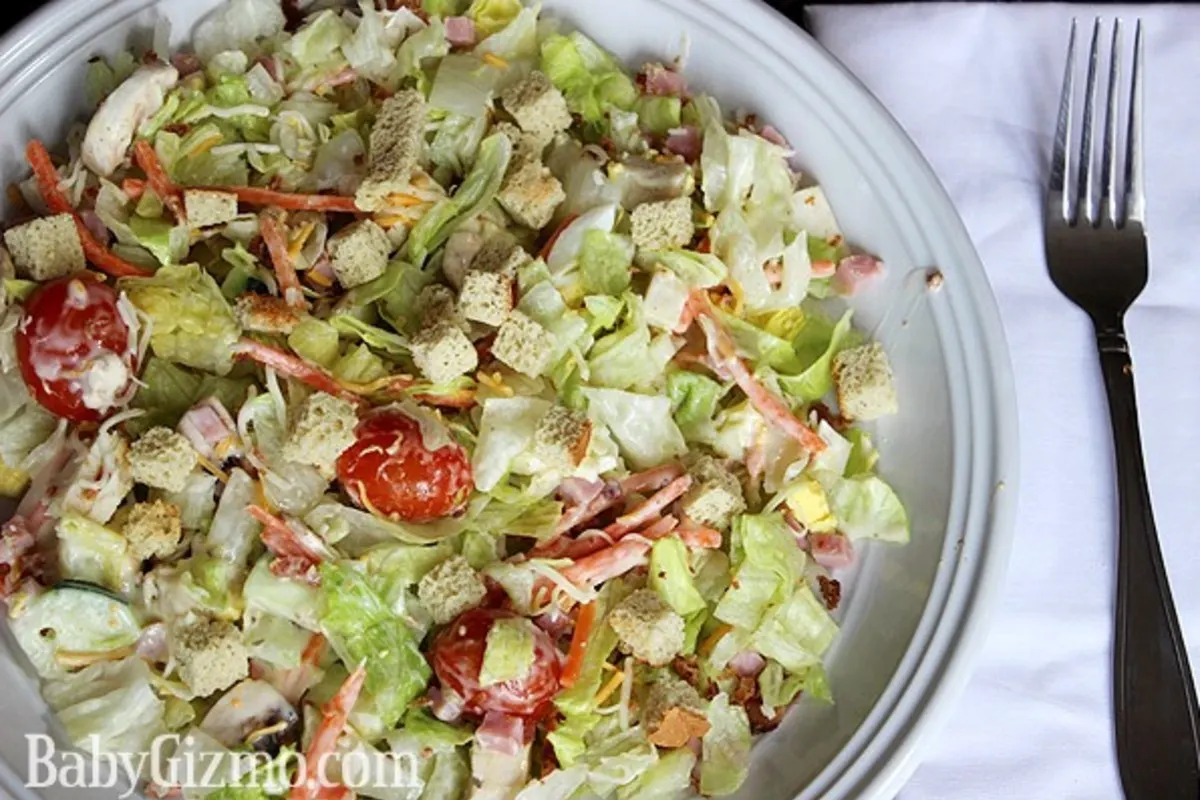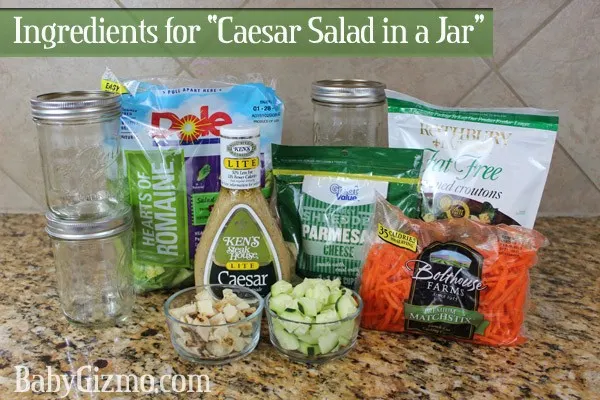 CAESAR SALAD IN A JAR
Ingredients in order of layering them in the jar:
Lite Caesar Dressing
Carrot Shreds
Cucumber
Chicken
Parmesan Cheese
Romaine Lettuce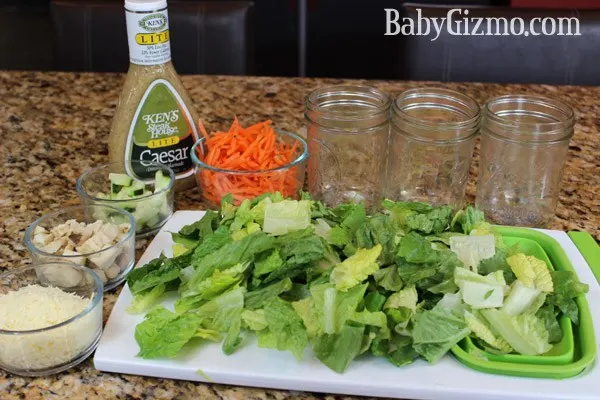 Preparation:
Same process as above with the Chef Salad – layer the ingredients in the order as they are listed above. You need the carrots, cucumber and chicken with this option otherwise the lettuce will sit in the dressing which is a bad idea. I also do not recommend adding croutons in the jar because they will get soggy. Just bring them along on the side in a baggie.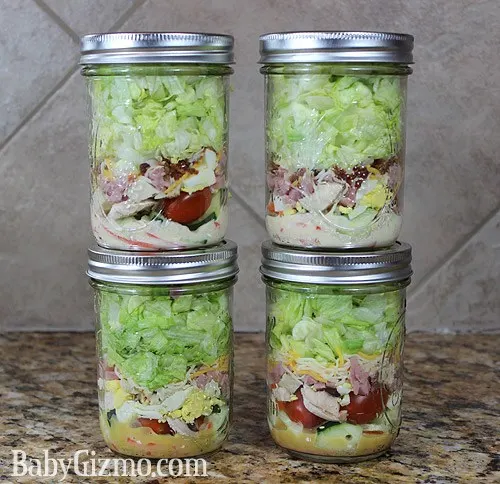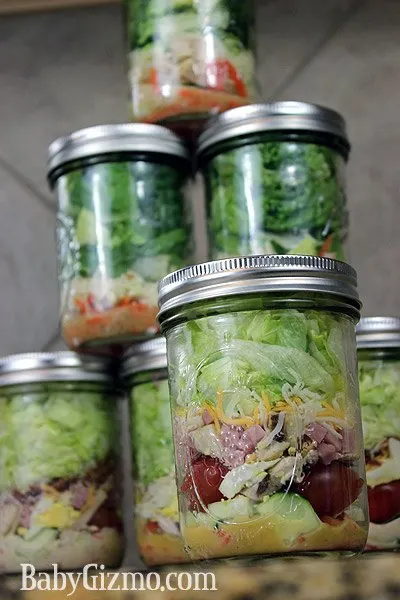 If you have a great idea for a salad in a jar, let us know in a comment. We are always looking for different salads to try!