There is a magical age when toddlers become preschoolers. They start to seem like little people versus babies and parents both cry and shout for joy at this transition. It's around this age, about 2-5 years old, that little ones get VERY excited about all things that go. Bikes, trikes, and the oh so fun scooter … you name it, they are ready to embrace all the fun and speed they can muster on their wheels.
One of my boys is at this perfect age. At 3 he has watched his older siblings fly around for much too long on their bikes and scooters and he is ready to join in. Enter Scoobi, the 5-in-1 scooter!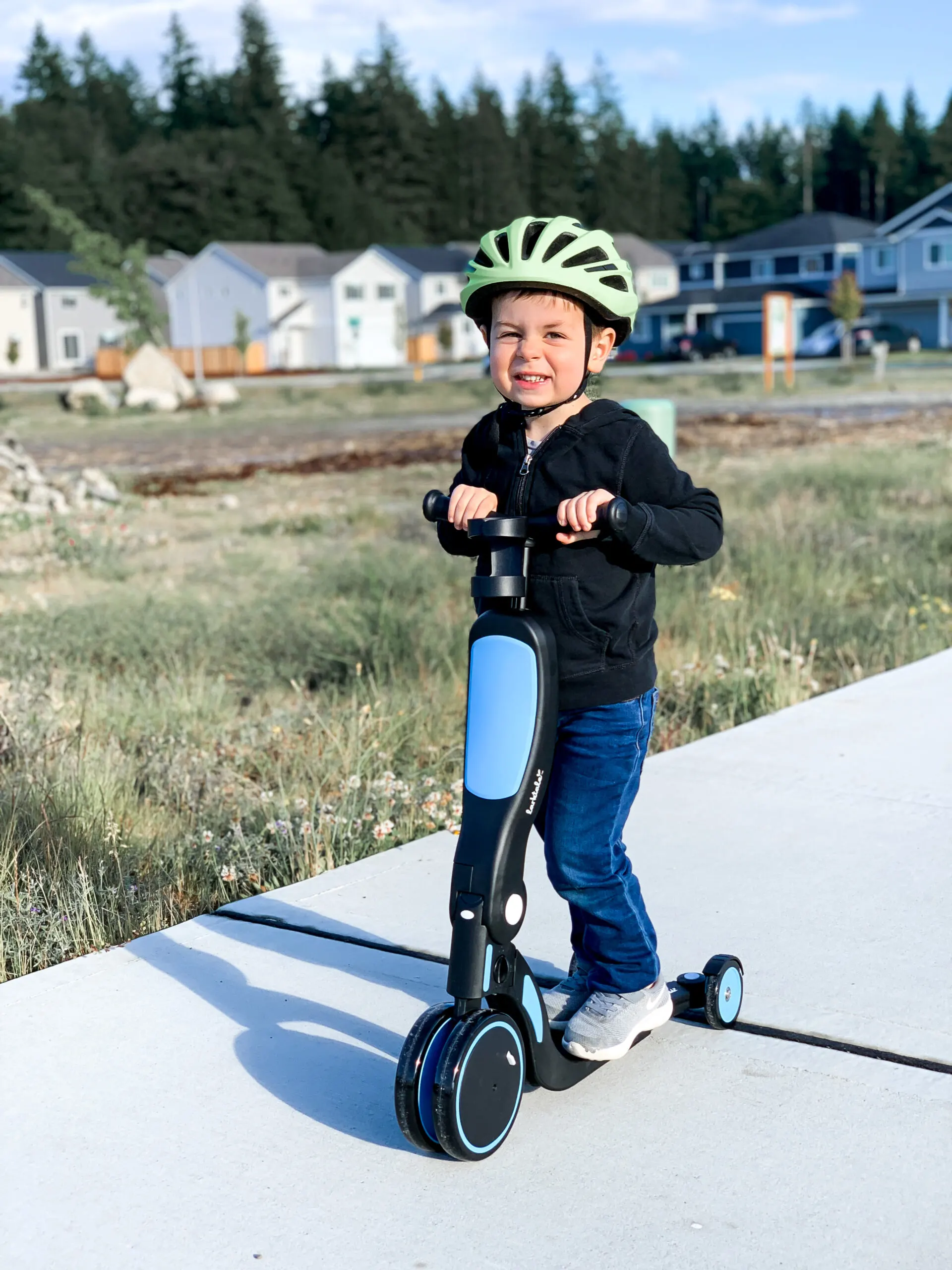 What is Scoobi?
Created by the team at Larktale, Scoobi is an amazing transitional scooter and bike for active 2-5 year olds. In fact, it can morph into FIVE different things! Kids begin with a 3-wheeled balance bike, upgrade to 2-wheeled one, then on to a tricycle with pedals, and finally, two versions of a scooter. If you are low on storage the Scoobi is for you! No longer do you need to have garage parking for a bike, trike, and scooter – the Scoobi does it all!

How Does Scoobi Scooter Work?
To be completely honest, my one hesitancy about the Scoobi was assembly and the process of changing it from one thing to the other. It's just not in my skill set to put things together. So, you can imagine my relief when the Scoobi clicked together easy as pie straight out of the box.
The wheels are labeled with number indicators so you know exactly how to position them for each Scoobi variation and the click buttons for changing up the seat and scooter handlebar work effortlessly. In fact, my 3-year-old even helps! No tools required! In less than a minute you can modify your ride … which means that mid-outing you better believe my little guy is asking to switch from ride-on mode to scooter-mode on a whim! Thankfully it is no trouble and I can always say, "Yes!".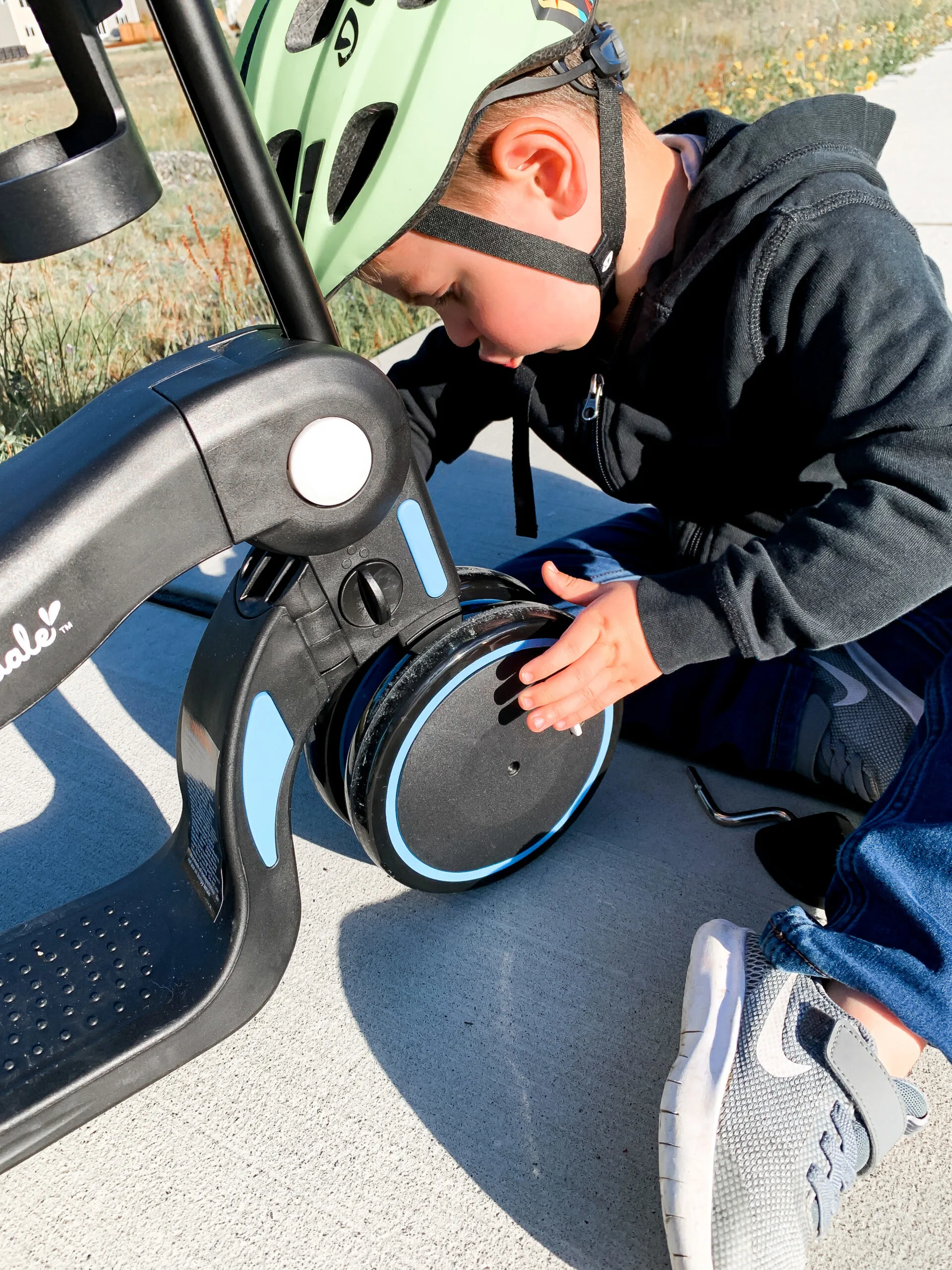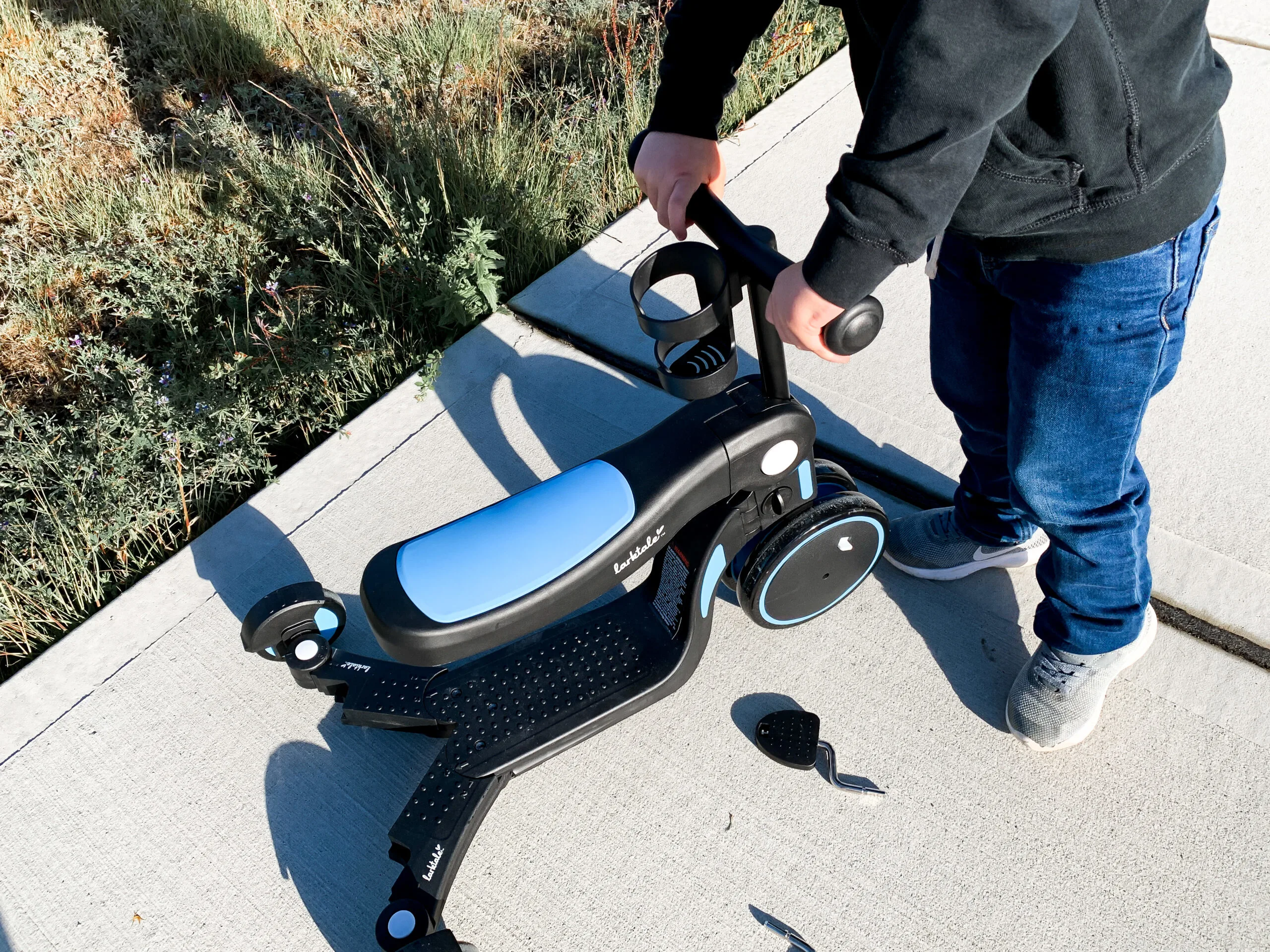 Scoobi Scooter Product Highlights
Looking for the short and sweet? Here you go!
Ideal for ages 2-5
Balance bike, trike, and scooter all in one
4 colors to choose from
Slim but sturdy profile
Cup holder included
Currently on special for $99.99, regularly $119.99
My Personal Favorites About This Scooter
Scoobi has some pretty awesome features that are worth mentioning; it just goes to show how much attention to detail went into this design. For starters, the pedal attachments store on the Scoobi when not in use. That means 1) they won't get lost and 2) they're always close by for mid-ride conversions.
Next, the adjustable wheel base truly means your 2-year-old can use this as a beginner learning to ride toy. Then as they grow (or an older sibling) can use it in more advanced settings that require more balance. I love that longevity! Last but not least, the handlebar is easily adjustable for kids of all heights. Well done, Scoobi, you've thought of it all!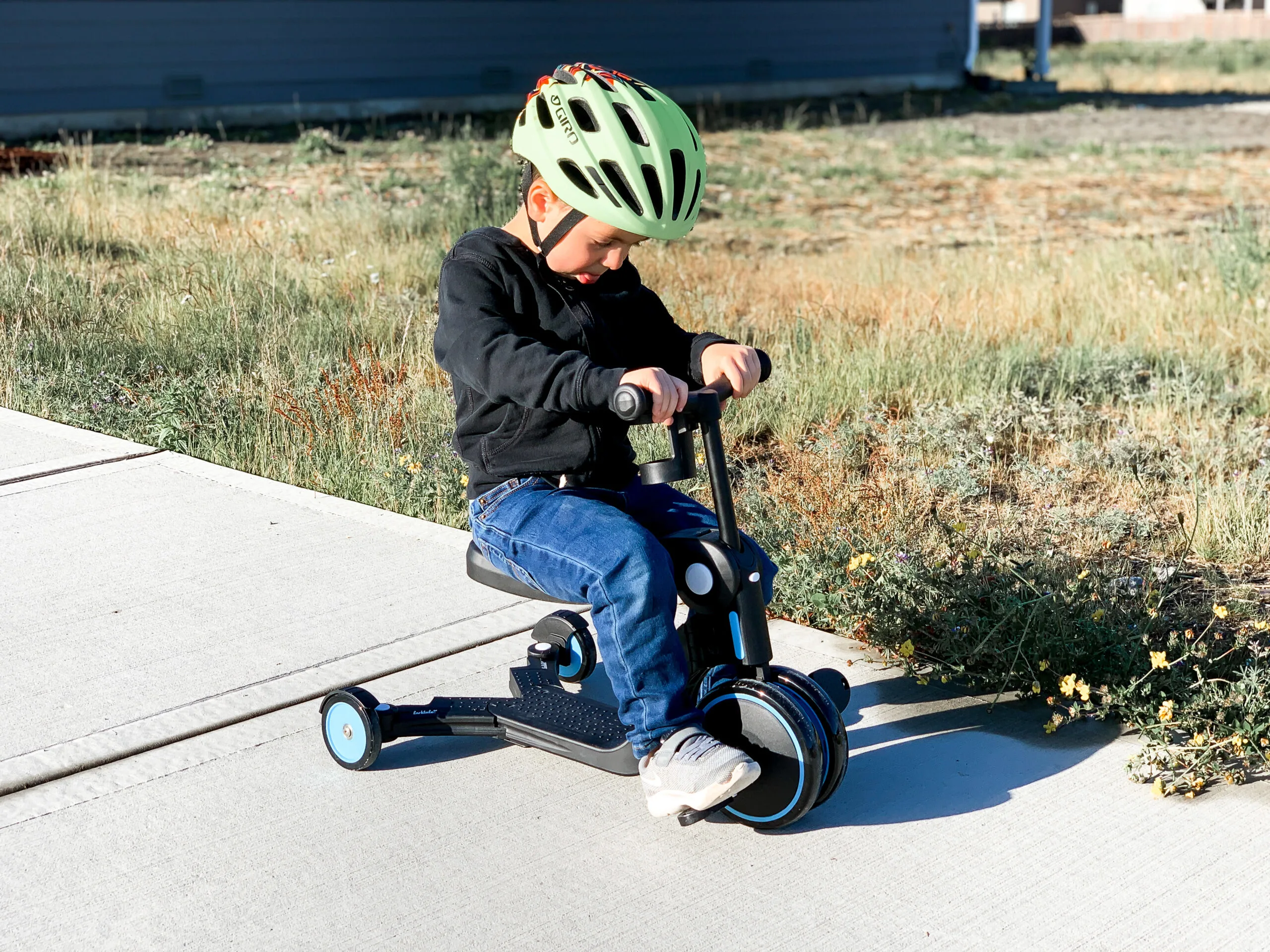 Things to Consider
As we have fallen in love with our Scoobi 5-in-1 Scooter I will mention a few things worth considering. First, the Scoobi is heavier than most ride-on toys we have experienced. At 11.2 pounds it is definitely sturdy, but when your little one loses energy and asks to be carried and you are left to juggle their toy too, it's a hefty one!
I get why it weighs what it does – it's 5-in-1, after all! – but I wonder if some of the bulk could be lightened up to make it more manageable. Not a deal breaker by any means, but something to be aware of. Last, the manual notes that ride-on mode caps out at 35 pounds and scooter mode at 48.5. My 3-year-old is a smidge over that and we still have a few months before his birthday.
He does just fine in ride-on mode but is technically over the recommended weight. So, if your preschooler is above average take these weight recommendations into consideration before purchasing.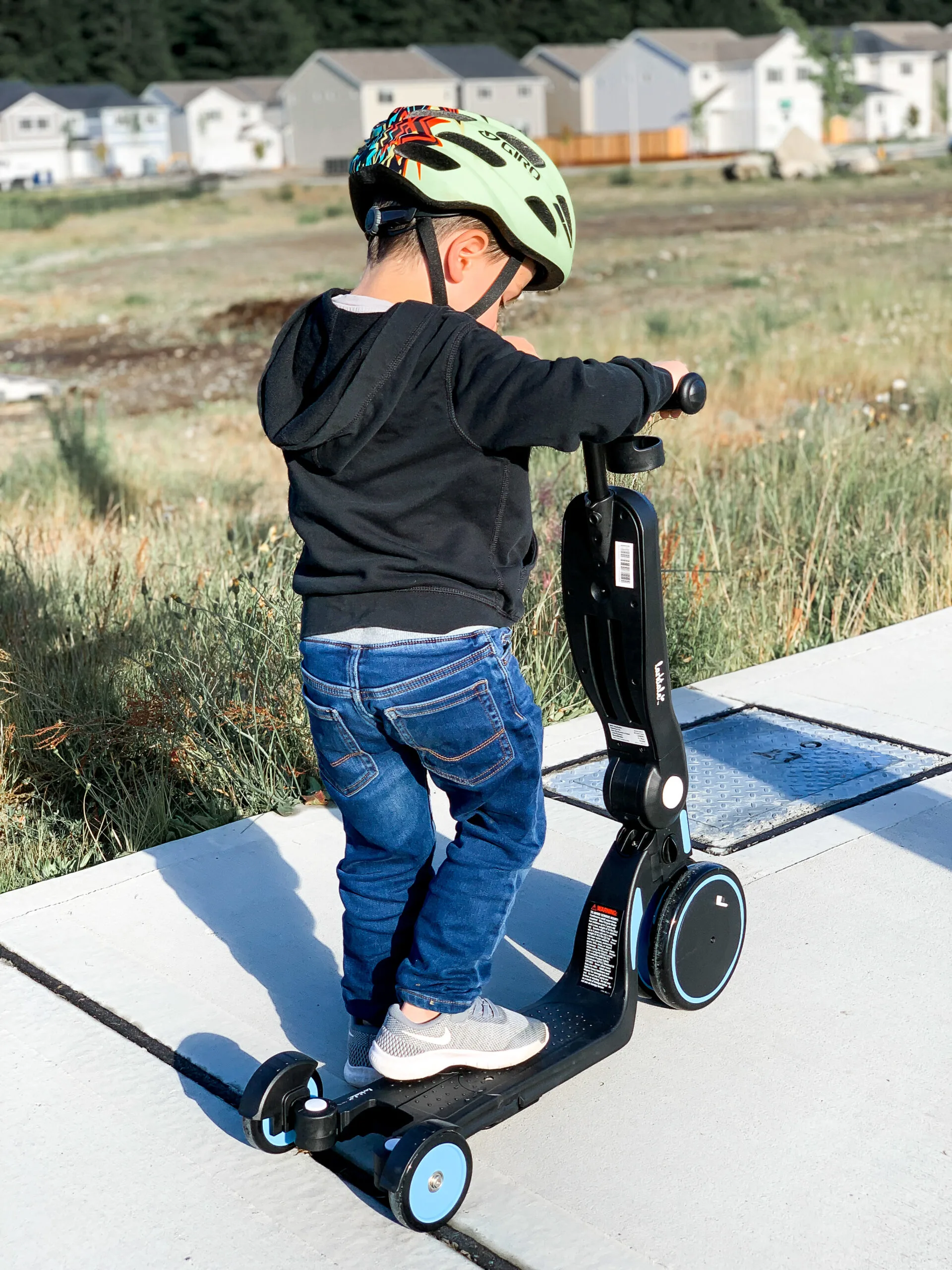 Overall, the Scoobi 5-in-1 Scooter is a fantastic and versatile outdoor toy option for kids! The design is brilliant and the transition between modes is frustration free. For that, Larktale's Scoobi gets two thumbs up from Baby Gizmo!
Are you ready to roll with your very own Scoobi? Choose from red, green, yellow, or blue and enjoy your next adventure with Scoobi!