Since 2019 is our 14 year anniversary for Baby Gizmo, we know a thing or two about buying stuff for baby. Having a baby and shopping for all the fun gear for them isn't cheap but if you follow a few rules, you can definitely save a bundle of money. Here is a summary of our best money-saving secrets when buying baby gear.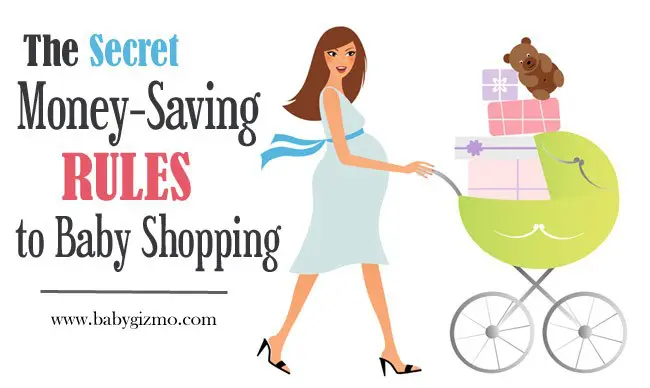 1) If your first instinct is that a product is ugly, don't buy it. It will only get uglier.
2) Buy new, but buy last year's model stroller. Hardly anything changes year to year but the pattern, and you can literally save hundreds of dollars.
3) Whenever you can, buy on the Internet with free shipping. (Amazon is GREAT for FREE shipping!) Online stores have less overhead and usually offer steep discounts. Great for items you've already test- driven and know you want, such as strollers, or items you're sure not to return, such as diapers.
4) Right before you check out online, do a search with the name of the store and the word "coupon". You can unexpectedly save some serious cash.
5) Shop online through Ebates for all the popular stores you would shop at anyway and get cash back! Seriously, there are over 1,800 stores including big and small stores, department stores, maternity stores, and even travel destination websites! If you don't shop through Ebates, you are literally leaving money on the table! Plus, many times there are double cash back options! If you haven't already, sign up for EBATES now! Sign up HERE.

6) Sign up for Amazon Family! You can even try out Amazon Mom for FREE with their 30-day trial and get access to all these benefits:
20% off diapers with Subscribe and Save
15% off baby registry completion coupon (non-members get 10% off)
Exclusive Amazon Family coupons (you can't see them unless you're a member)
Free 2-day shipping with no minimum
Access to Prime Instant Video (movies and TV episodes)
Access to Prime Music
Access to Prime Photos (secure unlimited photo storage)
One Kindle book borrow each month
Prime Early Access (access to select lightning deals 30 minutes earlier than non-members)

TIP: If you already have Amazon Prime, just go to your account settings and add Amazon Mom for no additional charge.

7) All those free formula coupons you receive in the mail but don't use? You can exchange them for ones you do on special coupon swapping message boards. They also routinely publish the addresses of military families that could use the help.
8) Products that force babies to develop faster than they would naturally are unnatural and could be dangerous. Your baby doesn't sit up at 2 months for a reason. Save your money and stay away from these products.
9) No product will teach babies what nature has always programmed them to do. Products that promise to help – such as early walking aids – are usually wastes of money and should be looked upon with suspicion.
What are you money-saving tips for shopping for baby?
*Disclosure: Affiliate links have been used in this post.