Oh yes, it is time for another "Sh*t People Say…" video!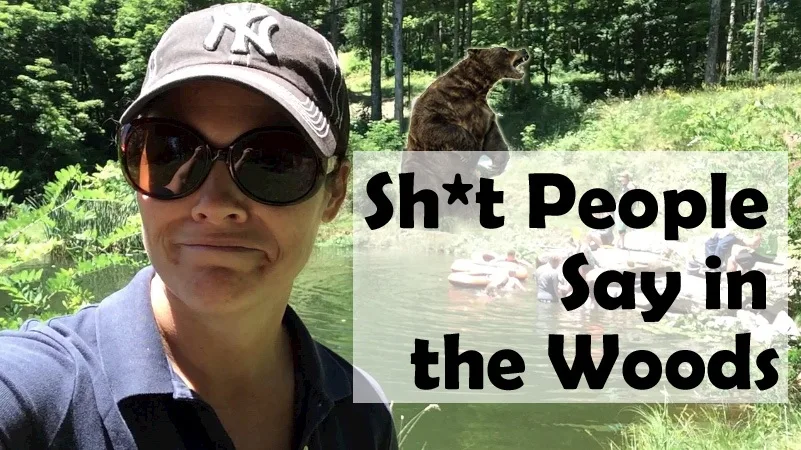 PSA: Before I begin, for those who get your panties in a bundle over the title of these videos, just don't. First of all, I didn't spell out the big, bad s-word (as if we aren't all adults here!). Second, it isn't like I invented these type of videos. There are TONS of them all over the internet. It's like the "…for Dummies" books. Everyone has their own version. There isn't any cursing in these videos of ours, it is just our way of letting you know that it is supposed to be FUNNY! Just remember, it's all in good fun! Third, you may see more of these from time to time because they are just too fun to make and watch!
Okay, moving on. My inspiration for this video came from my 4th of July weekend in the mountains of West Virginia staying with 22 family members ALL IN ONE CABIN! Yep, 12 kids and 10 adults all in the same WiFi-free, cellphone-free, technology-free cabin! For THREE days! Put anyone in that situation and things are bound to get funny. Put MY family in that situation and things get HILARIOUS!
Seriously, I haven't had too much of a chance to show you how crazy funny my family is so I knew this would be a perfect opportunity! They were good sports about the video and the fact that I would pull out the camera at any time. I think they secretly liked it. Okay, there was no secret about it. They loved it!
We've been making music videos together since we were young when we had no computers or editing software. Yep, it had to be all in one take or too bad back then. We'd make up dance routines to popular songs and then laugh our asses off as we watched it back on our VCR in the 80s and 90s.
Yes, we are THAT family! We don't do videos together much anymore since we have a bazillion kids and we live all over. But this is what happens when a family travels from all over the country to a remote cabin in West Virginia mountains.
Things get crazy.