When I was a child, fruit roll ups were a staple in my house. My sisters and I loved to devour those bright and fruity treats as kids! So I wanted my children to experience the fun and exciting presentation of fruit roll ups, but with a healthier version. I discovered I could make my own fruit roll ups with only 3 ingredients, and not sacrifice on flavor.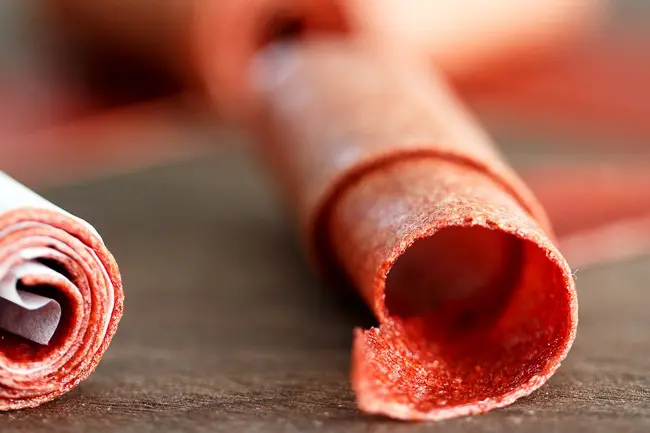 It's super simple to make and doesn't require any fancy equipment, just a blender, an oven and a baking sheet. Start by blending your favorite fruit (my favorite is strawberries) with lemon juice and maple syrup, pour the puree onto a baking sheet lined with parchment paper coated with oil and put it in the oven on the lowest setting for 4-5 hours.The hardest part of the process is being patient for so many hours while the aroma of fresh fruit fills your home!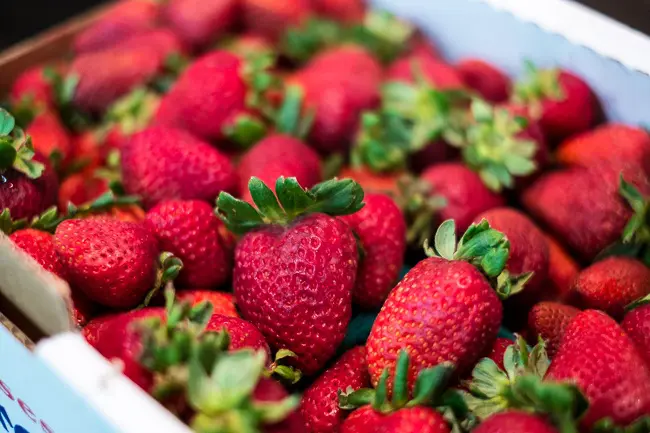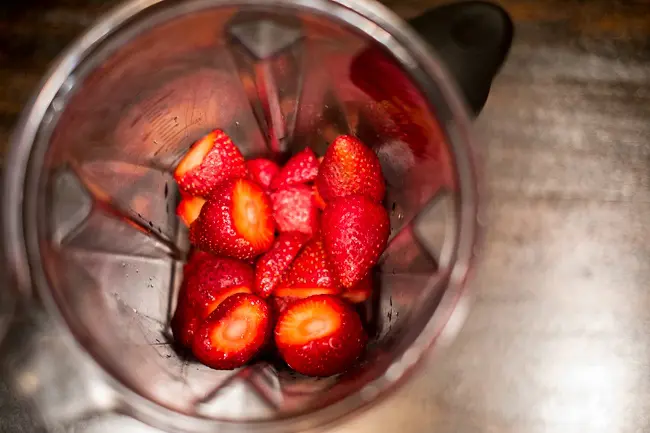 Here are some expert tips before you start:
You will need about 2.5 cups of fruit puree per 18×13 sheet pan.
If the fruit you are using is a little too watery after being pureed and you would like to give it a thicker consistency, add an apple or applesauce.
You can add about 1 tablespoon of lemon juice to avoid discoloration but it is not necessary.
You can add maple syrup or honey to sweeten the puree to your taste but it is optional.
Don't forget to coat the parchment paper with vegetable or coconut oil or you will have a difficult time peeling the fruit leather off.
Every oven is different, so after about 4 hours, start keeping an eye on the fruit roll. You will know when it's done when you touch it with your finger and it's not wet but still tacky. If you over bake it and it turns into a fruit crisp, you can try to brush it with a little water to soften it up again.
Store in an airtight container. It keeps for about a month but I would recommend eating it sooner so it doesn't dry out.
Don't finish it all before your kids can eat it!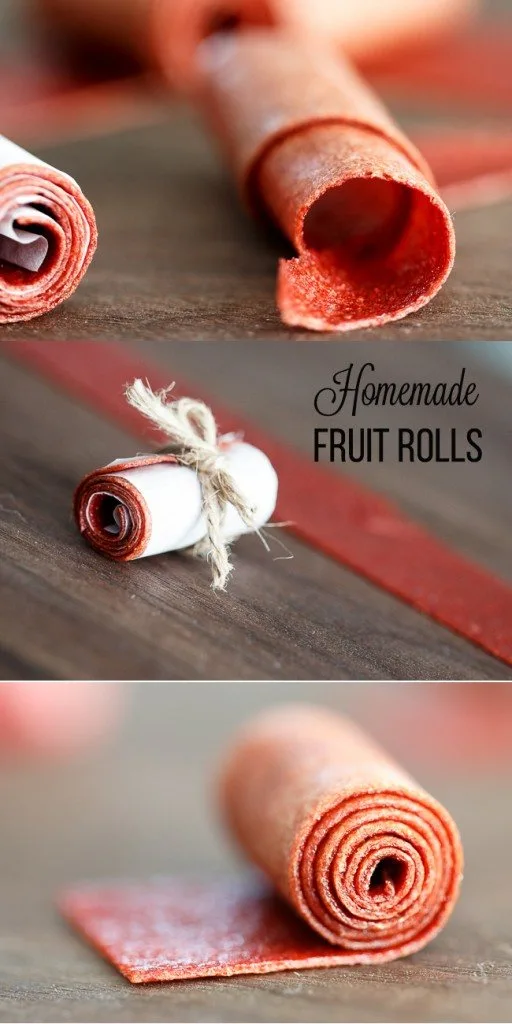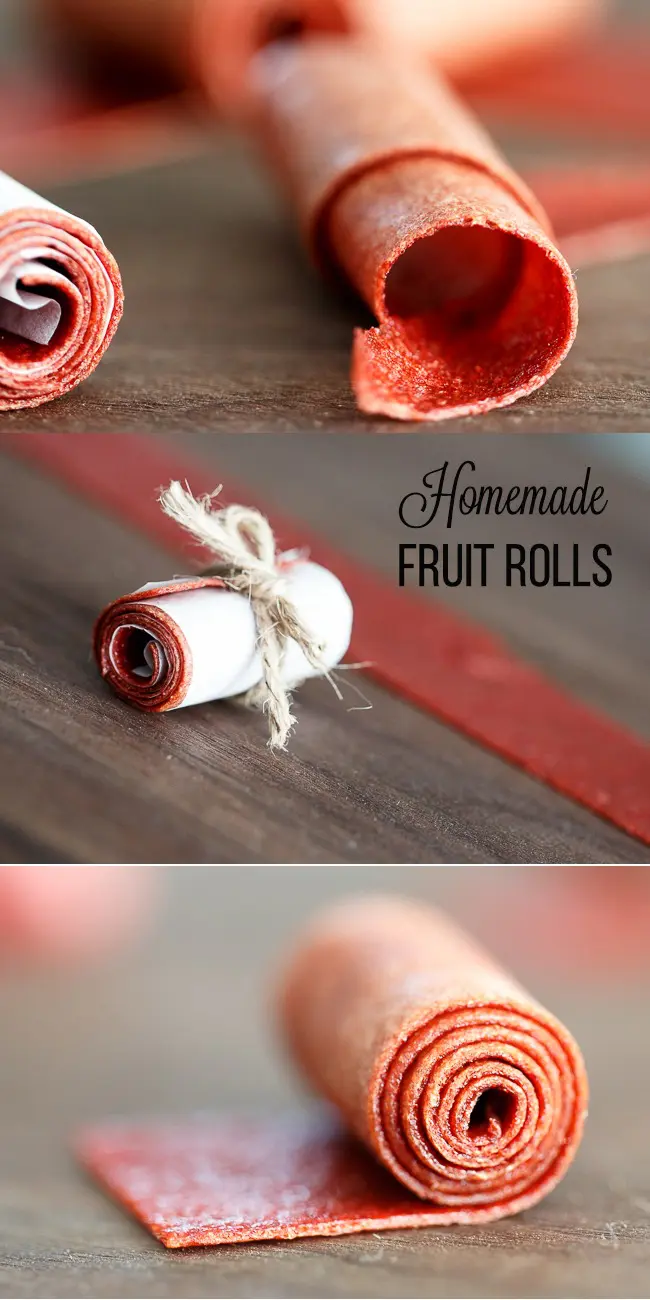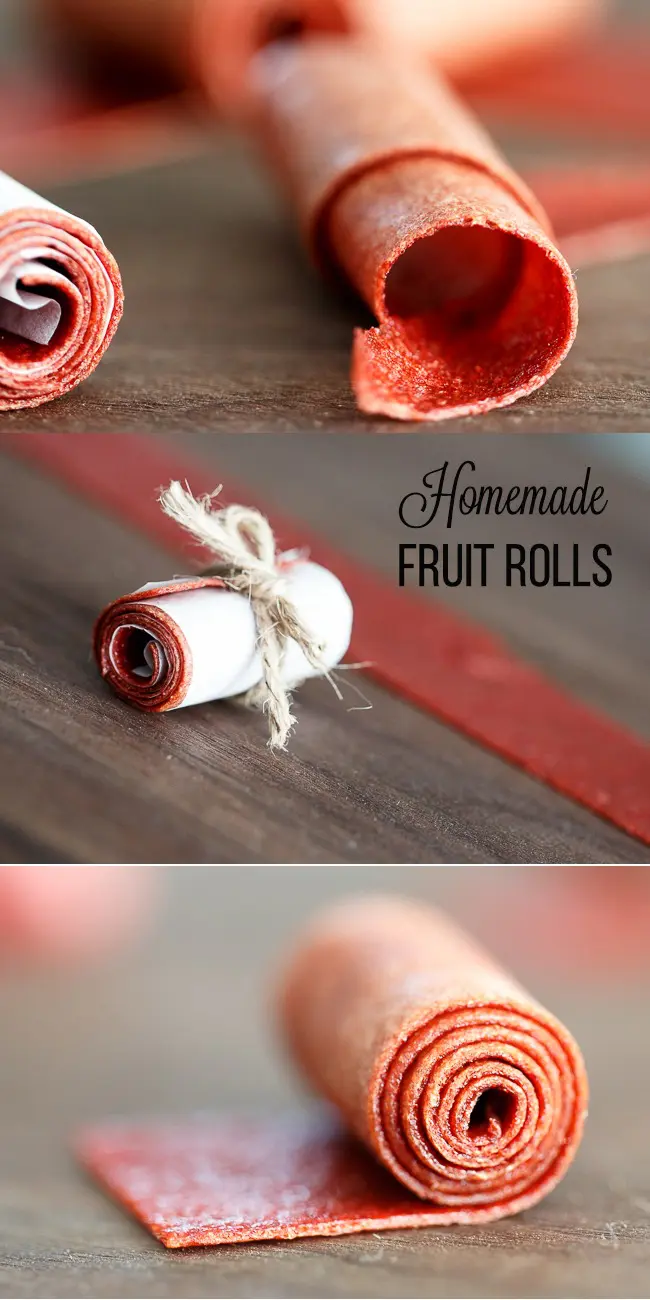 Strawberry Fruit Rolls
An easy way to make homemade fruit leathers in your oven with just 3 ingredients.
Ingredients
2.5

cups

strawberry puree

you will need about 4 cups of hulled strawberries before blending

1

Tablespoon

lemon juice

optional

2

Tablespoons

maple syrup

optional
Instructions
Preheat your oven to 170.

Line a baking sheet with parchment paper. Coat the parchment paper with oil. (coconut oil works great)

Puree all the ingredients in a blender until smooth.

Pour the ingredients onto the baking sheet and spread evenly.

Bake in the oven for about 4-5 hours.

Check after about 4 hours, will know when it's done when you touch it with your finger and it's not wet but still tacky.

Remove from the oven and let dry completely.

Cut into strips and roll tightly.

Store in an airtight container for up to 1 month.

Enjoy!
Nutrition
Calories:
49
kcal
Carbohydrates:
12
g
Protein:
1
g
Fat:
1
g
Saturated Fat:
1
g
Sodium:
2
mg
Potassium:
165
mg
Fiber:
2
g
Sugar:
9
g
Vitamin A:
12
IU
Vitamin C:
58
mg
Calcium:
23
mg
Iron:
1
mg
About the author: Rubina Umarji is the owner and executive cake artist of Rubina's Cake Shoppe . After the birth of her son in 2009, she left her career in engineering to focus on her two passions: her family and her edible art. Since then, she's had the opportunity to showcase cakes and gourmet confections to thousands of dessert loving clients as well as over 100 of Hollywood's hottest stars and has had her cakes featured on television. Now her days are focused on teaching cake decorating classes to all ages. Her favorite students are her two children, ages 3 and 5. She frequently writes cake decorating tutorials and recipes on the Rubina's Cake Shoppe Blog (www.rubinascakeshoppe.com/blog).