Do you have a good summer toddler reading guide? You should have seen my husband bursting with pride after my two year old requested to dance to "All Things Go" (more commonly known as Chicago by Sufjan Stevens) last week. For him, the ultimate parenting win–outside of raising kind and decent human beings–is instilling in his children a love for good music.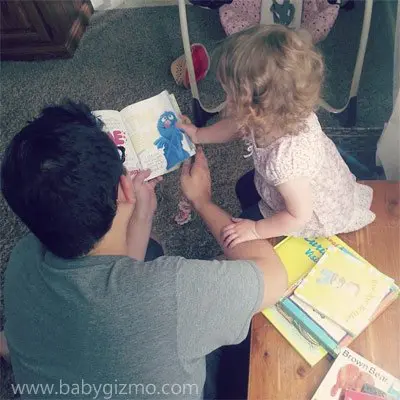 For me, it's all about books. My mother taught me to love books, and I hope to pass that love onto my daughters. Reading with my children is one of my favorite ways to pass the time, and even though at this point my youngest is mostly interested in tearing and eating the pages, my oldest adores the time we spend together reading.
Because of this, we have made trip after trip to the library. We have accumulated a long list of favorites. I present to you a summer reading guide curated entirely by a two year old.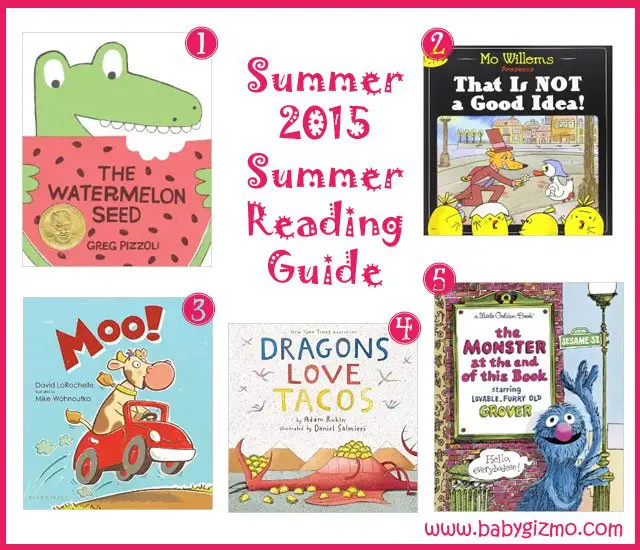 TODDLER READING GUIDE
The Watermelon Seed by Greg Pizzoli: No one loves watermelon quite like this crocodile until one day he does the unthinkable–he swallows a seed. Paranoia ensues.
That Is Not A Good Idea! by Mo Willems: From the author who wrote the Pigeon books comes this suspenseful tale with a surprising twist. We have read this so many times, my daughter has it memorized.
Moo! by David LaRochelle: This book has exactly two words in it and it tickles both of my girls to no end. The simplicity of this book is perfect for an older toddler who wants to "read."
Dragons Love Tacos by Adam Rubin: Okay, I have to confess, I haven't read this book with my girls yet. This hilarious book just might be a present for a certain soon to be three-year-old I know. I think she's going to love it.
The Monster at the End of This Book by Jon Stone: Every modern toddler needs a classic book on their reading list and this one never gets old. On each page of this book Grover is try his hardest to avoid reaching the end of this book where, rumor has it, a monster is hanging out. Brownie points if dad can pull off a good Grover impression (ours can!).
Between park trips, swimming lessons, and play dates, you can be sure you'll be able to find us reading from this list and adding a few more as the summer rolls on. What are you and your toddler reading this summer? Can you suggest a few more the add to our Toddler Reading Guide list?
More Great Books for Kids
Books to Read with Your Elementary School Kids