Welcome to summer! As the days get hotter and more of us are looking to cool off by swimming, it's time for a water safety refresher course. This isn't a topic that anyone likes to think about, really, because it's scary, but it's so very important. Read on for some important water safety tips.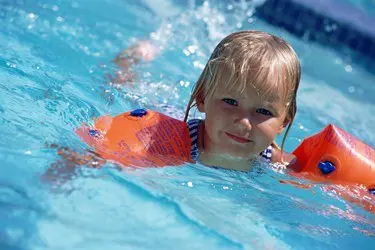 Get CPR-trained.
I bet you expect your babysitter to have this training, so you really ought to make sure you do, too. Check out the Red Cross, American Heart Association, or your local government for training opportunities.
Provide touch supervision.
Always stay within arm's reach of your infant/toddler/young child when they're in a pool or playing in water, no matter how shallow.
Have a buddy.
No one swims alone, ever. When you're dealing with kids, that buddy should be an adult.
Trust the lifeguard, but don't rely on the lifeguard.
Be sure you have eyes on your child at all times. Also, be sure to enforce the pool's rules, including basic rules like no pushing someone underwater, no diving in shallow water, no running on the pool deck, etc.
Children—particularly non-swimmers—should wear a life jacket when swimming or boating.
If your child is under five, the life jacket should have a ring around the neckline that keeps the child upright and keeps their face out of water. Inflatable flotation devices (mattresses, loungers, toys, etc.) are not a substitution for a life jacket.
Install barriers around home pools and hot tubs.
Be sure you not only install them, but that you use them correctly. Also be sure you have and use safety covers and alarms. If you have an above-ground or inflatable pool, make sure you remove ladders and any furniture that could be used to gain access to the pool when it's not in use. Oh, and watch out for things like climbable trees and decorative walls; if they allow pool access, remove them. Here's a resource on state laws related to fencing and signage requirements for pools in all 50 U.S. states. The Red Cross and the National Swimming Pool Foundation offer a Home Pool Essentials course with information about pool safety and maintenance.
Hide pool toys.
No, really! Make sure that all pool toys are put away out of sight because—duh—they can attract children.
Consider swimming lessons.
The American Academy of Pediatrics (AAP) provides the following guidelines for swimming lessons: "Children over age 1 may be at a lower risk of drowning if they have had some formal swimming instruction. However, there is no evidence that swimming lessons or water survival skills courses can prevent drowning in babies younger than 1 year of age.
The decision to enroll a child over age one in swimming lessons should be made by the parent based on the child's developmental readiness and exposure to water, but swim programs should never be seen as 'drown proofing' a child of any age." If you decide to enroll your child in swimming lessons, consider lessons that emphasize learning water safety and independence prior to focusing on swimming skills.
Finally, here some tips that we don't usually think about when it comes to water safety:
Wear sunscreen. Water can intensify the effects of the sun's rays. Apply sunscreen correctly—read and follow the directions on the package, people—and frequently.
Drink lots of water. It's easy to get dehydrated in summer sun, so make sure you and the kids are rehydrating with plenty of water. And that's water, not juice, soda, tea, or iced coffee.
Watch body temperature. Just as it's easy to overheat in the sun (and easier for the littles to do so before adults), it's easy to get too cold in the water where body temperature will drop more quickly. If you see things like a change in skin or lip color or a child shivering, it's time for a water break. Get the kid out of the water until they've warmed back up.
Keep these safety tips in mind as you get out there and enjoy fun in the water during the dog days of summer!