My husband and I just ain't got time for breakfast. He's a grab-a-coffee-and-chug-it-on-the-way-to-work kinda guy. I'm a stay-at-home mom of three under 3, so nobody cares if I eat anything before nap time because they want their breakfast NOW.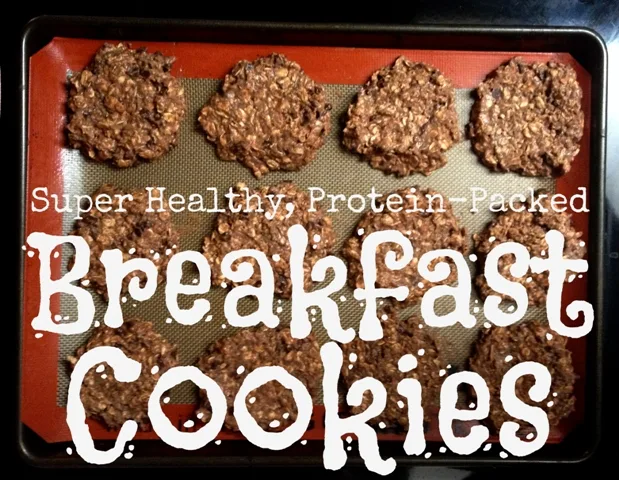 When I discovered the idea of breakfast cookies I was so super excited. Pinterest really comes through sometimes, folks. I have been making these for years now, and they totally solve the no-time-for-breakfast blues. Plus, they are super nutritious and packed with protein to keep you going all day long, or at least until nap time when you can collapse in a heap and catch up on So You Think You Can Dance (or so I've heard).
I make a GIANT batch and freeze half because I hate doing dishes and would rather cook once and eat for the rest of my life. But you can easily cut this recipe in half if needed. If you have older kids, I'm sure they would not be opposed to a delicious cookie for breakfast! We just won't mention the nutritious part.
Super Healthy, Protein-Packed Breakfast Cookies
Adapted from Watching What I Eat
Makes 2 dozen large or 3 dozen small cookies
6 ripe bananas
1 cup almond butter (or other nut butter
2 cups unsweetened applesauce
¼ cup flax meal
3 scoops protein powder (I prefer to use Chocolate Orgain Organic Protein Powder, but you can use your protein powder of choice)
1 Tbsp Vanilla Extract
¾ cup chia seeds
1-2 cups mini chocolate chips or other mix-ins(optional)
4 ½ cups rolled oats
Preheat oven to 350 degrees
Put bananas, almond butter, applesauce, flax meal, protein powder, and vanilla extract in your blender. Blend until completely smooth.
Pour banana "batter" into a large bowl. Add in chia seeds and mini chocolate chips. I usually make these with 2 cups of chocolate chips. If you are using a very sweet protein powder, feel free to use less chocolate chips and adjust to your taste. If you would rather not use chocolate chips, try 1-2 cups of chopped nuts or dried fruit instead.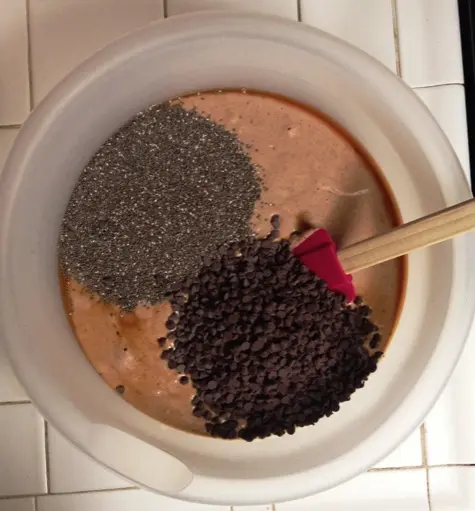 Pour in rolled oats and mix until completely combined. Let dough sit and thicken for about 10 minutes.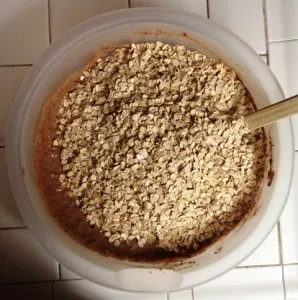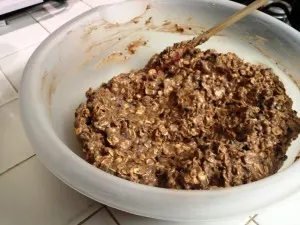 Drop dough in large spoonfuls onto cookie sheet (I usually use my Silpat, but if you don't have a Silpat, I'd recommend lining your cookie sheet with parchment paper). Flatten cookies and shape into circles. Note: these cookies DO NOT expand, spread, or change in shape AT ALL from the way you place them in the oven. You must flatten them to cook uniformly and arrange them in whatever cookie shape you prefer before you bake.
Bake for 25-35 minutes.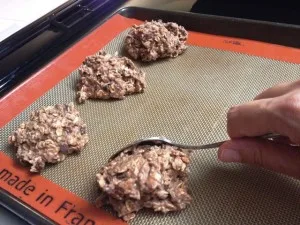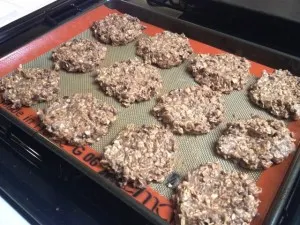 Remove from oven and let cool for 5-10 minutes before transferring to cooling rack or other surface. When cookies are completely cool, store in a covered container or plastic bag in the fridge.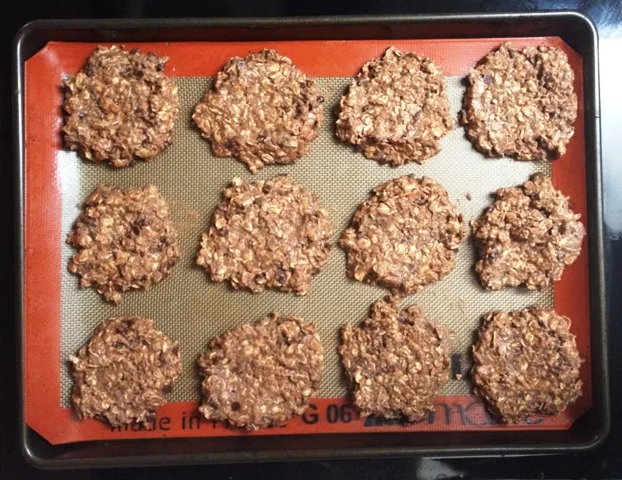 If freezing a portion of the batch, allow to thaw in fridge overnight before eating.
Enjoy straight out of the fridge! YUM!