Last week I walked into the church toddler room to pick up my daughter. She greeted me with a smile and her teacher prompted her to show mama what craft she had made. My 2 year old proudly held out a cloud with dangling rain drops tied by ribbon and my heart melted. Her first craft! What a milestone! And yes, I realize I'm being a little sappy with this revelation, but all the "firsts" get me like no other!
As I drove home I started thinking about ways I could be more proactive at home with little crafts and mini lessons – almost like our own version of school. I decided that now was as good a time as any and decided to start off the following week with a focus on apples.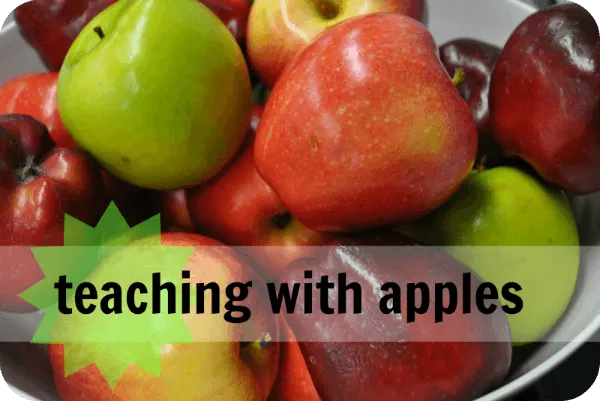 To organize our apple learning activity I divided my efforts into a few categories – books, snacks, crafts, and field trips. I figured I could accomplish a mix of each and implement the same categories with future themes over the fall season.
Books: I've found the easiest way to gather specific books from the library is to reserve them online ahead of time. Then, once we arrive, I'm not searching for books while following my little ones around as they explore. My favorite apple book finds have been Ten Apples Up On Top!, Johnny Appleseed, Apple, Fall Apples: Crisp and Juicy, and How Do Apples Grow?.
Snacks: My mom, a kindergarten teacher, introduced our family to this fun apple snack. You take a circle cracker, a rectangle cracker, and use green cream cheese (or frosting) to glue them together and add little red hot candy apples.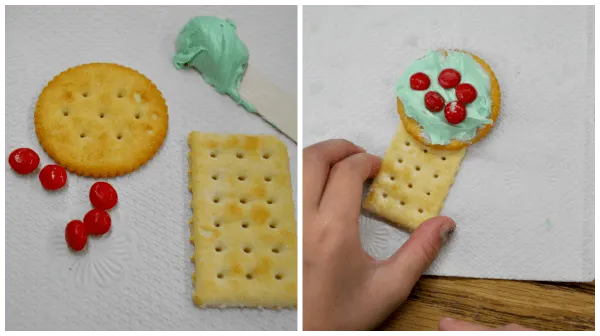 We're also planning to eat lots of fresh apple slices and make an apple crisp since mixing is one of my toddlers favorite kitchen activities.
Crafts: I went really simple with our home crafts. She can get all the fancy stuff at church, right? Juggling a newborn while coordinating craft time isn't exactly my super skill, so I opted to print free apple coloring pages. Coloring is pretty much a 2 year olds dream come true anyways.
While researching crafts I fell in love with some grown-up versions as well – take these Martha Stewart apple crafts for example. Love! For mamas with extra arms or older children these apple crafts all look like wonderful options too. I'll definitely try to step up my apples crafts in 2013 🙂
Field Trips: I think this will be my most favorite category to teach through; perhaps because I'm a visual and hands on learner. Last Saturday we visited a local cider mill. We sampled apple fritters and drank warm apple cider while strolling by the farms animals and checking out the growing pumpkin patch and other produce.
Next is an upcoming trip to a family friend's apple tree. We are super blessed to be in the Pacific Northwest and have apple trees in our (or our neighbors) backyard, literally. As soon as we get the go ahead we're gathering our baskets and taking the whole family apple gleaning so we can whip up some canned applesauce. Of all the activities, I think my toddler will like this best. She adores collecting things in baskets and being outside, so apple picking will definitely be a winner!
Have you set up school-like activities with your toddlers or preschoolers? I'd love to hear how you're teaching at home this fall, please share!