The blended family was really brought to light with the popular TV show The Brady Bunch. As kids watching the show, most of us thought that it was just a happy, normal family. But if you paid attention to the theme song, it was a family brought together when a lovely lady and a man named Brady met, fell in love and got married. The catch with this family was that these two people were already parents and each brought 3 kids into the mix. Come on, sing along with me…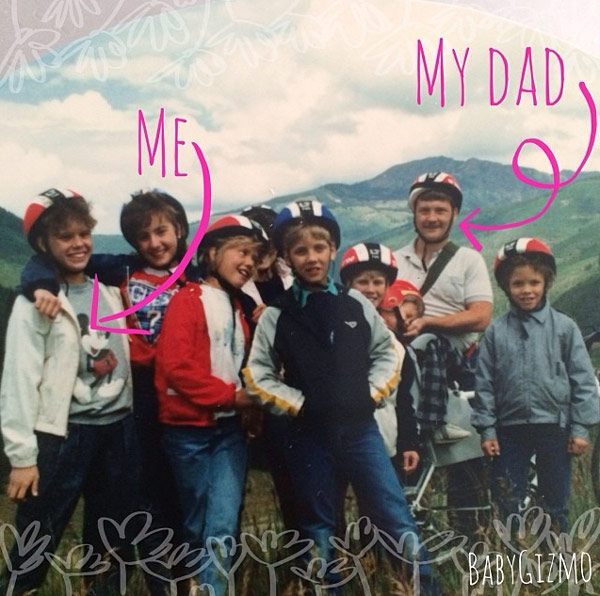 'Til the one day when the lady met this fellow
And they knew that it was much more than a hunch
That this group must somehow form a family
That's the way we all became the Brady bunch
While most of my friends growing up had your "typical family" (what I thought was "typical" in the 80s with a mom, dad and some kids), I was living a real life Brady Bunch episode! Except that Brady family had nothing on mine!
My parents divorced when I was 6. When my dad decided to get remarried (to whom has now been my stepmom for over 30+ years!), he brought 5 kids to the "blended family", my stepmom brought 2 and they had one of their own a few years later. Yep, EIGHT kids!
There are 4 boys and 4 girls in my family! A blended family with 6 kids, Bradys?!? Ha! Rookies!
We didn't all live together though. At least during the week. I lived kind of with two families. My three brothers, sister and I lived with my mom and my two step-sisters and half brother lived with my dad and stepmom. I do want to say that I call everyone just brothers and sisters but for the sake of this story, I added the "step" and "half" in there for clarity. So, I lived in the single mom (which she did amazing job with 5 kids on her own!) during the week and with the blended family every other weekend. I didn't just have one family but TWO!
While we lived separately during the week, every other weekend we packed a duffle bag and headed to dad's house where chaos ensued. Anytime eight kids under the age of 10 get together, it's chaos and this happened every other weekend for me.
It wasn't always like the Brady Bunch where everything was a sunshine day, things happened. Like when my step-sister threw my clothes out the second story window onto the front lawn because I guess she had her fill that day of sharing her room every other weekend. Or when we were all crowded in the back of my dad's VW van and my brothers started wrestling (what car seats?!?) and the little guy lost a tooth. When he was 3. Yep, knocked right out! Oops.
We had good days and our bad days but truthfully I thrived on that chaos. I don't know what I would have done without it. I loved having a big family. But in many people's eyes, this was a different kind of family.
On the weekends, we all went to Six Flags, we played charades, we made home videos. Yes, we knew we were like the Brady Bunch and made videos spoofing ourselves as either the Brady Bunch or the Von Trapps from Sound of Music. You should see the video of us all singing and acting out the "So Long Farewell" song from Sound of Music. Don't worry, guys, it's in the vault. I cannot release it! 🙂
Our holidays were crazy! On Thanksgiving and Christmas we always ate two huge meals. One at our house with mom and one at dad's house so that we didn't offend anyone. You got used to pacing your turkey, mashed potato and cornbread intake. Having two Christmas openings wasn't too shabby though so it was worth the extra turkey!
We played, we fought, we laughed, we yelled, we had the best time. Honestly, I didn't know anything different. That was my family. My big, crazy, loud family! My family that traveled in a pack and got stares just for the sheer number of us where ever we went. It's just #HowWeFamily on the weekends! It was awesome!
What I learned from growing up in a blended family was that families come in all different shapes and sizes. There isn't just a one size fits all when it comes to a family. Sure, my friends may have thought mine was different but everyone has their own way of "doing family".
How do you family?!?
This conversation was sponsored by TYLENOL® and the #HowWeFamily campaign. We'd love to have you join the conversation and show or tell us how you family on Twitter or Instagram and make sure to use the hashtag #HowWeFamily. We'd love to hear your story!
The TYLENOL® commercial has an amazing message that "it doesn't matter who you love but how you love." Take a peek at it below.
TYLENOL®, a brand with a rich heritage in serving families, is celebrating all the ways that people family today through the #HowWeFamily campaign. #HowWeFamily is a platform to empower all families – regardless of shape, size or makeup – to proclaim what makes their family unique, and in turn, proud. Through #HowWeFamily, TYLENOL® hopes to show that despite our differences, families today share the same fundamental values. Find out more on the website.
I have received information and materials from McNeil Consumer Healthcare Division of McNEIL-PPC, Inc., the makers of TYLENOL®. The opinions stated are my own. This is a sponsored post.