Most moms don't really need anything for Mother's Day. Do they want some peace and quiet? Yes! Do they want a heavy dose of appreciation? Absolutely! Gifts don't hurt though! So, whether you're shopping for your mom or looking for a list of ideas to share with your partner/kids … look no further than this consumable gift guide!
These items won't fill up your home. No clutter, no knick knacks, no sentimental craft that will be hard to part with down the road. They're all things you can use up and enjoy!
Bless your mama with a consumable gift this Mother's Day – she'll love you extra for it!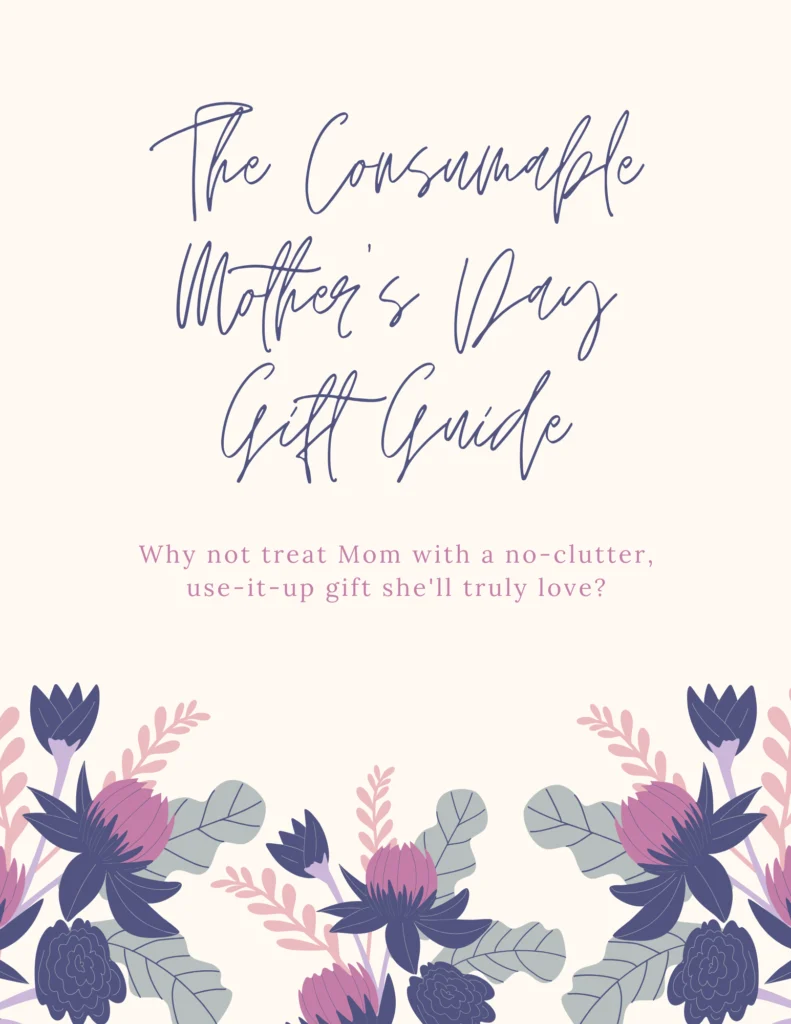 Trader Joe's Snacks
Trader Joe's is the mecca of amazing snacks! Whether your mama loves sweet or savory, you'll find a treat … or a whole basketful of treats, there! Personally, I'm a huge fan of their strawberry licorice (sounds weird, but is amazing!) and peanut butter cups (really decadent!).
Skinny Dipped Almonds
If Trader Joe's isn't in your grocery line up, pop into Target for a bag or two of Skinny Dipped Almonds. They're delicious!
Rinse Bath & Body Co. Pucker Stick
There's nothing like a good lip balm to make a mama happy and Rinse's pucker stick is one of my faves! Rinse has darling lippy clips too!
Potted Plant or Tree
Choose a plant that represents you and your mom's relationship in honor of this Mother's Day and help her plant it in her yard so it can bloom year after year! Funny or sentimental, whenever she sees it, she'll think of you!
Mad Hippie Vitamin C Serum
Make-up is such a personal choice when it comes to brands and colors, but serums, those will always be a win! After all, pampered skin is happy skin … which is exactly why moms everywhere will love Mad Hippie Vitamin C Serum.
Dazzle Dry Nail Polish
I have a full review of this amazing product coming soon, but if your mom is a nail gal, she'll totally appreciate Dazzle Dry's non-toxic nail care system.
Wine + Chocolate
Nothing pairs better than wine and chocolate! Especially for Mother's Day! If you're looking for a sweet white wine, I highly recommend Saracco Moscato, and for a red, my mom loves the Red Goliath Free Range Red. Pair with a homemade truffle like these OREO truffles or paleo cake batter truffles.
Honest Hazel Eye Gels
Honest Hazel Eye Gels are a soothing, at-home spa experience every mom will love! All natural and cruelty free, these eye gels are the perfect gift for any tired mama.
David Rio Chai
Coffee and tea drinkers alike will enjoy the flavored chais from David Rio. I love the Elephant Vanilla most of all, Tiger Spice is a close second.